In this Article by South Pacific travel expert Ian Osborn
Denarau Island & Port Denarau — Vuda Point & Marina — Sonaisali Island & Momi Bay — Natadola Beach
Staying along the rural Nadi Coast gives the sense of being in an exotic destination yet close to Nadi Airport with little travelling time lost.
The most popular place to stay in this area is on Denarau Island, a twenty minute drive south of the Nadi International Airport and connected to Nadi via asmall bridge and boasting three Sheraton brand hotels, a Hilton, a Sofitel and a Radisson all side by side plus a golf course, port and a large shopping / restaurant complex.
There's a small beach area at Vuda Point just fifteen minutes drive north of the airport with great views across the bay and towards the inland mountains as well as day trips and scuba diving / snorkelling excursions to the offshore islands which are, literally, offshore.
The best beach on the mainland is at Natadola, just under an hour drive south of Nadi Airport, but otherwise there are no other beaches around Nadi worth visiting. There are some splendid mountains and hiking trails inland, most notably the Nausori Highlands and Koronayitu National Park. Navala Village, Fiji's most stunning thatch-house community, can be visited on a day tour although its a 2 hour drive north.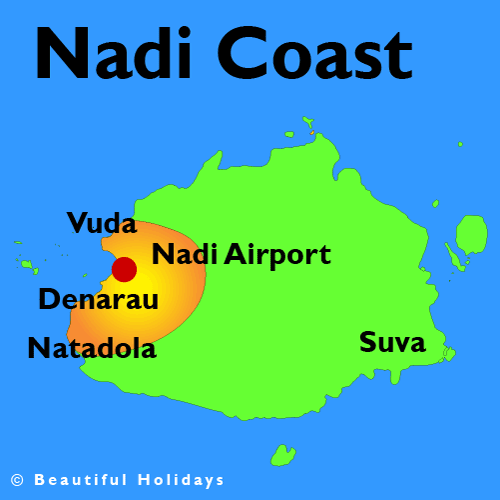 Nadi Coast Map
Reasons to Visit Nadi Coast
Convenient Holiday Base
Dining Out and Lively Bars
Resort Lifestyle on Denarau
Day Cruises to the Islands
Sightseeing, Shopping & Village Tours

Best Nadi / Denarau Resorts
Holidays on Denarau Island
Fiji's most exclusive "gated" resort area is Denarau Island carved out in mangrove estuary about ten minutes drive from Nadi Town. Denarau Island boasts six large international branded hotels offering superficial Fijian environments alongside a black sand beach and murky ocean. This is an all purpose resort lifestyle with a shopping centre, restaurant promenade, golf course, tennis courts and spa centre.
Although Denarau is a very commercialised tourist centre with six large internationally branded hotels and a rather sterile ambience, it is popular with families for its convenience, affordability and large resort amenities which include spa centres, beauty salons and 24-hr baby sitting facilities. It is also a popular spot for a hen or stag party with its lively bars around Port Denarau which even includes a Hard Rock Cafe. It's the kind of place where you really don't do anything more than lounge around a pool with a book or magazine and then showcase yourself at night around Port Denarau with its multi-national restaurants and bars.For the majority who visit Denarau on a package holiday they do little beyond their hotel. Tours do venture into Nadi's hinterland and there are game fishing charters, sailing excursions and day cruises to the islands to fill your holiday time.

The beach on Denarau stretches for a couple of kilometres and makes for good beach walking with pleasant views looking back towards the Nadi mountains - however, the sand is tinged brown from the nearby mangrove estuary and the sea is usually too murky for snorkelling. It is reasonable though for watersports with para-sailing, windsurfing and sailing all quite good when the afternoon winds come in off the sea. The nicest beach is on the north side of the island alongside the Sofitel and Hilton with stunning views looking across the bay to Nadi's mountains.

The Sheraton Villas offer spacious apartments surrounding a large swimming pool alongside a rocky section of the island.
Hilton Fiji Beach Resort, Denarau Island
F$ 545 - 895


These contemporary apartments front the nicest stretch of beach on Denarau Island with two large swimming pools to enjoy and the golf course close by.
Sofitel Fiji Resort, Denarau Island
F$ 495 - 995


The Sofitel Fiji fronts a decent section of beach close to the golf club house and tennis courtsand offers a blend of contemporary architecture and splashes of Fijian design.
Sheraton Fiji, Denarau Island
F$ 495 - 695


The Sheraton Fiji Resort is the largest hotel on Denarau Island fronting a mediocre beach and boasts a huge landscaped swimming pool, three restaurants, a nightclub and is located across the road from the tennis centre and golf clubhouse.
Radisson Hotel, Denarau Island
F$ 495 - 595


The Radisson focal point is its massive swimming pool which meanders through several areas including a kid's water slide, a beach area and an adults only section. The poolside restaurant and bar overlooks the ocean and beside a narrow grey sand beach.
Westin Resort, Denarau Island
F$ 495 - 595


The Westin Denarau Resort is the grandest of the resorts on Denarau Island but fronts a rather bland grey sand beach with its best feature being the magnificent views across the bay towards the mountains of Nadi.
Denarau does have an excellent collection of independent restaurants at the modern but rather tacky looking Port Denarau shopping centre all dressed in corrugated iron. Here you can eat everything from local Indian to Fijian food, plus Italian, Chinese and even kebabs, burgers and pizzas. The waterfront dining tables offer tourists an ambient environment to enjoy their evenings and there are a couple of lively bars serving great local beers, one being the Hard Rock Cafe, the other run by local boy Cardo which is by far the best of the two. Most of the day cruises to the offshore islands as well as island resort transfers depart from the Port Denarau marina.

Vuda Point & Marina - Nadi North
Ten minutes drive north of the airport is Vuda Point and Marina with its stunning views over the bay and of the surrounding mountains. Vuda has an picturesque sandy beach although the lagoon is too shallow for swimming or snorkelling. There are two resorts here which make a pleasant base: First Landing Resort is next to the marina and has the convenience of both day cruises and dive excursions: Anchorage Beach Resort has exquisite mountain views.
First Landing Resort, Vuda
F$ 395 - 560


First Landing Resort is a small boutique resort on a small secluded beach and sunset views to the offshore islands with day cruises, game fishing charters and scuba diving available from the adjacent marina.
Anchorage Beach Resort, Vuda
F$ 200 - 435

This budget resort fronts a coarse sand tidal beach just ten minutes drive from Nadi Airport. The restaurant is built on a hilltop with stunning views of Nadi Bay and the Sabeto Mountain Range.
Sonaisali Island & Momi Bay - Nadi South
Ten minutes drive south of Nadi Town, past sugar cane fields and Indian settlements, is Sonaisali Island with its popular resort. A further 10 minutes south is the turn-off for Momi Bay where a small surf resort is located as well as the abandoned multi-million dollar Momi Resort development.
Sonaisali Island Resort, Nadi South
F$ 655 - 960


Located on a small 105-acre private island just 2-minutes by boat from the mainland and 30-minutes south of Nadi International Airport, Sonaisali offers hotel rooms and bungalows along a man-made beach area and offers plenty of activities including sightseeing, cruises and scuba diving.
Seashell at Momi, Nadi Rural
F$ 95 - 225 per couple / $ 35 dorm


Tucked in quiet Momi Bay about 25-minutes south of Nadi this budget resort has daily excursions to the world class surfing breaks and scuba diving sites along the exceptional Malolo Barrier Reef.

Natadola Beach
From Momi Bay its a twenty minute drive through pine forests to beautiful Natadola Beach, by far the nicest beach on Viti Levu and with good body surfing and some surfing breaks off the beach. Natadola is a 40-minute drive south of Nadi Town so makes an easy day trip but you can only get there on an organised tour, by rental car or taxi. There's a large resort here, the magnificent Intercontinental Resort aimed at both families and couples with access to the stunning Natadola Golf Course which is by far the most scenic and challenging golf course in Fiji and the only serious location for a golf holiday. The beach has decent shade and parking beside the beach front and is popular amongst locals at weekends. Locals from the nearby village offer horse-riding along the beach-front which stretches over two kilometres in a pleasant curve shape.
Intercontinental Resort, Natadola
F$ 575 - 1,337 per couple - inc. breakfast


Located alongside beautiful Natadola Beach about 40-minutes drive south of Nadi, the large Intercontinental Resort offers a private golf course, three swimming pools and a spa centre.
Natadola Beach Resort, Natadola
F$ 335 - 430


This Mediterranean style small resort is located in the heart of Natadola Beach with its excellent all tide swimming, body surf and some surfing breaks.
Robinson Crusoe Island, off Natadola
F$ 195 - 245 per couple / $ 50 dorm


Robinson Crusoe island is a lively backpacker resort on a small island about a ten minute boat ride off Natadola Beach.
See Also:
Nadi Airport & Wailoaloa Beach
Other South Pacific Islands