In this Article by South Pacific travel expert Ian Osborn
Pacific Harbour — Namosi Highlands — Beqa Lagoon & Shark Dive — Vatulele Island
The Pacific Harbour region is the adventure tourism centre of Fiji about two hours by road from Nadi Airport beyond the Coral Coast hotels and just 40-minutes from Suva City. It's primary attraction is the Beqa shark dive which lies in the vast Beqa Lagoon about 20 minutes by boat from Pacific Harbour.
Other attractions of the area include the Arts Village, a tourist cultural centre with themed village scenes and dance performances; and the tropical rainforests of the Namosi Highlands accessed along the Navua River where both long boat trips and 4-wheel drive excursions explore traditional villages and breath-taking waterfalls.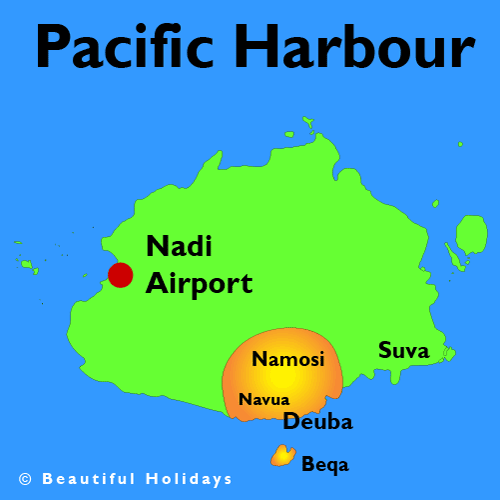 Pacific Harbour Map & Pictures
Reasons to Visit Pacific Harbour
Pacific Harbour & Around

Pacific Harbour is primarily a residential area with a couple of hotels set alongside a decent beach and a couple of independent restaurants. It's two biggest attractions are the Arts Village / Cultural Centre, and the fantastic Pacific Harbour Golf Course, but unfortunately both are mostly overlooked by tourists and seem to have passed their best years. What is keeping the area alive today is its deep sea fishing and scuba diving appeal most notably the shark dives around Beqa Lagoon which take arouind 20-minutes by boat from Pacific Harbour.
Beqa Lagoon is a massive fringing reef thirty kilometres wide and is renowned for its shark feeding and deep sea game fishing With exceptional scuba diving including an amazing variety of soft corals and plenty of pelagics, Beqa Lagoon is a major dive attraction with a handful of dive opeartors and game fishing charters based out of Pacific Harbour, as well as surfing safaris.
Waidroka Bay, Pacific Harbour
F$ 250 - 395


Waidroka Bay Resort is tucked in a secluded tropical bay facing the ocean. With access to world famous scuba diving and surfing passages Waidroka is an affordable base for adventure holidays.
Pearl South Pacific, Pacific Harbour
F$ 420 - 850


This medium sized hotel is located on the sweeping beach at Pacific Harbour and makes a convenient base for exploring the surrounding environment, be it the championship golf course, the tropical mountains, traditional villages or Beqa lagoon.
Uprising Resort, Pacific Harbour
F$ 255 - 395 per couple / $ 45 dorm


Uprising Beach Resort Fiji offers traditional thatch bures facing the ocean with an atmospheric restaurant and bar. This is a good base for enjoying an active holiday including jet ski, kayaking, scuba diving expeditions to Beqa Lagoon and adventure tours up the Navua River and into the tropical rainforests of the Nausori Highlands

Lagoon Resort is set in the residential area of Pacific Harbour overlooking the river and golf course. Specialises in the world famous soft coral reefs and shark dives in nearby Beqa Lagoon and there are plenty of adventure tours in the surrounding rainforest.
Navua River & The Namosi Rainforest
The stunning interior of Viti Levu is often veiled in clouds and its roads sometimes inaccessible. Some of the richest rainforests are found inland from Pacific harbour, notably the Sovi Basin and the Namosi Highlands. Fijian villages are found throughout this interior, many of which are far from roads and electricity. Here lies the most remote and conservative village environments, and the most hospitable of Fijians.
The region is steeped in history and tradition, has some breathtaking mountain scenes, river gorges, caves, waterfalls indigenous flora, bird life and scenic lookouts. The area is excellent to explore but there is nowhere to stay, buses are infrequent and few tour companies offer these off the beaten track itineraries. To get close to this mystical environment tale an organised boat trips up the Navua River and or a 4WD drive adventure into the Namosi Highlands to explore walking tracks through the rainforest leading to waterfalls. There's even Grade 4 white water river rafting on the Lua River (from November to April only).
Beqa Lagoon

One of the main reasons people visit Pacific Harbour is for game fishing and scuba diving around Beqa Lagoon which is around 30-minutes by boat from Pacific Harbour. Although the famous Beqa shark dives are purely commercial with sharks being lured in by bait almost on a daily basis for the past ten years, it doesn't negate the excitement of coming face to face with these ancient predators. On a good day you may see over a hundred sharks in the two dives, which range from 15 to 30 metres in depth, and will include Reef Sharks, Silver-tip Sharks, Tawny Nurse Sharks, Sicklefin Lemon Sharks, Bull Sharks and the occasional Tiger Shark as well as schools of other large fish taking advantage of the free feed. Both operators offer PADI dive courses as well as regular daily dives to explore the soft corals and wrecks around Beqa Lagoon. The shark dives are available through Beqa Adventure Divers or Aqua Trek Beqa.
Beqa Lagoon is a massive fringing reef thirty kilometres wide and is renowned for its shark feeding and deep sea game fishing as well as the hollow left-hander surfing break of Frigates Passage. With exceptional scuba diving including an amazing variety of soft corals and plenty of pelagics, Beqa Lagoon is a major dive attraction as well as being a nature lovers paradise on land.
Beqa Island
A small volcanic island rises out of the lagoon. Beqa Island is a traditional island with 14 small coastal villages most of which are connected via a coastal track, and lush tropical mountains to explore with a local guide. The isalnd is home to the famous Fijian fire-walkers.
There are no roads on Beqa but several walking tracks between villages make pleasant exploring, the easiest being the route from Waisomo on the northern tip of the island and along the west coast to Rukua close to Beqa Island Resort. There's a delightful kayak trip from Lalati Resort into tranquil Malumu Bay which bites deep into the west coast almost severing it from the main bulk of Beqa. It's possible to navigate through to the south side of the island via a mangrove estuary. Just beyond the mangroves on the south side of Beqa is Moturiki Island where thousands of fruit bats live.
To visit Beqa, the common way to get there is by small boat which depart from Pacific Harbour taking about 40-minutes. Otherwise, you could charter either a helicopter or seaplane from Nadi Airport.
Royal Davui, Beqa Lagoon
F$ 2,000
Upmarket retreat on tiny private island.

Lalati Resort, Beqa Island
F$ 800 - 1,430


Lalati Resort is a beautiful beach retreat set at the foot of tropical mountains with forest tracks and facing a deeply indented bay ideal for kayaking, Lalati has just 10 exquisite bungalows ideal for an adventurous honeymoon in Fiji and scuba diving.
Beqa Lagoon Resort, Beqa Island
F$ 675 - $745


Beqa Lagoon Resort is aimed primarily at scuba diving enthusiasts with an exceptional dive set up including three purpose built dive boats. The resort has modern bungalows fronting a decent white sand beach with good offshore snorkelling.
Vatulele Island
Vatulele Island Resort, South
F$ 1,950 - 2,950

Elegant villas alongside a stunning white sand beach in the remote southern islands and accessible by sea plane of helicopter . Vatulele offers a spa centre, island tours, scuba diving and fine dining with a massive wine cellar - popular as a honeymoon destination.
Other South Pacific Islands