In this Article by South Pacific travel expert Ian Osborn
Top Day Tours in Vanuatu — Land & Water Activities — Tour Companies
Apart from its superb scuba diving and kastom village tours Vanuatu is world-renowned for, other adventure tours in Vanuatu include jet skiing, sand-boarding, jungle paint-ball, water-falling, timing the spray at a blowhole, or just staring off into the wide, blue Pacific from the tall cliffs, kayaking (ocean and river) and game fishing. Give yourself enough time in this paradise, you'll need it.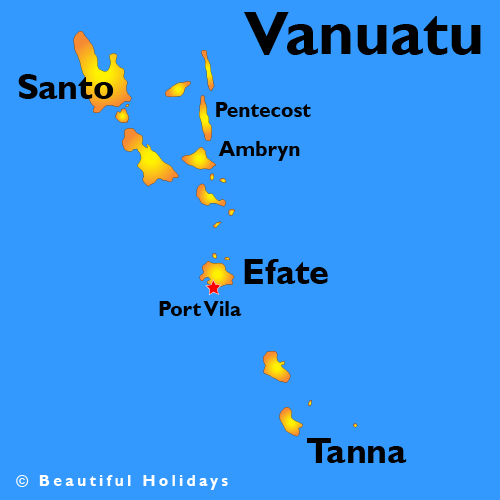 Vanuatu Map
Best Vanuatu Tours
Pentecost Land Divers
Mt Yasur Volcano at Night, Tanna
Millennium Cave Walk, Santo
Lelepa Island Day Tour, Efate
Ekasup Village Tour, Port Vila

Popular Sightseeing Regions

Ambryn
Our Five Favourite Day Tours in Vanuatu
Mt Yasur Volcano, Tanna Island

Visit the awe-inspiring Yasur Volcano at dusk and listen to the deep rumblings and fiery displays of this spectacular natural show.


Stay at White Grass Ocean Resort



Millennium Cave Tour, Espiritu Santo

This stunning walk through tropical rain forest leads to large cave full of bats - its a slippery muddy trail at the best of times but there are ropes and chains to help you up the toughest hills and there are waterfalls along the way to swim in.


Stay at Coral Quays Resort



Lelepa Island Tour & Chief Roi Mata UNESCO Site, Efate Island

The islands off the north-west coast of Efate make great sightseeing. Lelepa island has beautiful beaches and snorkelling reefs and is a great place to chill out for the day. Slightly more grizzly is Artok Island where Chief Roi Mata and 300 of his followers were buried in the 1600s leaving behind his legacy.


Stay at The Havannah Resort



Ekasup Village Tour, Port Vila

It's never easy to get a good feel for traditional culture when staying in a main town, but the Ekasup Village offers absorbing cultural tours where you can learn about the Vanuatu culture and get some great photo opportunities. It's a commercial enterprise, but well done.


Stay at Erakor Island Resort



Mele Cascades Waterfall Tour, Efate Island

This large waterfall as the name infers cascades down the rock-face making it one of the most spectacular in the South Pacific - and you can swim in the pool it falls into making a great tour. The waterfall tour can be combined with several other half day tours including snorkelling, beach visits and circle island sightseeing making it a popular choice for Port Vila holiday-makers.


Stay at Hideaway Island Resort

Land & Water Activities
Scuba diving is one of the main reasons holiday-makers visit Vanuatu, with some excellent wreck dives, soft corals and pelagic fish. Snorkelling too is fantastic and almost every resort has a breathtaking reef to visit, either right off its beachfront or on a short boat trip to an outer reef. Kayaks and catamarans are also provided by most of the established resorts, and often are complimentary. Motorised watersports are less common, with Port Villa the best place to head for these. For something a little different, try snorkelling in one of the stunning Blue Lakes in Espiritu Santo.

Find out more about .... Vanuatu Water Sports

Vanuatu is even more fascinating on land with outstanding culture tours on all islands with visiting a traditional kastom village the highlight of many people's holiday. Then there are the volcanoes, with Yasur on Tanna being the most active and easily accessible, but others too on Ambryn and Ambae. The rain forest is another treasure of the islands, with several excellent forest trails on Espiritu Santo and its great also for bird watching.

Find out more about .... Vanuatu Land Activities
Vanuatu Tour Companies
Port Vila has a large collection tour companies offering day and half day tours around the island. On Espiritu Santo, head to Luganville Town where a local Tourist Bureau offers excellent advice on all tours available around the island. For those visiting Tanna Island, tours are all in-house and arranged by the resort using their own vehicles.
Several companies in Port Vila offer day and overnight tour packages to visit either Tanna Island, or for witnessing the land divers on Pentecost during their harvest festival which lasts from April to June.