In this Article by South Pacific travel expert Ian Osborn
Yasawa Island Holidays — Overnight Cruise & Island Hopping — Waya & The South — Naviti & The Middle — Nacula & The North
The Yasawa Islands is a chain of 30 gorgeous sun drenched and often barren-looking volcanic islands extending to the north of the Mamanucas. The islands are renowned for its gorgeous beaches, tranquil lagoons, backpacker resorts, exclusive retreats and luxury overnight cruises.
This is Fiji tourism at its best - remote, unspoiled and uncommercial - but its popularity in recent years has seen a gradual shift from a backpackers undiscovered paradise to a more commercial and well trodden tourist route with ever increasing prices. Nevertheless, the stunning coastal beauty remains and there are enough small hideaways here to fell you are well off the beaten track.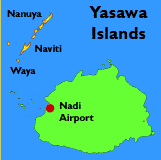 Yasawa Islands Map
Reasons to Visit the Yasawas
Nacula & The Northern Yasawas
Other South Pacific Islands