In this Article by South Pacific travel expert Ian Osborn
Vanua Levu — Savusavu — Labasa & The North
Vanua Levu is Fiji's second largest island. The main commercial hub is around Labasa Town on the north coast of the island and this region is home to Fiji's largest tracts of sugar cane fields. As far as tourism is concerned though, the hub is sleepy Savusavu Town on the south coast, tucked into a beautiful deep water bay making it a popular anchorage for yachts visiting from overseas. The south coast has great fishing and scuba diving offshore although lacking decent beaches it plays second fiddle to its neighbouring island, Taveuni, which is the main tourist centre of the north.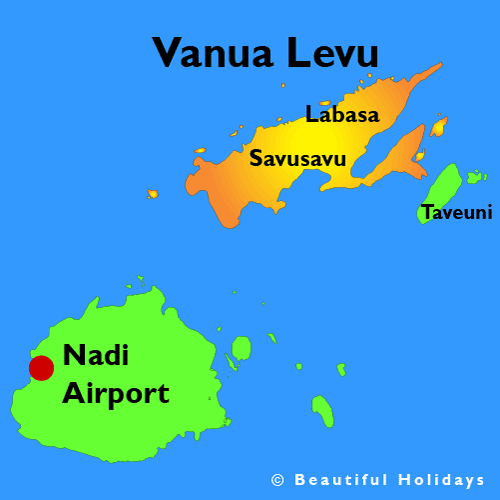 Northern Fiji Map
Reasons to Visit Vanua Levu
Vanua Levu Holidays Overview
Vanua Levu is Fiji's second largest island and takes around an hour to fly to from Nadi Airport. The main centre for tourism is Savusavu with tropical rainforest, old European influenced coconut plantations and exceptional scuba diving. The main business centre is Labasa Town in the north coast of Vanua Levu, surrounded by sugar cane fields and with good off the beaten track exploring opportunities.

Savusavu Town & Bay
The main tourist region is along the tropical southern coast around Savusavu Town which is very scenic with beautiful hills for walking and several nice beaches along the point, a few kilometres south of the town. Savusavu Town has a picturesque harbour setting and several excellent waterfront bars and restaurants. It is a favourite destination for sailors, game fishing enthusiasts and scuba diving with excellent coral reefs all along the coast with day cruises and charter boats available for fishing and diving excursions. The rainforest around Savusavu is very accessible with several frequented trails to some excellent waterfalls and lookouts.
Savusavu Town is a popular base for long-stay holidays and here you can find holiday cottages with self-catering as well as several exclusive resorts offering stay / pay all inclusive deals.
Savusavu Hotsprings Hotel, Vanua Levu
F$ 135 - 215


Set overlooking picturesque Savusavu Bay, Hotsprings Hotel is the ideal location for those looking to explore the vibrant rainforest and friendly villages of Vanua Levu. Excellent dining in Savusavu Town, yacht club and water activities including world renowned game fishing and scuba diving.
The Hibiscus Coast & Natewa Bay
Extending east from Savusavu heading towards Taveuni Island is the beautiful Hibiscus Highway with its timeless coconul plantations. There are some fantastic scuba diving and snorkelling reefs along the Hibiscus Coast, with Namena Island being a particular favourite for dive entusiasts. Unfortunately the beaches along the coast are very mediocre which is why tourism hasn't really thrived here. Natewa Bay is a beautiful deep water bay, the largest in the South Pacific, and a great spot for kayaking - dolphin pods are commonly spotted here.
Koro Sun Resort, Vanua Levu
F$ 920 - 1,600


Koro Sun is a luxury tropical escape hidden amongst tropical rainforest on the southern coast of Vanua Levu. Facing a coral reef with exceptional scuba diving and snorkelling, and backed by rainforest with waterfalls and hiking, this is a popular destination for adventurous holiday-makers.
Labasa & North Vanua Levu
An hour north of Savusavu the countryside becomes more arid and sugar cane farms take over the scenery. Labasa Town is the main town of the "Friendly North" and surrounded by picturesque hills which are great for exploring and meeting the locals cane farmers and exploring authentic Fijian villages.
Grand Eastern Hotel, Labasa Town
F$ 126 - 194


The Grand Eastern Hotel is the preferred accommodation in Labasa Town located just a minute walk from the bustling bus stand and market making it a great place for exploring the countryside.
Labasa Town is the administrative centre of Vanua Levu with a purposeful bustle to its daytime affairs. The dusty main street of Nasekula Road is lined by colourful Indian trader stores and between May and December you'll see trucks and tractors overloaded with sugar-cane filing through the town centre making a beeline for the sugar mill, four kilometres east of the river.
The finest scenery around Labasa is east of the Labasa Sugar Mill where the countryside opens up to a sharp ridge like mountain range to the north with sweeping views southwards towards the cluster peak of the three sisters. Along the scenic Wainikoro-Dama Road is the Hindu shrine of Naag Mandir, better known as the snake temple. Seventy years ago, the cobra shaped rock which devotees pray to apparently was only a metre high. Over time the rock has grown, the roof covering it has been raised three times, and at almost four metres high the shrine is quite an impressive formation, garlanded in fantastically colourful plastic flowers and showered in turmeric powder.
Nukubati Island Resort, Vanua Levu
F$ 1,350

The Wainikoro-Dama Road continues ten kilometres inland hugging the Bucaisau River Valley where it turns to dirt and meanders through endless remote cane fields eventually climbing up through dense rainforest emerging at Natewa Bay at Wainigadru Village. There's no access road north to the long thin Udu Point, renowned for its fishing, but the uninspiring dirt road continues south along Natewa Bay all the way to the south coast of Vanua Levu and on to Savusavu. It's a long rather featureless haul, best accomplished on the daily Waiqele Bus from Labasa departing at 9am and arriving in Savusavu 7hrs 30mins later at around 4.30pm. The 2hr 30min direct run between the two towns over the mountains is a better option.
Other Accommodation on Vanua Levu
Other South Pacific Islands