Accommodation in American Samoa
The majority of accommodation in American Samoa can be found in Pago Pago town and suburbs on the south coast of Tutuila Island .There are a handful of small hotels and guesthouses in downtown Pago Pago, all relatively expensive compared to Samoa, the most upmarket being Sadie Thompson Inn.
One of the icons of American Samoa is the old Rainmaker Hotel (now Sadie's by the Beach), set alongside a picturesque beach just south of town and is the only beach hotel in American Samoa. There's another collection of guesthouses and a solitary large hotel in the residential suburbs around the airport but other than that there is virtually no other tourist accommodation available.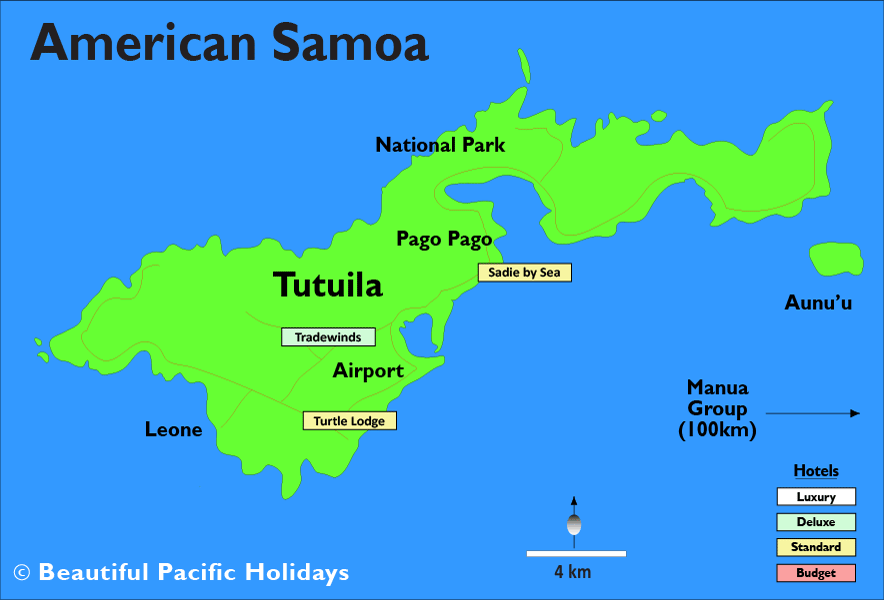 Other Accommodation in American Samoa
Turtle Shark Lodge


South Coast, Tutuila

6 rooms
Rural Lodge
$
Evalani Motel


Pago Pago Town, Tutuila

12 rooms
Town Hotel
$
Maliu Mai


Airport, Tutuila

10 rooms
Beach Resort
$
American Samoa Hotels Overview
Tourism is extremely low-key and there are few hotels in American Samoa. The only island in American Samoa with a significant population is Tutuila with the capital town of Pago Pago set in a beautiful deep water harbour on the south coast. Tutuila Island has a rugged coastline with few beaches and its mountains steep and covered in tropical rain forest. The international airport lies on the south coast of Tutuila Island about 35 minutes drive from the capital town of Pago Pago. By American standards, Pago Pago is a ramshackle place with seedy motels and brash American fast-food chains, although the harbour is significantly cleaner than during the 1990s when two massive tuna factories spoiled the environment.

Taxis are readily available and car hire is reasonably cheap with rental agencies based at both the airport and in Pago Pago Town. There are daily flights from Faleolo Airport on Upolu Island in Samoa to Pago Pago Airport on Tutuila Island, taking about 50 minutes, as well as direct international flights from Hawaii with connections to Los Angeles.