In this Article by South Pacific travel expert Ian Osborn
Atiu Holidays Overview — Central Plateau — The Coast
Atiu Cook Islands is a fantastic eco adventure destination offering an alternative holiday atmosphere away from the beaches of Rarotonga and Aitutaki. Being a raised limestone atoll with a craggy coastline and virtually no lagoon for watersports, the focus on Atiu is inland. Caves are a major attraction as is its culture, traditional villages and coffee plantations. Atiu lies 187km north-east of Rarotonga and is accessible via a daily (except Sundays) 40-minute flight from Rarotonga Airport or via a weekly connection with Aitutaki aimed at the island-hopping holiday-maker.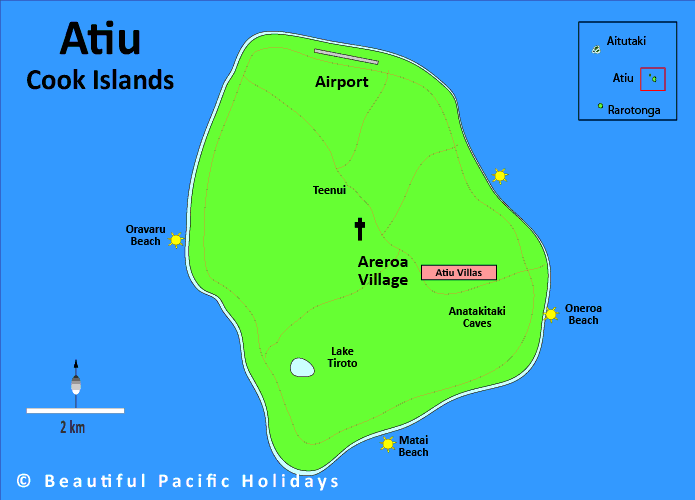 Atiu Map & Pictures
Reasons to Visit Atiu Island
Eco / Adventure Holidays
Caving & Bird Watching
Engaging Maori Culture
Learn to Quilt a Tivaevae
Mingle with Locals & Sample Bush Beer

Best Atiu Hotels

Affordable - Atiu Villas
Travellers might also visit:
Mangaia Island
Mauke or Mitiaro
Atiu Island Holidays Overview
Atiu has a rugged coral coastline and being an off-the-beaten track destination there are only a couple of eco lodges and guesthouses to stay at, all inland on the central plateau where the local villages are located. There are no restaurants, shops or public transport on the island but your accommodation will arrange all meals and any day tours.
Atiu Plateau
The five villages are all located on the central plateau where farming is a lot more practical than around the coast. Because the lagoon and surrounding reef is so inhospitable, most Atiuans are farmers only and not fishermen - they plant taro, bananas and fruit trees and raise pigs, cows and goats. Some even harvest coffee beans for cash with Atiuan coffee being a sought after blend on Rarotonga.
For holiday-makers, the villages are hospitable and fascinating places to wander around, and you may even get invited to help weave a mat with the ladies or sit under a tree and drink locally brewed bush beer with the boys. Inland limestone caves are another attraction, as is walking in the tropical forests to spot endemic birds

Atiu Villas, Atiu

NZ$ 200


Spacious cottages with a restaurant on site and organised day tours to explore the island.
Atiu Coast
Despite having a completely undeveloped coastline, Atiu beaches are pretty stunning. Most of the 26 beaches around the island are small secluded cove beaches where you're unlikely to find footprints, let alone people. Most lagoons have small shallow pools you can dip into to cool off but swimming and snorkelling is pretty limited as the sharp coral fringing reef sits right off the shoreline. It's a pretty good place to spot humpback whales in season as the whales come right up to the reef edge for a bit of scratching, often just 30-metres from the beach. If you're looking for somewhere secluded to lay a towel, the beaches on Atiu are pretty appealing places to hang out.
Other Accommodation on Atiu Island
Kia Orana Bungalows
Kopeka Lodge
Accommodation on Mangaia Island