Beautiful South Pacific Islands - Holiday Resorts in Fiji and the Cook Islands
Welcome to the Beautiful South Pacific Islands ...

South Pacific holidays are the stuff of dreams. Whether you're looking for a laid back beach holiday in the Cook Islands or Tonga, a family holiday in the Fiji Islands, a more adventurous trip exploring the cultures and kastom villages of Vanuatu and Samoa, or marvelling at the world famous coral reefs in New Caledonia or the Solomon Islands, you're at the right place to find all about the beautiful South Pacific Islands:

The most popular holidays in the South Pacific islands for families and couples, beach holidays in Fiji offer excellent scuba diving and snorkelling plus a host of day tours and activities to keep you busy.
Popular Regions for Holidays in Fiji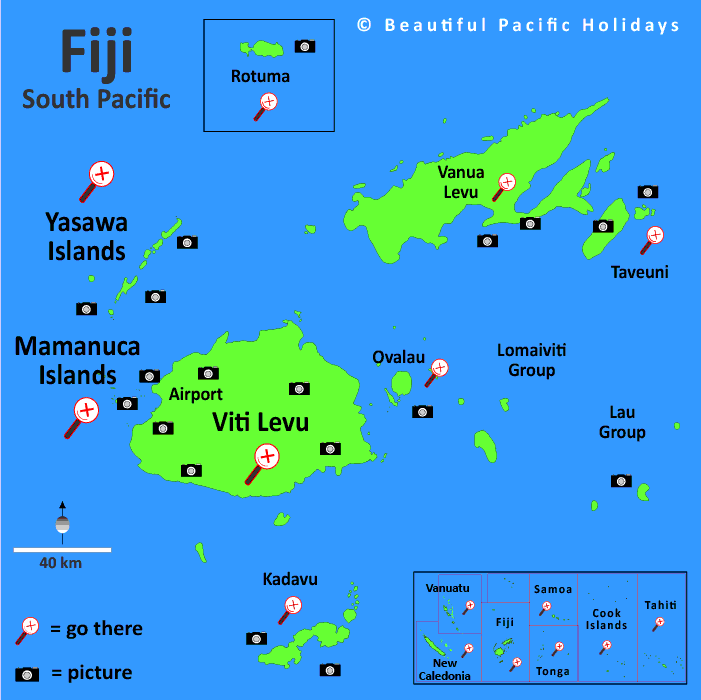 Picture Map of Fiji Islands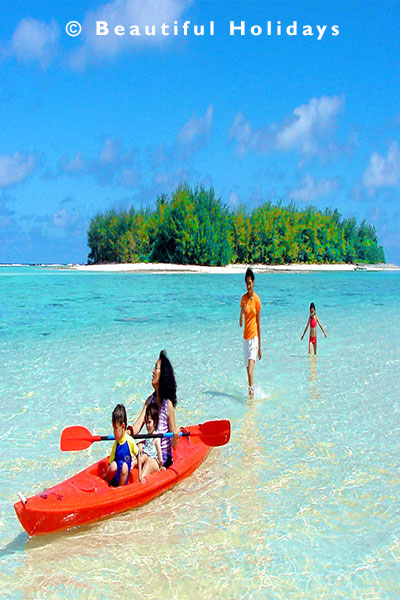 A favourite amongst New Zealand tourists, Cook Islands holidays on Rarotonga offer excellent beaches and bungalows plus a relaxing and friendly holiday ambience for relaxing.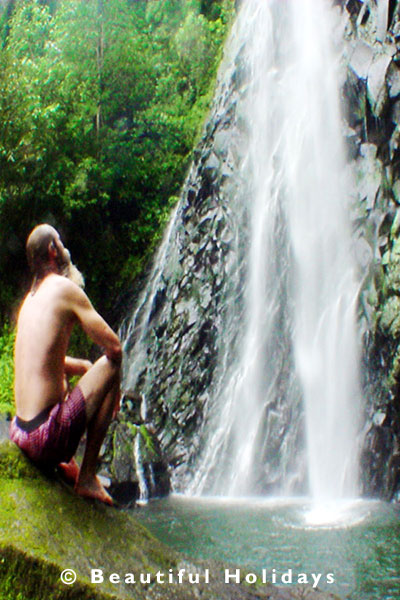 Popular with backpackers for its beach fales, Samoa has good surfing breaks and a growing appeal amongst honeymoon couples basking in its boutique resorts. Come here also for culture & sightseeing.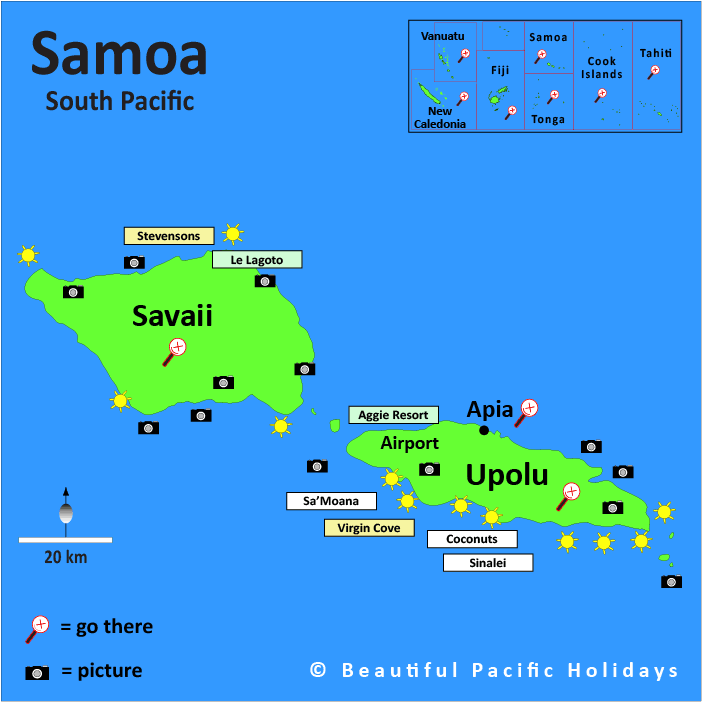 Picture Map of Samoa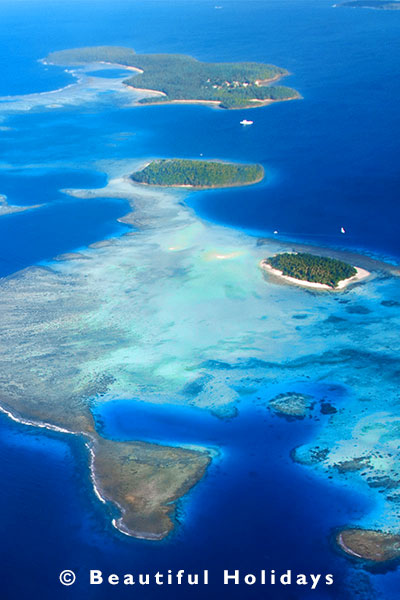 This small kingdom offers great value holidays in the South Pacific with boutique beach resorts located on uninhabited islands with outstanding snorkelling, game-fishing and whale watching in season.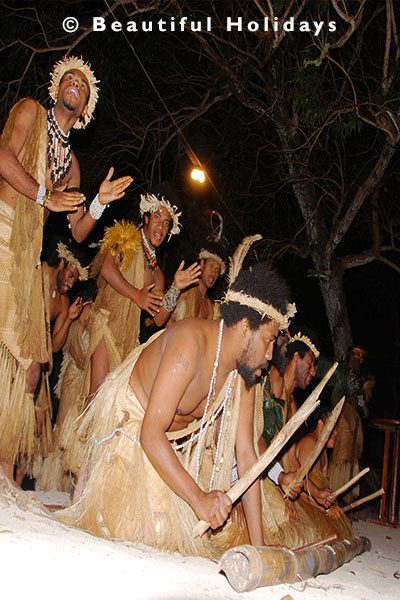 Boasting a fascinating culture, Vanuatu offers exciting adventure holidays with villages to explore, active volcanoes to climb, dense rainforest for hiking and wild scuba diving and WWII wrecks.
Popular Regions in Vanuatu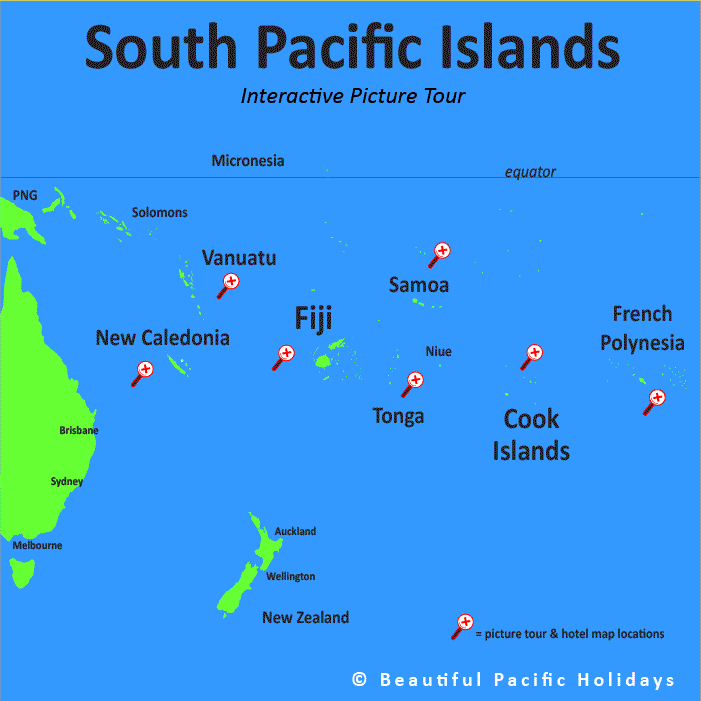 Map of South Pacific Islands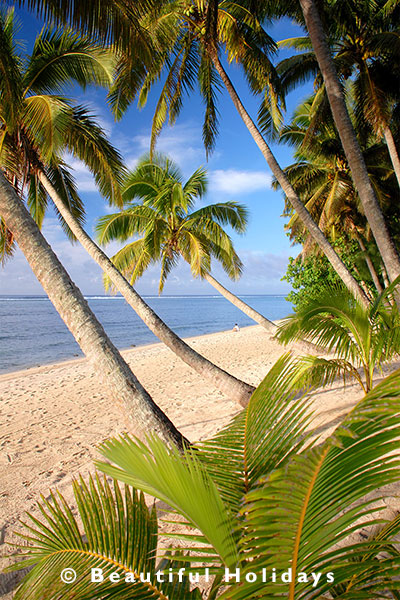 From the dense rain forests of the Solomon Islands to the notoriously expensive resorts of Tahiti, the South Pacific is a vast region with great beaches plus a fascinating culture with the world's happiest people ...
Other Popular Destinations

South Pacific Holidays Guide
If you've ever watched
Castaway

or

Mutiny on the Bounty

and fancied swimming in that clear blue sea or sitting on that secluded beach, then you should look at our equally tempting South Pacific holiday packages. Whilst cloud-less skies, swaying palm trees and friendly locals are all stereotypes, they are associated with the islands because that's what you get!

If this is your first time visiting the South Pacific islands and you need help selecting a destination, we suggest you start at our South Pacific Holidays Planner which gives a great overview of what each island has to offer compared to its neighbours.

Beautiful Pacific promotes all types of holidays in Fiji, the Cook Islands, Vanuatu, Samoa and Tonga. Within the vast expanse of the Pacific Ocean there are literally thousands of tiny coral islands circled by sublime turquoise lagoons teeming with reef fish and dressed in colourful corals. You can swim in these unpolluted warm lagoons so clear that you can see a full 30 metres to the sandy bottoms or simply unwind on its exquisite soft white sand beaches under the cool shade of the iconic coconut tree. It's certainly no overstatement by saying the South Pacific Islands offer the best beach holidays in the world not only for romantic couples, but families too.

Rising majestically from these pristine lagoons are steep rugged islands with volcanic mountain ranges, dense tropical rainforest and mysterious traditional villages offering great scope for adventure holidays. The people living in these delightful islands are by no coincidence amongst the most peaceful people in the world living a stress-free, happy-go-lucky life - a true paradise.

South Pacific Resorts
To find out where to stay in the islands, please review our directory of South Pacific Resorts. Simply select any accommodation from our directories and we'll provide you with our personalised review about that resort including all room category prices, our own pictures plus instant quotations from the best deals available on the Internet.

Our in-house authors have personally visited / photographed over 150 hotels in Fiji from family resorts to backpacker huts and over 50 different accommodations in the Cook islands from the most luxurious private island retreat to locally owned holiday homes. All reviews you read throughout this website have been written by our authors, and all photographs have been taken by us to ensure a first-hand and unbiased portrayal of what we promote.

It's that simple – planning your holidays has never been easier.


"I just wanted to tell you that your website offers absolutely the best tourist information on the South Pacific. It blows all of the others away. I am so happy to have found it"

Shane & Matt, Australia
We hope you enjoy reading all about this exotic destination to find out the best things to see and do. Hopefully we have inspired you enough to make a booking from one of our affiliate booking agents ...