Beautiful Pacific - South Pacific Holidays in Fiji, Resorts in the Cook Islands
Beautiful South Pacific Holidays in Fiji, Cook Islands, Tonga ...

South Pacific holidays are the stuff of dreams. Whether you're looking for a laid back beach holiday in the Cook Islands or Tonga, a family holiday in the Fiji Islands, a more adventurous trip exploring the cultures and kastom villages of Vanuatu and Samoa, or marvelling at the world famous coral reefs in New Caledonia or the Solomon Islands, you're at the right place. As a family owned Fiji holiday specialist based in the islands we know the best places to visit and have great deals for beach resorts in the South Pacific Islands:

The most popular holidays in the South Pacific islands for families and couples, beach holidays in Fiji offer excellent scuba diving and snorkelling plus a host of day tours and activities to keep you busy.
Popular Regions to Visit for Holidays in Fiji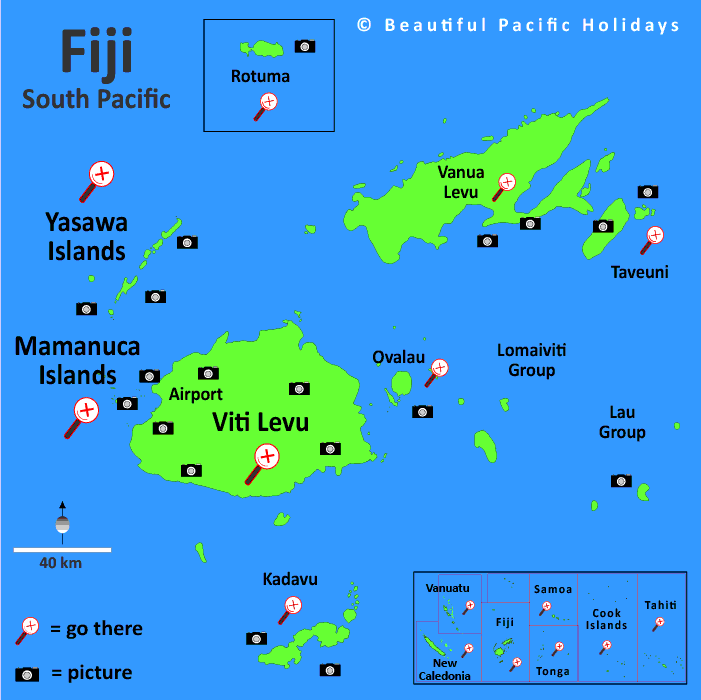 Picture Map of Fiji Islands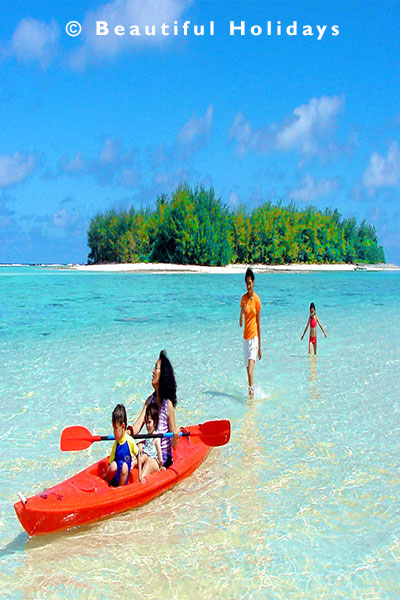 A favourite amongst New Zealand tourists, Cook Islands holidays on Rarotonga offer excellent beaches and bungalows plus a relaxing and friendly holiday ambience for relaxing.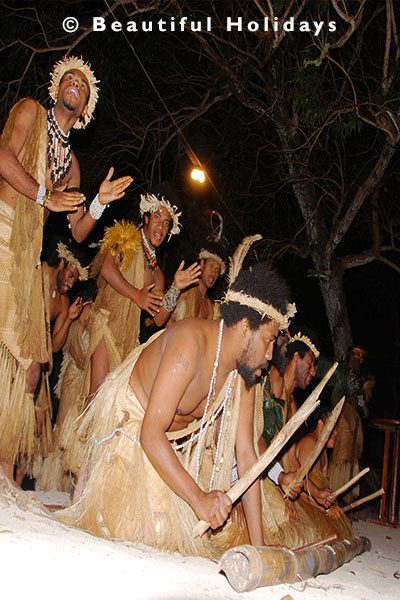 Boasting a very rich and genuine culture, Vanuatu is a brilliant adventure holiday destination with kastom villages to explore, active volcanoes, dense rainforest and wild scuba diving and wreck dives.
Popular Regions to Visit in Vanuatu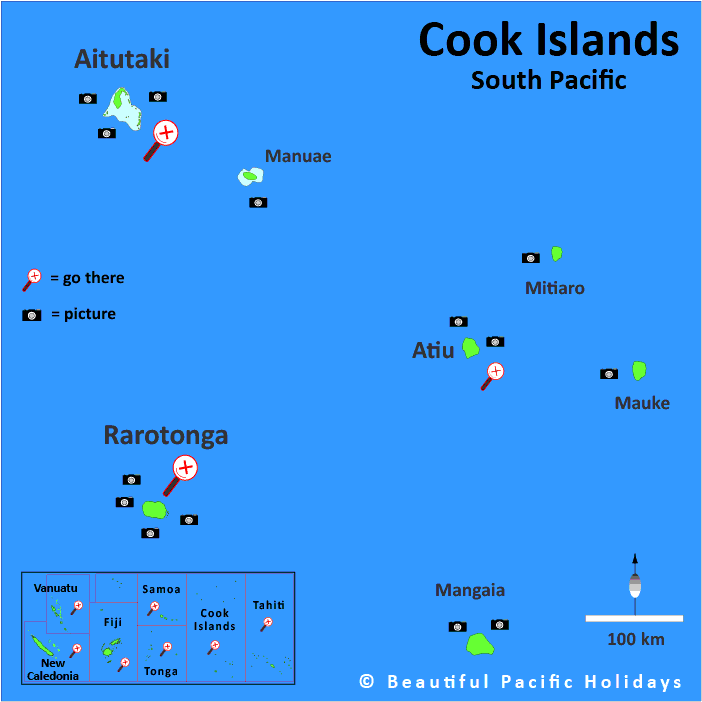 Picture Map of Cook Islands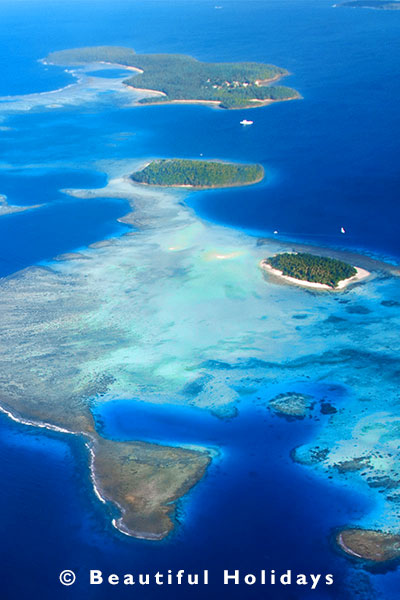 This small kingdom offers great value holidays in the South Pacific with boutique beach resorts located on uninhabited islands with outstanding snorkelling, game-fishing and whale watching in season.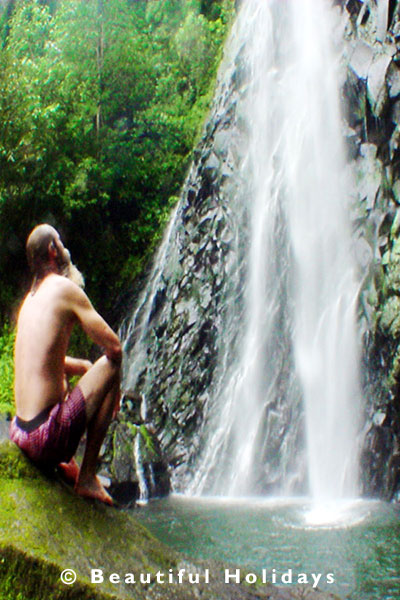 Known amongst travellers for its budget beach fales, Samoa has some good surfing breaks and rainforest adventures but only a handful of upmarket beach resorts. Come here for culture and sightseeing.


Watch this important clip and help save our beautiful South Pacific Islands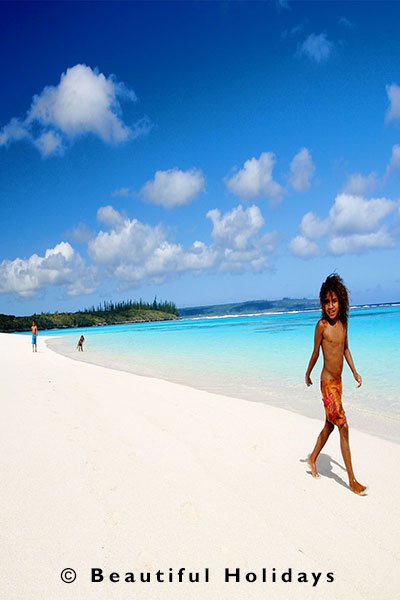 A mix of Melanesian culture and French finesse makes Noumea the best South Pacific resort town to visit on holiday plus there's great scuba diving and some stunning beaches in offshore islands.
Popular Regions to Visit in New Caledonia
Notoriously expensive, Tahiti is a glamorous South Pacific honeymoon destination with stunning overwater bungalows in Bora Bora and dramatic coastal scenery in Moorea. Good diving and tours too.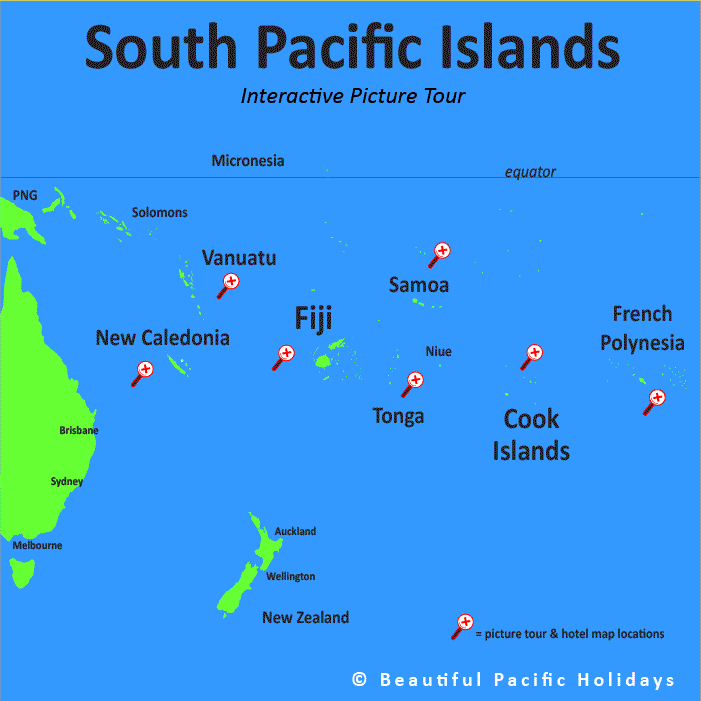 Map of South Pacific Islands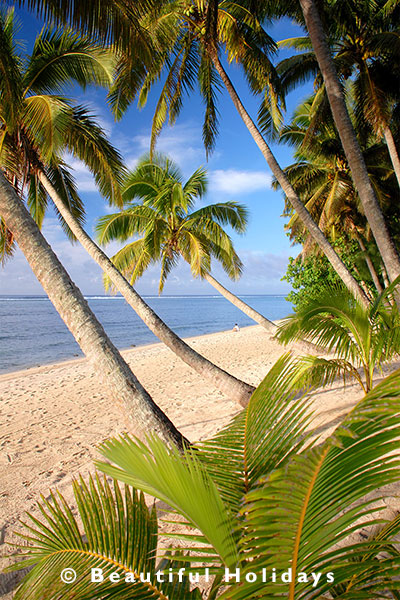 From the dense forests of the Solomon Islands to the small atolls of Micronesia, the South Pacific Islands is a vast region, much of which is virtually unexplored and free from commercial tourism.
Popular Regions to Visit in other Pacific Islands

South Pacific Holidays Guide
If you've ever watched
Castaway

or

Mutiny on the Bounty

and fancied swimming in that clear blue sea or sitting on that secluded beach, then you should look at our equally tempting South Pacific holiday packages. Whilst cloud-less skies, swaying palm trees and friendly locals are all stereotypes, they are associated with the islands because that's what you get!

The owners of Beautiful Pacific have travelled the islands extensively since 1995 and promote all types of holidays in Fiji, the Cook Islands, Vanuatu, Samoa and Tonga. Within the vast expanse of the Pacific Ocean there are literally thousands of tiny coral islands circled by sublime turquoise lagoons teeming with reef fish and dressed in colourful corals. You can swim in these unpolluted warm lagoons so clear that you can see a full 30 metres to the sandy bottoms or simply unwind on its exquisite soft white sand beaches under the cool shade of the iconic coconut tree. It's certainly no overstatement by saying the South Pacific Islands offer the best beach holidays in the world not only for romantic couples, but families too.

Rising majestically from these pristine lagoons are steep rugged islands with volcanic mountain ranges, dense tropical rainforest and mysterious traditional villages offering great scope for adventure holidays. The people living in these delightful islands are by no coincidence amongst the most peaceful people in the world living a stress-free, happy-go-lucky life - a true paradise.

South Pacific Resorts
Throughout our guide provide links to plenty of different accommodation options and highlight our favourite South Pacific Resorts. Simply select any accommodation from our directories and we'll provide you with our personalised review about that resort including all room category prices, our own pictures plus an instant quotation form providing the best deals available.

We have personally visited all seven destinations we promote and have independently reviewed and photographed over 150 hotels in Fiji from family resorts to backpacker huts and almost 100 different types of accommodations in the Cook islands from the most luxurious private island resort to locally owned holiday homes. All reviews you read throughout this website have been written by ourselves, and all photographs have been taken by us to ensure a first-hand and unbiased portrayal of what we promote.

It's that simple – planning your holidays has never been easier. Our Beautiful Pacific reservations consultants are waiting to receive any questions you have and to help organise all your accommodation, ground transportation and day tours ...


"Vinaka for all your efforts in arranging our holidays in Fiji. Maria, who met us at the airport was very nice and helpful and the shell necklaces we were given by her were an unexpected pleasure. Until next time."

Chris & Mark Liddiard, Canberra, Australia
"I just wanted to tell you that your website offers absolutely the best tourist information on the South Pacific. It blows all of the others away. I am so happy to have found it"

Shane & Matt, Australia
South Pacific Travel Guide
If this is your first time visiting the South Pacific islands and you need help selecting a destination, we suggest you start at our South Pacific Holidays Planner which gives a great overview of what each island has to offer compared to its neighbours. Otherwise, choose a South Pacific Island in the map below to find out more about the destination:

Beautiful Pacific Holidays - a family business in the South Pacific
South Pacific holidays are easy to book at the click of a button though any of the global hotel booking engines. But the difference between a disappointing holiday and an experience that you'll never forget is often decided by where you choose to stay and whether it's the right choice for you. That's why you should book your accommodation through a local travel expert and not just grab a deal through one of the global booking engines or large high street travel agents whose consultants often know little about the product they're selling you other than it earns them good commission.

Our reservations consultants live in the South Pacific islands and have visited many of the resorts personally, have all the latest news at their fingertips and will ensure you experience the genuine friendliness of the islands. Our staff are readily available to answer your questions and to make sure your itinerary runs smoothly throughout.

We hope you enjoy reading all about this exotic destination to find out the best things to see and do. Hopefully we have inspired you enough to get an instant quote from our online quotation form ...