Rarotonga Accommodation Guide
The majority of accommodation on Rarotonga Island is located along the coast and usually beach front. There are concentrations along the west coast and around Muri Beach on the south-east side of the island, and to a lesser extent along the secluded beaches of the south coast. There are a couple of large hotels and a dozen or so smaller motel style units , but the majority of accommodation is beach bungalows, usually with some self-catering. There are plenty of good restaurants around the island so dining out is always available.

There are only a dozen or so all inclusive hotels on Rarotonga, with the largest hotel having 250 guest rooms. However, the most popular style of accommodation is local styled bungalows, usually open living with high ceilings and sometimes thatch roofing, with the average property having between 5 and 20 bungalows. Most accommodation on Rarotonga is beach-side of the coastal road with some offering absolute beach front rooms / bungalows and a little further back ocean-view or garden rooms / bungalows. A few motels are found on the mountainside of the coastal road, but the road is not busy and generally such accommodations offer better affordability.

The larger hotels and motels usually have a swimming pool, restaurant, tour desk and 24-hr reception for guest convenience, with the Rarotongan Resort, Pacific Resort and The Edgewater Hotel also having tennis courts, a kids club and a small boutique shop selling convenience items like sunscreen, postcards, hats and small souvenir gifts. However, over half of the accommodation on Rarotonga smaller accommodations have individual bungalows offering a more intimate atmosphere but fewer amenities, and usually no restaurants. Holiday homes are also popular, with the majority found in the and around the villages of the beach-less north and east coast of the island.

Please view our favourite Rarotonga hotels from our directory for detailed information including room interior photos and independent reviews, or click on an accommodation from the map below.


Rarotonga Hotel Directory
Top Picks
Picture of Hotel Location

Hotel Name
(click for details & pix)
Summary
(style)
Hotel Rate
(NZ$)
Our Best Rate
(click for quote)
Little Polynesian


South Rarotonga

9 rooms
Bungalows
$ 630 - 1,070
Crown Resort / Hotel


West Rarotonga

38 rooms
Resort
$ 600 - 865
Manuia Beach Hotel


West Rarotonga

24 rooms
Resort / Hotel
$ 335 - 510
Sokala Villas


Muri Beach, Rarotonga

10 rooms
Villas
$ 300 - 450
Aroa Beachside Inn


South-West Rarotonga

11 rooms
Units
$

265 - 365

Muri Beach Hideaway


Muri Beach, Rarotonga

9 rooms
Bungalows
$ 250 - 320
Palm Grove


South Rarotonga

21 rooms
Resort / Units
$ 225 - 345
Cooks Oasis


West Rarotonga

8 rooms
Units
$ 160 - 200
Tiana's Beach Villas


Muri Beach, Rarotonga

6 rooms
Units
$ 135 - 165
Vara's Backpackers


Muri Beach, Rarotonga

24 rooms
Backpacker
$ 55 - 120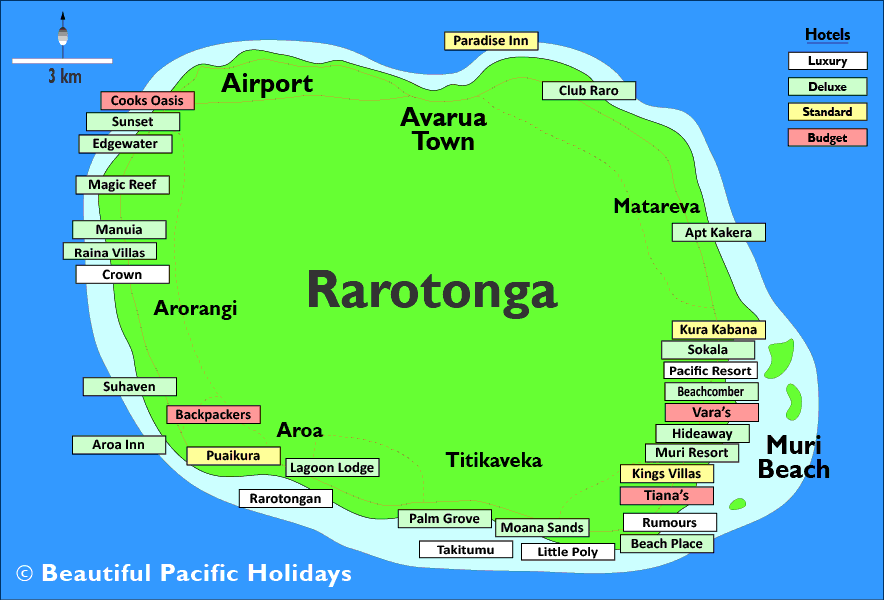 Recommended
Picture of Hotel Location

Hotel Name
(click for details & pix)
Summary
(style)
Hotel Rate
(NZ$)
Our Best Rate
(click for quote)

Raro Beach Bungalows




South Rarotonga

5 rooms
Bungalows
$ 535 - 585
Royale Takitumu


South Rarotonga

10 rooms
Villas
$ 530 - 630
Pacific Resort


Muri Beach, Rarotonga

64 rooms
Resort
$ 420 - 740
Moana Sands Hotel


South Rarotonga

22 rooms
Resort / Hotel
$ 350 - 440
Magic Reef Bungalows


West Rarotonga

9 rooms
Bungalows
$ 295 - 395
Edgewater Resort


West Rarotonga

250 rooms
Resort
$ 260 - 570
Lagoon Breeze Villas


South-West Rarotonga

21 rooms
Units
$ 228 - 350
Holiday Homes


Rarotonga

Private
Houses
$ 190 - 370
Club Raro Resort


North Rarotonga

12 rooms
Resort
$ 185 - 250
Kings Beach Villas


Muri Beach, Rarotonga

2 rooms
Bungalows
$ 160
Others
Rumours Luxury Villas


Muri Beach, Rarotonga

5 rooms
Villas
$ 850 - 1,800
Moana Beach Villas


South Rarotonga

6 rooms
Units
$

700

Sea Change Villas


South Rarotonga

5 rooms
Villas
$ 550 - 850
Rarotongan Resort


South-West Rarotonga

156 rooms
Resort
$ 385 - 825
Muri Beachcomber


Muri Beach, Rarotonga

22 rooms
Units
$ 295 - 420
Sunset Resort


West Rarotonga

35 rooms
Resort / Hotel
$ 295 - 405
Raina Lagoon Villas


West Rarotonga

6 rooms
Bungalows
$ 290 - 340
Sunhaven Bungalows


West Rarotonga

9 rooms
Bungalows
$ 260 - 300
Muri Beach Resort


Muri Beach, Rarotonga

15 rooms
Units
$ 240 - 395
Castaway Beach Villas


West Rarotonga

12 rooms
Units
$ 220 - 250
Manea Beach Villas


Muri Beach, Rarotonga

8 rooms
Villas
$ 200 - 385
Puaikura Reef Lodge


South-West Rarotonga

12 rooms
Units
$ 195 - 220