Independent review for Tokatoka Resort Hotel in Nadi Fiji Islands

Tokatoka Resort Fiji is the ideal airport hotel with spacious grounds, a large swimming pool with water slide and just 3-minutes drive to the airport yet away from the airport flight path and noise. Tokatoka also makes a great base for exploring Nadi and the offshore islands.
Recommended For:
Stop-overs & Business Travellers
Opposite International Airport
Good Amenities
Quick Facts
80 Rooms
Town - Airport Location
Restaurant & Bar, Tennis, Swimming Pool


Fiji Islands Map

Nadi Airport Map
Tokatoka Resort Hotel Room Details & Rates
Room Category
(click for details & pix)
Sleeps
(c = child)
Hotel Public Rate
(for 2 people)
Studio Room
2a+2c or 3a
F$ 205
Family Room
2a+2c or 3a
F$ 235
1-Bedroom Villa
2a+2c or 3a
F$ 275
2-Bedroom Villa
7
F$ 435
Get these Free Inclusions: Courtesy Nadi Airport Transfers

Tokatoka Resort Hotel Information & Facts
Hotel Location: Directly opposite International Airport
Getting There: 1-minute by road from Nadi Airport or a 5 min walk
Unique Qualities: Excellent value base for sightseeing or stop-over, spacious villas
Ideal for: Couples, Families, Groups, Business People, Transit Day Rooms
Hotel Features: 80 Rooms, Swimming Pool with Slide
Dining: Restaurant & Bar at the hotel - restaurants in Nadi 10 mins by road
Children Policy: All ages welcome
Local Attractions / Tours: Nadi Town, Inland Tours, Island Day Cruises
The Beach: Not on beach - closest beach 15 mins by road
The Ocean: Not on Ocean
Snorkelling: On day cruises to islands
Other Activities: Scuba Diving & Game Fishing charters on offer from Nadi Bay
Room Information
Studio Rooms are located in duplex bungalows within landscaped gardens behind the swimming pool. All villas have TV, IDD phone, air-conditioning and ceiling fans.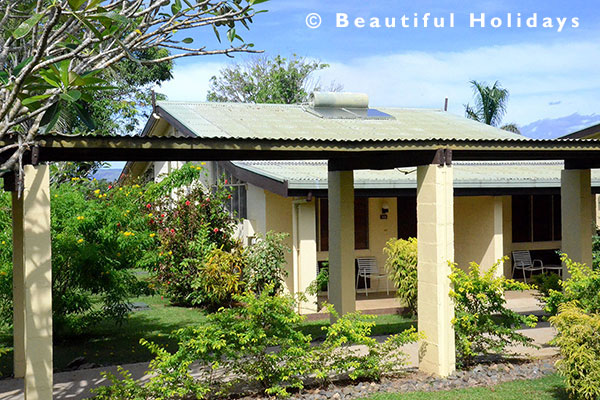 studio rooms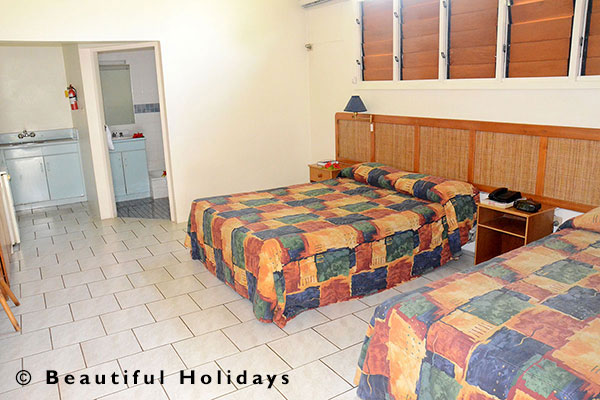 interior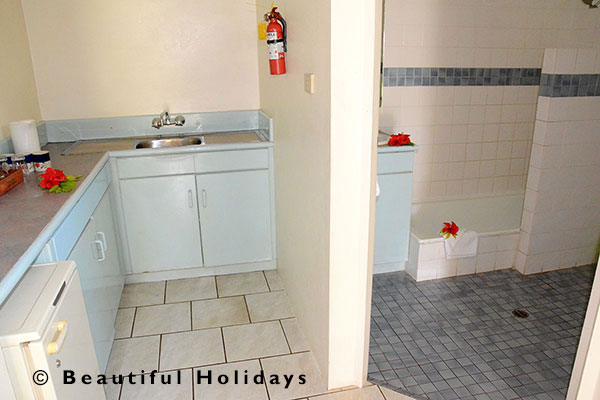 bathroom
Family rooms are located in duplex bungalows at the back of the property behind the swimming pool and have a Queen and two single beds in an open plan room. All rooms have TV, IDD phone, air-conditioning and ceiling fans.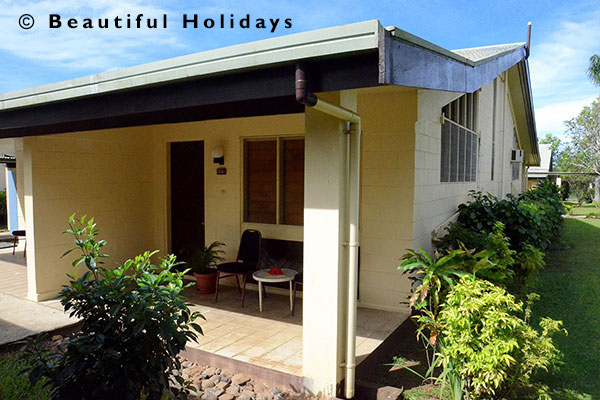 family rooms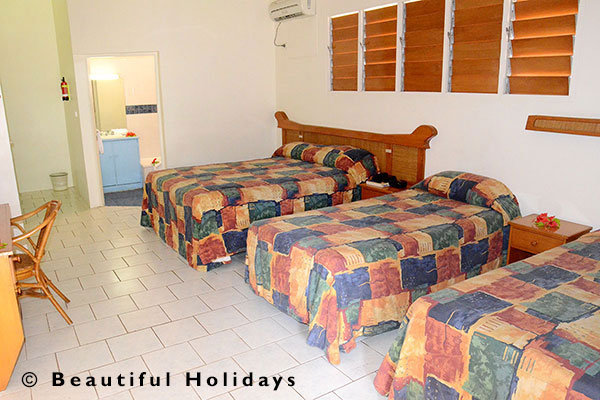 interior
bathroom
The 1-bedroom and 2-bedroom villas are located in spacious lawn areas with coconut palms and are private stand-alone bungalow. They offer large living area with kitchenette, one bedrooms and one bathroom. All villas have TV, IDD phone, air-conditioning and ceiling fans.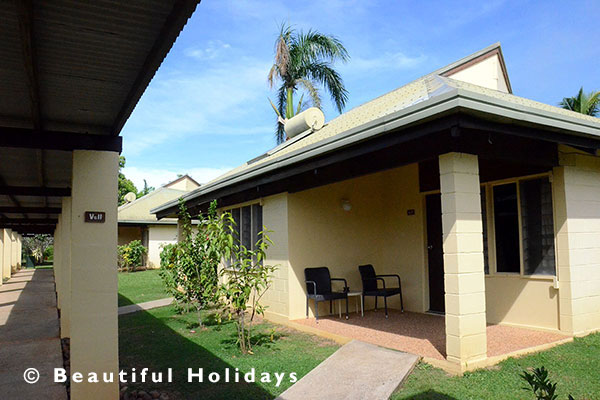 the villas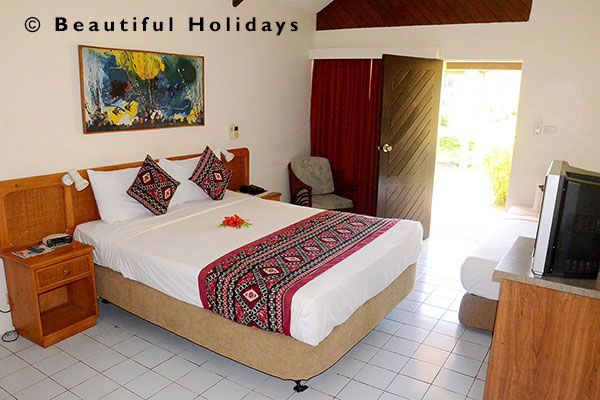 1-bedroom villa interior
1-bed villa
1-bed villa bathroom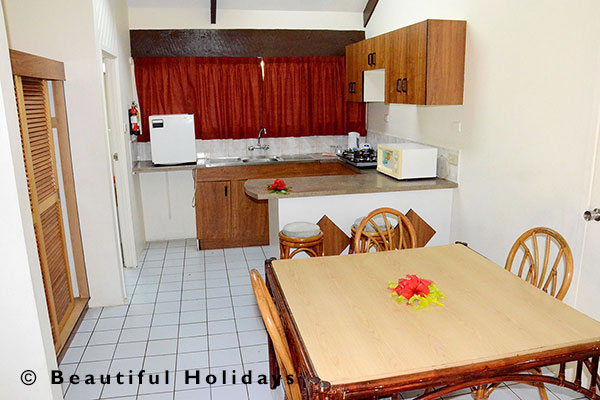 2-bedroom villa - kitchen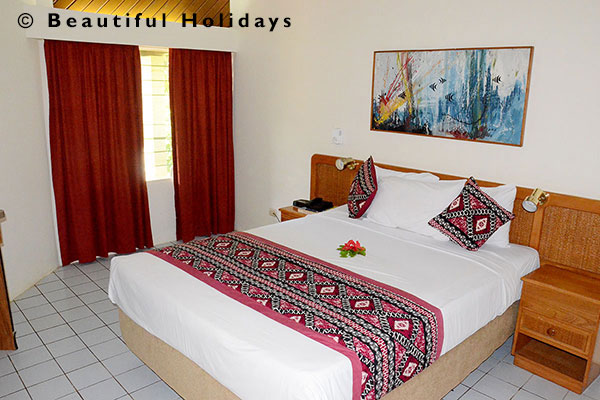 2-bedroom villa master bedroom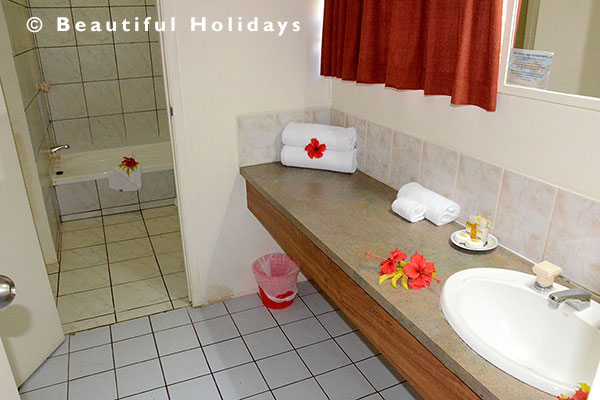 2-bedroom villa ensuite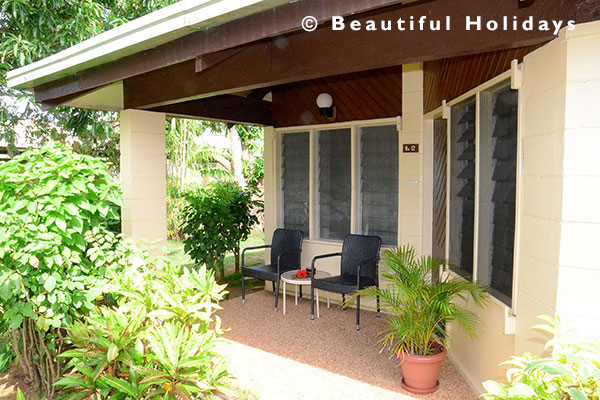 priavte deck
Hotel Amenities
Tokatoka Resort boasts a large swimming pool with central island with a shallow section for kids, arch bridges, rock waterfall and fun water slide. Kids play area has swings, slide and sea-saw and there's a games room with table tennis