Independent review for The Terraces on Denarau Island in Fiji

The Terraces Fiji offers some of the most spacious and affordable luxury accommodation on the lifestyle resort complex of Denarau Island. Overlooking the 18-hole championship golf course (special rates apply) and 3-minutes walk to Port Denarau Marina with shops, bars and restaurants, the self-catering fully furnished apartments make an ideal base for exploring and dining out.
Recommended For:
Couples & Families
Spacious Apartments facing Golf Course
Walk to Port Denarau Restaurants & Shops
Quick Facts
165 Apartments
Town Suburb - Lifestyle Resort Location
Restaurant & Bar, Swimming Pool


Fiji Islands Map

Denarau Map
The Terraces Denarau Room Details & Rates
Room Category
(click for details & pix)
Sleeps
(c = child)
Hotel Public Rate
(for 2 people)
1-Bedroom Apartment
3
F$ 495
2-Bedroom Apartment
5
F$ 645
3-Bedroom Apartment
7
F$ 745
The Terraces Denarau Information & Facts
Hotel Location: Overlooking Denarau Golf Course on Denarau Island in Nadi
Getting There: 20 mins by road from Nadi Airport
Unique Qualities: Spacious self-catering apartments, golf course views, amenities
Ideal for: Couples, Families, Golf Enthusiasts
Hotel Features: 165 Apartments, Swimming Pool, Landscaped Gardens
Dining: Breakfast Bar, Restaurants at Port Denarau just 1 minute walk away
Children Policy: All ages welcome
Local Attractions / Tours: Denarau Island facilities, Nadi Town, Island Day Cruises, Inland Tours
The Beach: Not on beach - Denarau beach is10 minutes walk away
The Ocean: Average at Denarau Beach - brackish water
Snorkelling: On day trips only
Other Activities: Scuba Diving, Parasailing, Island Cruise
Hotel Amenities
All, apartments face the Denarau golf course and are located over three stories and are elegantly appointed with lift access from a reception area.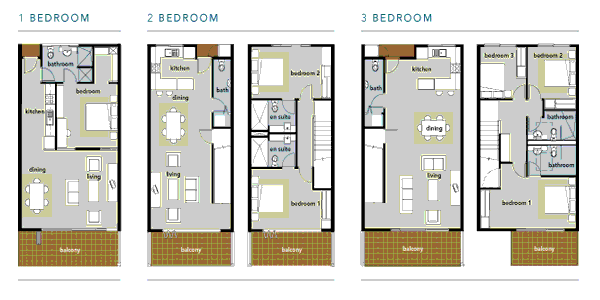 Breakfast and light snacks are served around the swimming pool and there's a daily delivery service from Nadi's finest grocery for those wishing to cook for themselves. Otherwise, A dozen great restaurants including the lively Cardo's steak restaurant and Hard Rock Cafe are a 2-minute walk away and the Denarau Shuttle Bus offers easy travel around Denarau Island.