Independent review for Club Fiji Resort in Nadi, Fiji Islands

Club Fiji Resort is a secluded beach resort in Nadi Bay about 15 minutes drive from the international airport and 10 minutes drive to Nadi Town. The resort offers duplex wooden bungalows along the beach front and budget style spacious rooms in a double storey block. This resort has an excellent Bar and Restaurant overlooking the beach and ocean and a great holiday style atmosphere offering great value for money.
Recommended For:
Couples, Families & Groups
Affordable Beach Holiday
Day Tours & Boat Trips
Quick Facts
32 Rooms
Town - Beachfront Location
Children Welcome - Under 12yrs Stay for Free
Restaurant & Bar, Swimming Pool


Fiji Islands Map

Nadi Airport Map
Club Fiji Resort Room Details & Rates
Room Category
(click for details & pix)
Sleeps
(c = child)
Hotel Public Rate
(for 2 people)
Garden Court Bure
3
F$
Ocean View Bure
3
F$
Beach Front Bure
3
F$
Family Beach Front Bure
2a+4c or 5a
F$
Club Fiji Resort Information & Facts
Hotel Location: Beach Front at Wailoaloa, 5 mins by road from Nadi Town
Getting There: 15 mins by road from Nadi Airport
Unique Qualities: Excellent value resort with island and sunset views
Ideal for: Couples, Families, Groups
Hotel Features: 32 bungalows, Swimming Pool
Dining: Restaurant & Bar at the hotel - restaurants in Nadi 5 mins by road
Children Policy: All ages welcome
Local Attractions / Tours: Wailoaloa Beach, Nadi Town, Inland and Island Day Tours
The Beach: Average - brownish sand and rather barren but good views
The Ocean: Poor for swimming - brackish water
Snorkelling: Poor - too murky from mangrove forests run-off
Other Activities: Island boat trips and Scuba Diving
Room Information
Garden Court, Ocean View and Beach Front bures are of similar interior design with the main difference being location. These bures are of duplex design (1 bure split in half giving two individual rooms). Interiors are well designed and spacious enough for a couples, each with private veranda and private hot water bathroom with shower.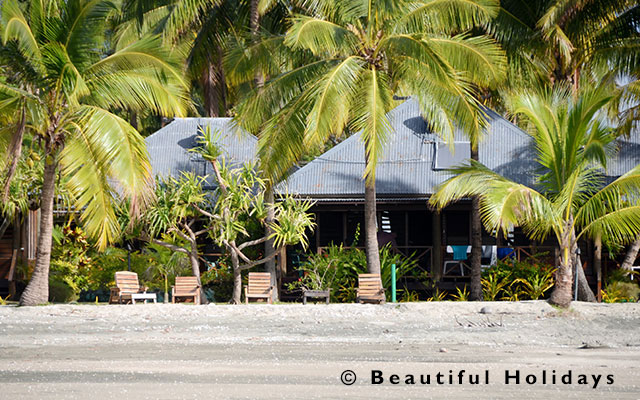 garden bure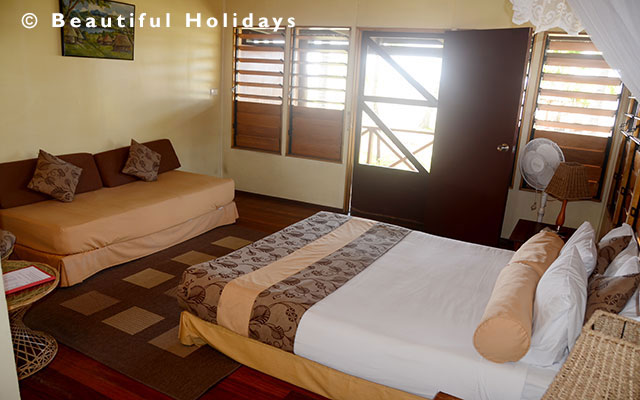 interior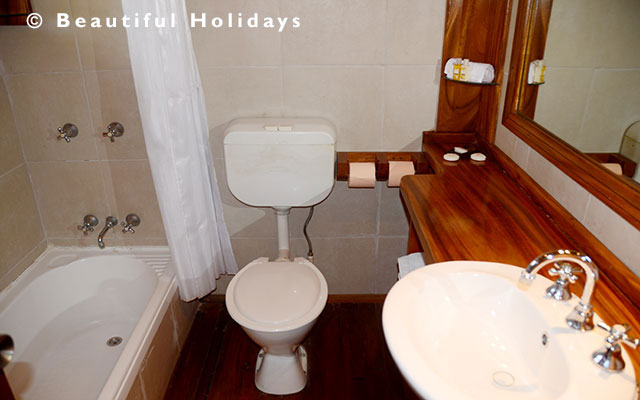 bathroom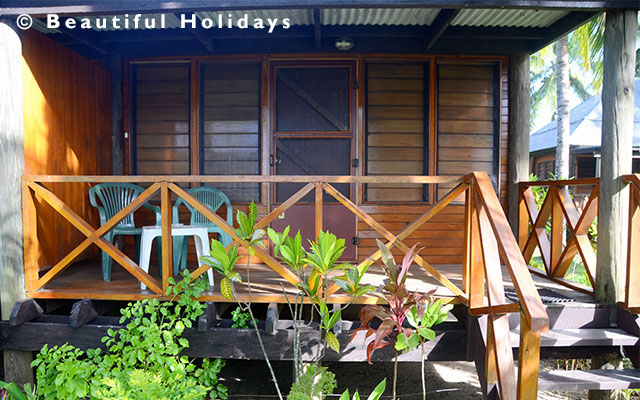 bure deck / entrance
The Family Beach Bure is a combined duplex beach bure with interconnecting doors, each half having a bedroom and en-suite bathroom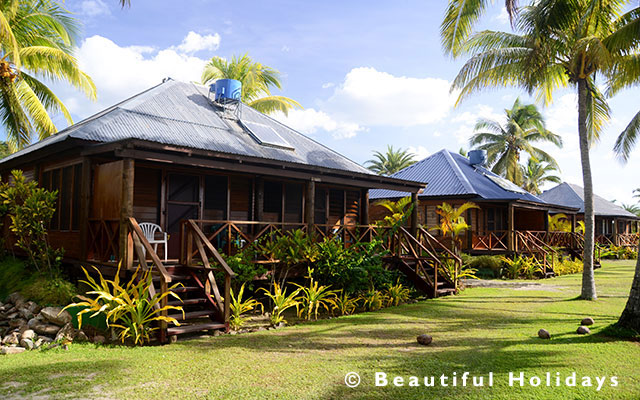 beach bure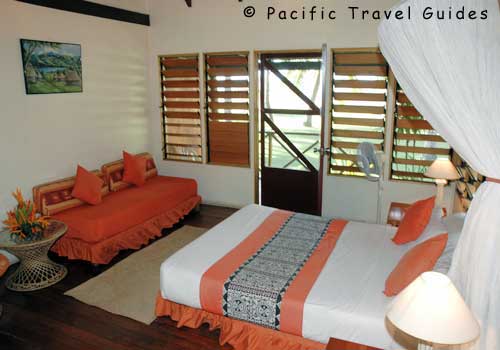 interior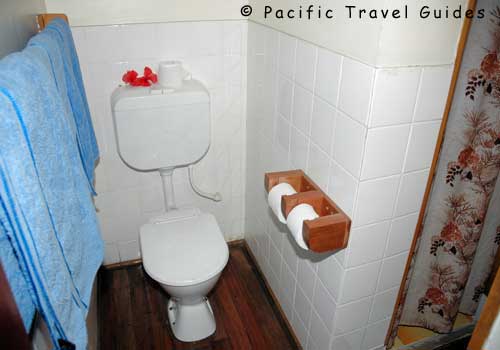 bathroom
Hotel Amenities
Located in Nadi Bay at Wailoaloa Beach, this is one of the few budget resorts in Nadi on the Beach Front. The beach itself is ordinary but there are picturesque views of the mountains and offshore islands. Swimming is not great as the lagoon is ankle deep at low tide and there is no snorkelling here. The resort has lovely landscaped gardens and there's a distinct tropical holiday atmosphere here with a nice pool and excellent bar / restaurant.