Independent review for Aquarius Beach Resort in Nadi, Fiji Islands

Aquarius Beach Resort Fiji is a converted beach house offering budget travellers a homely place to stay beside Nadi's best Beach Front location overlooking the offshore islands. With double rooms with private bathrooms, a good restaurant, swimming pool and Beach Front, this is a great base to explore the main island or before moving on to other islands.
Recommended For:
Backpackers & Budget Travellers
Stopovers on the Beach
Day Cruises & Sightseeing base
Quick Facts
12 Rooms
Town - Beachfront Location
Restaurant & Bar, Swimming Pool


Fiji Islands Map

Nadi Airport Map
Aquarius Beach Resort Room Details & Rates
Room Category
(click for details & pix)
Sleeps
(c = child)
Hotel Public Rate
(for 2 people)
Standard Dorm
6a / 12a
F$ 30 pp
4 Bed Dorm
2 x bunk
F$ 40 pp
2 Bed Dorm
1 x bunk
F$ 50 pp
Standard Room
3
F$ 130
Deluxe Room
3
F$ 140
Ocean View Room
3
F$ 155
Aquarius Beach Resort Information & Facts
Hotel Location: Beach Front, Nadi Bay
Getting There: 10 mins by road from Nadi Airport
Unique Qualities: Beach setting with ocean views, guesthouse atmosphere, excellent value
Ideal for: Couples, Families, Groups, Backpackers
Hotel Features: Swimming Pool, Internet Cafe
Dining: Restaurant at the hotel - taxi to town restaurants costs approx F$15
Children Policy: All ages welcome
Local Attractions / Tours: Nadi Golf Club, Nadi Shopping, Island Tours
The Beach: Average - grey sand beach but with beautiful coastal views
The Ocean: Average for swimming - sandy bottom, some waves
Snorkelling: On island tours only
Other Activities: None
Room Information

The five dorm rooms are located on the ground floor, vary in size from 2 people to eight people, with bunk beds and each dorm room having separate bathrooms.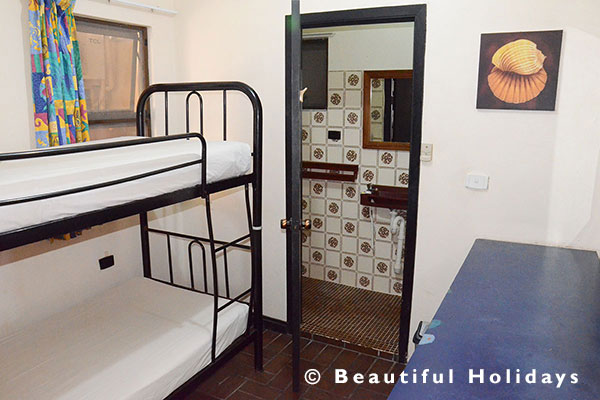 2-bed dorm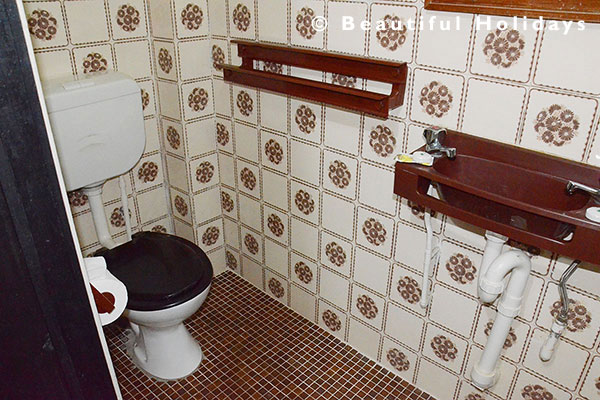 2-bed dorm bathroom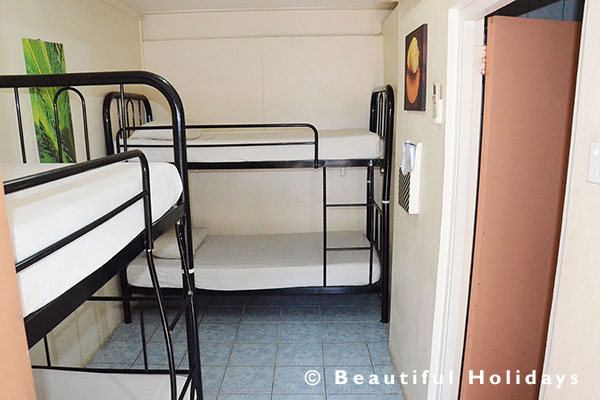 4-bed dorm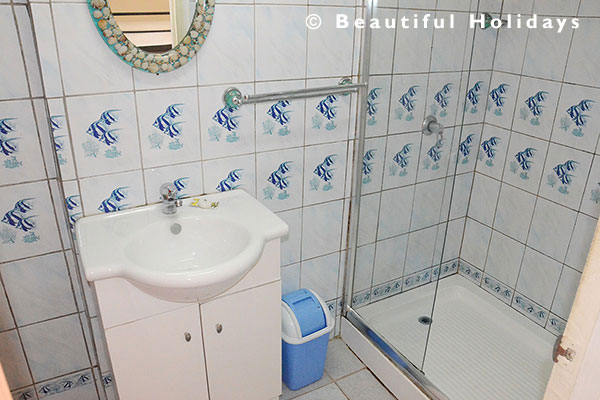 4-bed dorm bathroom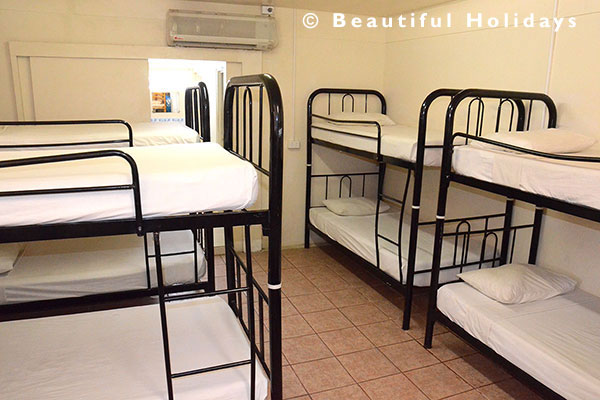 8-bed dorm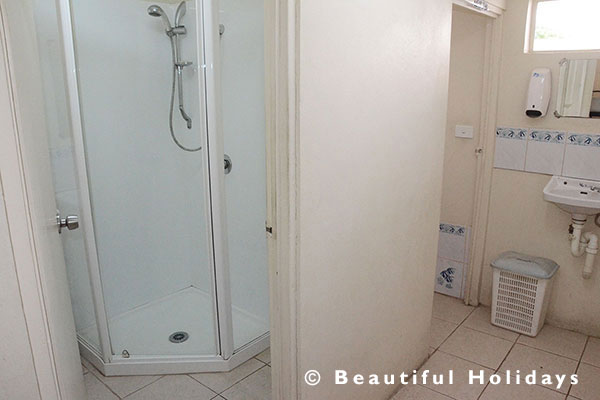 8-bed dorm bathroom
Located on the second floor of the guesthouse are the double rooms all with similar interiors all en-suite.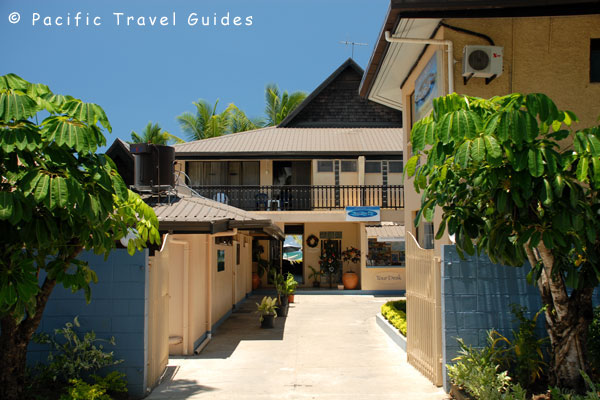 garden rooms
deluxe room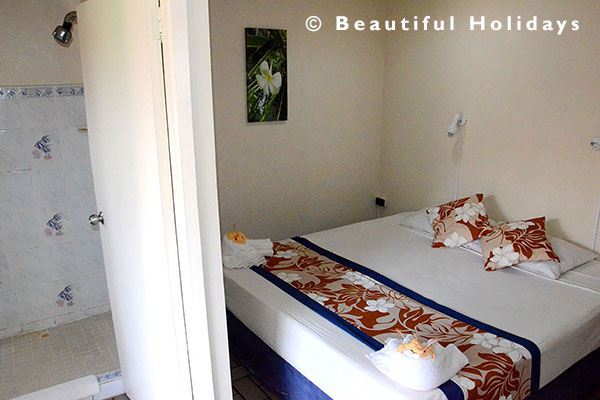 double room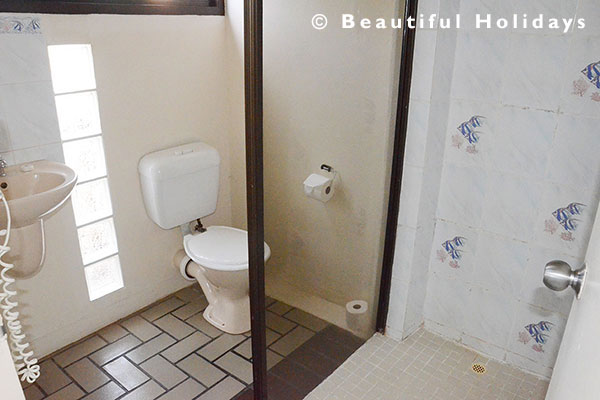 bathroom
garden room veranda
Located on the second floor of the guesthouse the Ocean view doubles have large balconies overlooking the pool and beach.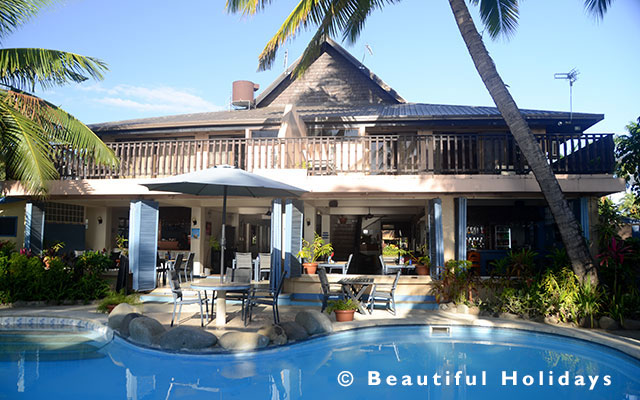 ocean view rooms
room interior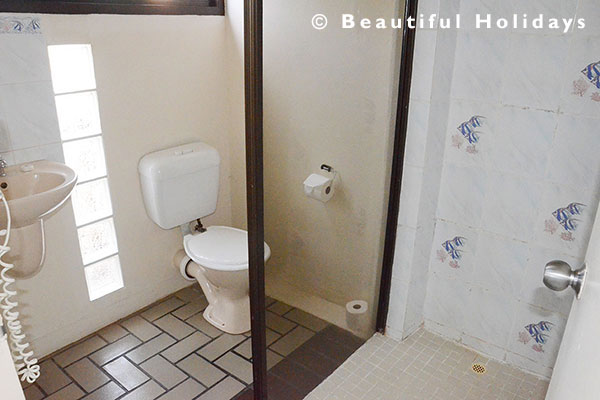 bathroom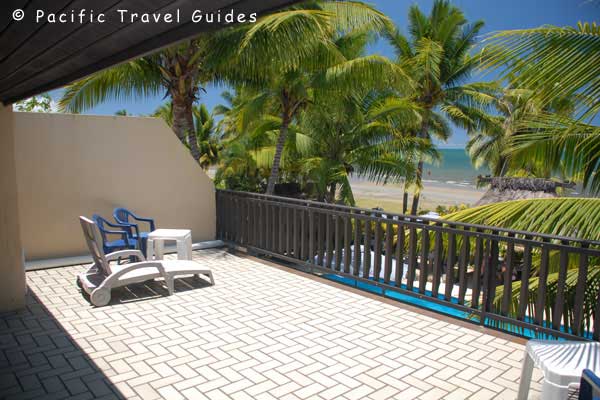 ocean view terrace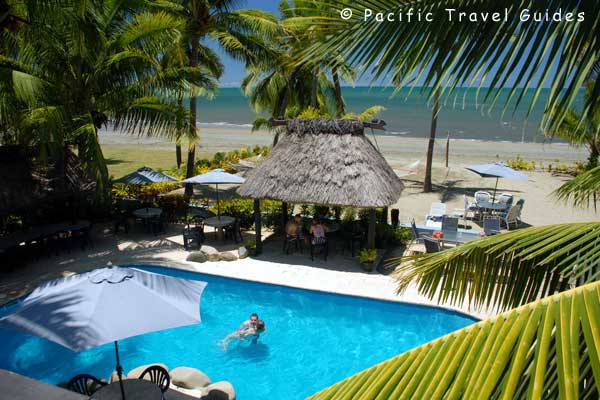 ocean view outlook
Hotel Amenities
Internet room, communal lounge with TV and restaurant.