Independent review for Anchorage Beach Resort on the outskirts of Nadi in the Fiji Islands
Anchorage Beach Resort Fiji is built on a hillside amongst seven acres of landscaped gardens with stunning views of the ocean and the Sabeto Mountain Range. Whilst this boutique hotel fronts a sandy beach, the ocean offers neither good swimming nor snorkelling. However, this is an peaceful base just 15-minutes from Nadi Airport and with a lovely swimming pool. During the harvesting season (June to November) sugar cane trains pass between the resort and the beach at any time, day or night.
Recommended For:
Couples & Families
Day trips to Beachcomber Island
Stunning Mountain & Sea Views
Quick Facts
48 Rooms
Mainland Rural - Oceanfront Location
Restaurant & Bar, Swimming Pool


Fiji Islands Map

Nadi Rural Map
Anchorage Beach Resort Room Details & Rates
Room Category
(click for details & pix)
Sleeps
(c = child)
Hotel Public Rate
(for 2 people)
Mountain View Spa Room
2a+3c or 3a
F$ 199
Ocean Front Spa
2a+3c or 3a
F$ 275
Beach Side Spa
2a+3c or 3a
F$ 435
Panoramic 1 Bedroom Apartment
3a+2c or 4a
F$ 390
Panoramic 2 Bedroom Apartment
3a+2c or 4a
F$ 520

Children under 16yrs Stay Free when sharing with parents
Get these Free Inclusions
Daily Continental Breakfast
Honeymoon Special - Minimum 4 Nights
Complimentary bottle of Champagne and Fruit Basket

Anchorage Beach Resort Information & Facts
Hotel Location: Beach Front, Vuda Point, 15 mins to Lautoka & 20 mins to Nadi Town
Getting There: 10 mins by road from Nadi Airport
Unique Qualities: Fantastic views of Nadi Bay, islands, sunset and mountains
Ideal for: Couples, Families, Groups
Hotel Features: 48 Rooms, Swimming Pool, Landscaped Gardens
Dining: Restaurant & Sunset Bar on site
Children Policy: All ages welcome: 2 under 16yrs share for free
Local Attractions / Tours: Viseisei Historical Village, Island Tours
The Beach: Average - medium fine sand, extends to Viseisei Village, nice views
The Ocean: Poor for swimming - too shallow - dug-out lagoon offshore from beach
Snorkelling: Poor - limited coral and fish
Other Activities: Kayaking, Island Cruises
Room Information
The 16 Mountain View Spa Rooms form the old part of the hotel built up on the hillside with lovely ocean and mountain views. All rooms can sleep 2 people comfortably with a sliding window separating the en-suite bathroom with spa-bath. All rooms are air conditioned with private balcony, refrigerator, tea and coffee making facilities, telephone and Sky TV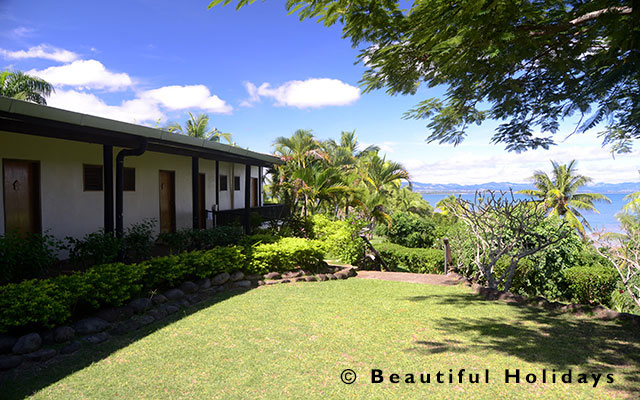 mountain view rooms rooms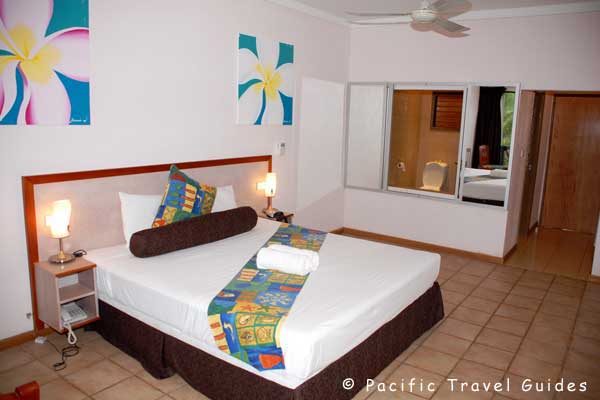 interior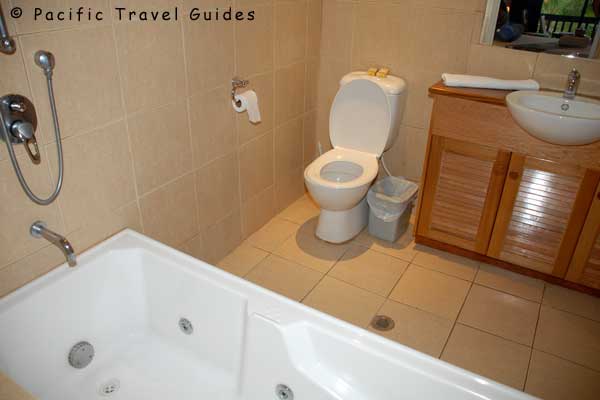 bathroom
The 20 Oceanfront Spa Rooms are in a modern two storey hotel block with ten rooms on each level, built flush against the hillside overlooking the ocean and with the sugar train track passing between the building and the beach front (light sleepers may be disturbed at night between July and December when the sugar trains are operating - NOTE - no trains between January and June). These are spacious and bright rooms with a sliding mirror opening to the spa bathroom. Each room has a balcony with ocean views, air conditioning and ceiling fans, refrigerator, tea-coffee making facilities, telephone and Sky TV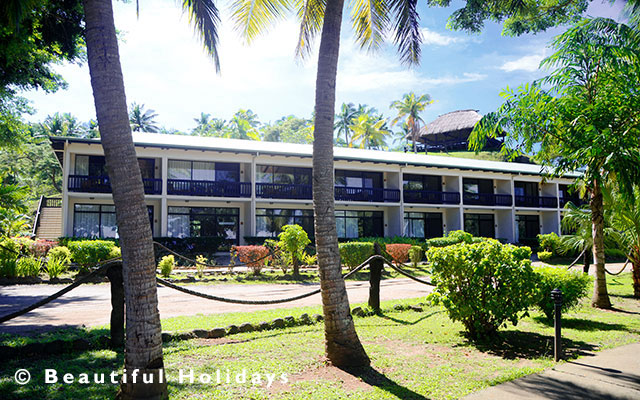 ocean view rooms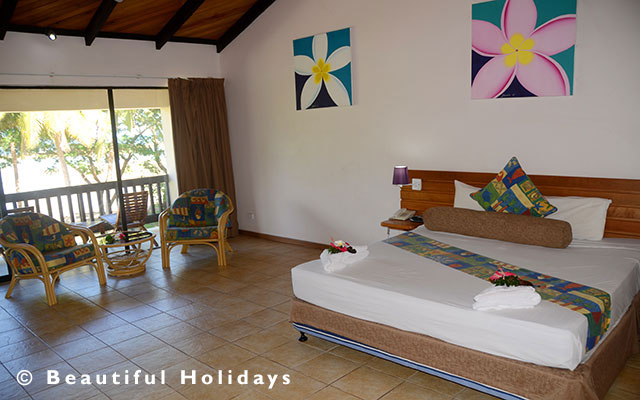 bed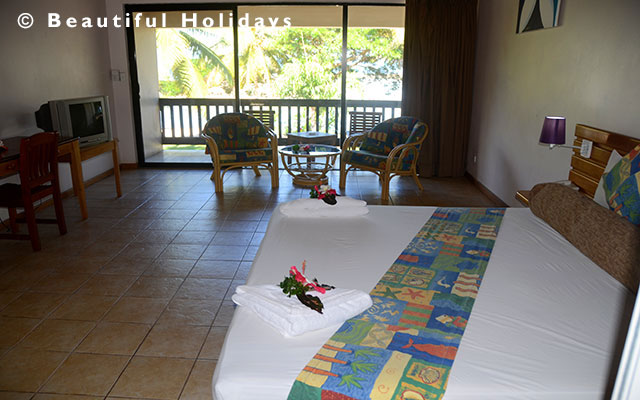 room interior
bathroom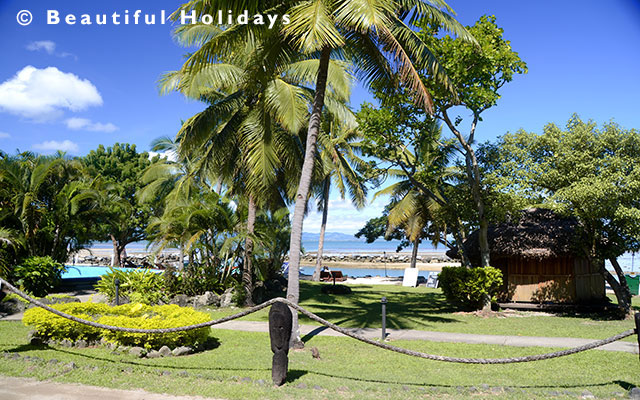 room outlook
The Beachside Spa Suites have high ceiling and spacious duplex bungalows ( 1 bungalow houses 2 suites) are located in a staggered line extending down the hillside towards the beach. Each suite has a private balcony with jacuzzi and view of the ocean. Each suite is equipped with fine hard wood furniture and has a spacious bathroom with shower and bath, air conditioning and ceiling fans, refrigerator tea and coffee making facilities, telephone and Sky TV.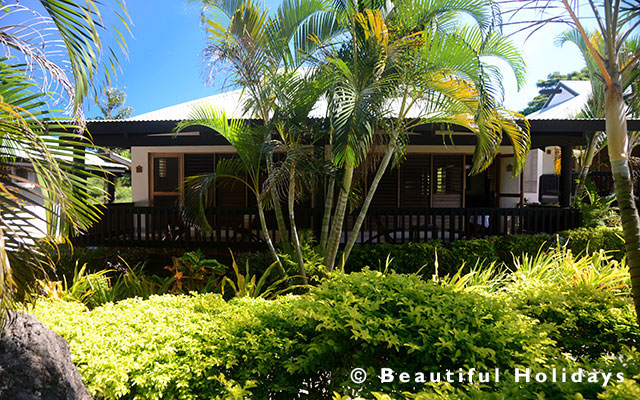 beachside spa suites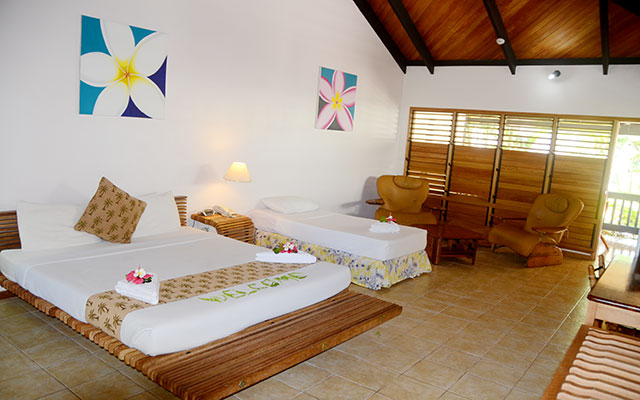 room interior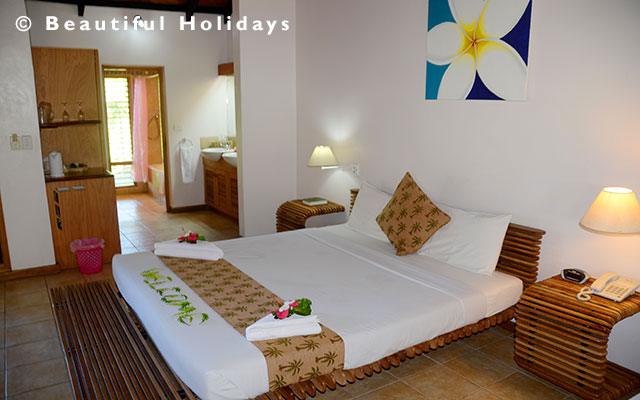 bed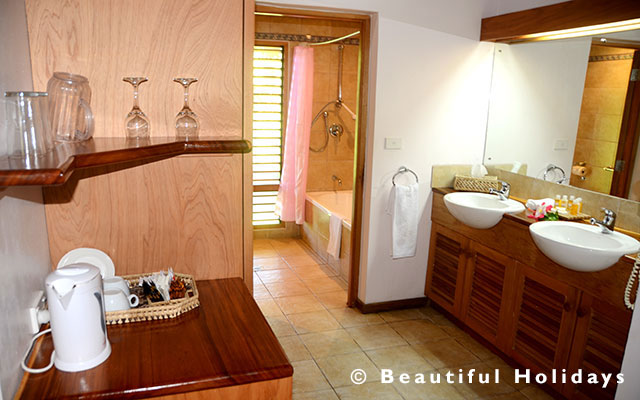 bathroom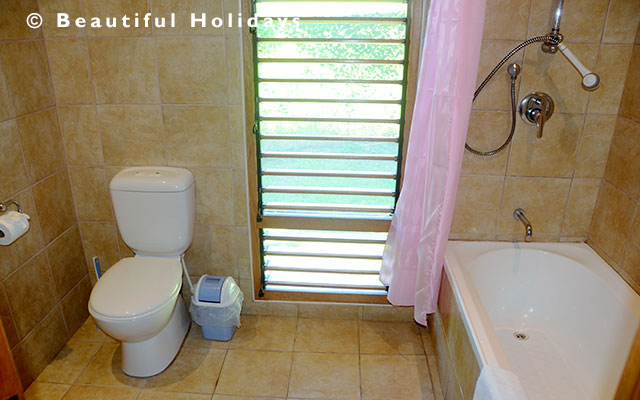 bathroom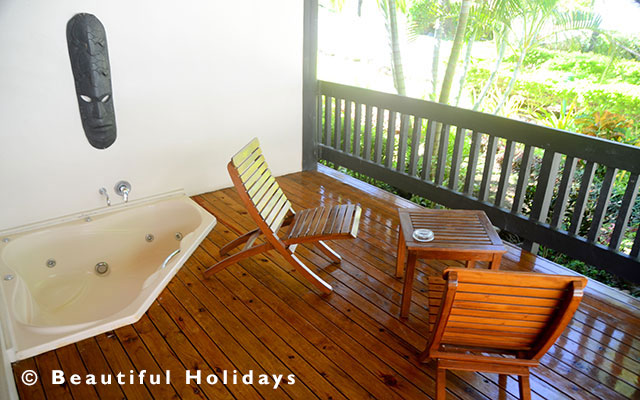 jacuzzi and deck