Independent review for Waterfront Lodge in Nuku'alofa Town, the Kingdom of Tonga

The Waterfront Lodge is the premier place to stay in Nuku'alofa with a colonial style guest house hosted by a friendly Italian family and offering a laid back holiday style atmosphere with charming guest rooms. Facing the local fishing harbour where day trips depart for the offshore island resorts and a twenty minute walk along the harbour wall to town, Waterfront makes a comfortable yet convenient stop over for holidaymakers and business people.
Recommended For:
Singles, Couples & Business People
Beautiful Colonial Style Lodge & Restaurant
Charming Rooms with WiFi
Quick Facts
12 Rooms
Mainland - Town Location
Restaurant & Bar


Tongatapu Map


Nuku'alofa Map
Waterfront Lodge Room Details & Rates
Room Category
(click for details & pix)
Sleeps
(c = child)
Hotel Public Rate
(for 2 people)
Garden View Room
3a
A$ 180
Sea View Room
3a
A$ 195
Waterfront Lodge Information & Facts
Hotel Location: Across road from Wharf on outskirts of central Nuku'alofa
Getting There: 35 minutes by road from Tonga International Airport
Unique Qualities: Small colonial style hotel 20 minutes walk along waterfront to downtown
Ideal for: Singles, Couples, Business People
Hotel Features: 8 Rooms, pool table
Dining: Restaurant & bar - independent restaurants close by
Children Policy: Under 12yrs NOT permitted
Local Attractions / Tours: Nuku'alofa town, ancient sites, blowholes
The Beach: No
The Ocean: Across road from Faua Wharf
Snorkelling: No - snorkel on day cruise to outer island resorts from Faua Wharf
Other Activities: Game fishing and scuba Diving from Faua Wharf
Hotel Information
The Waterfront boats a popular restaurant and with colourful artwork, free Wi-Fi internet access, and luggage storage whilst visiting the outer islands. For guests preferring to dine out, there are two fashionable restaurants within a five minute walk.
All rooms are identical in interior living space with the difference only being the views. Rooms are fully serviced and are equipped with air conditioning, a king size bed, private balcony, and modern bathroom with hot water. Internet access, satellite TV, mini fridge, tea and coffee facilities are also offered.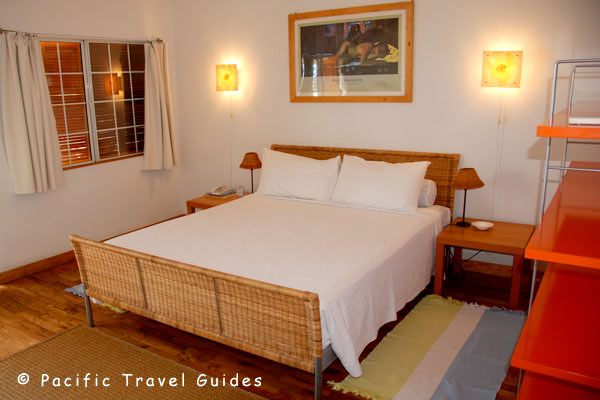 room bed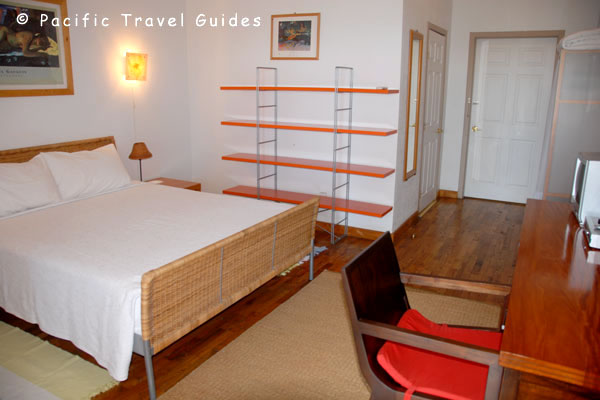 room interior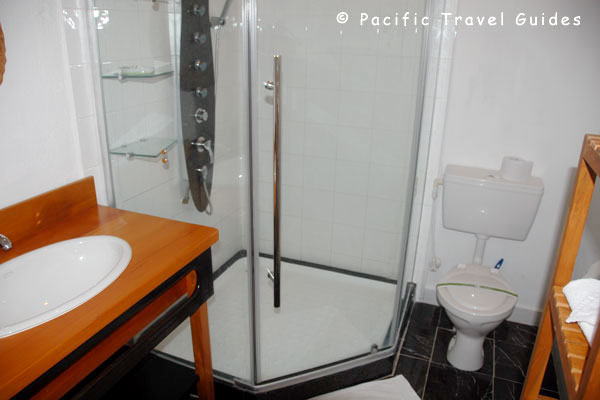 room bathroom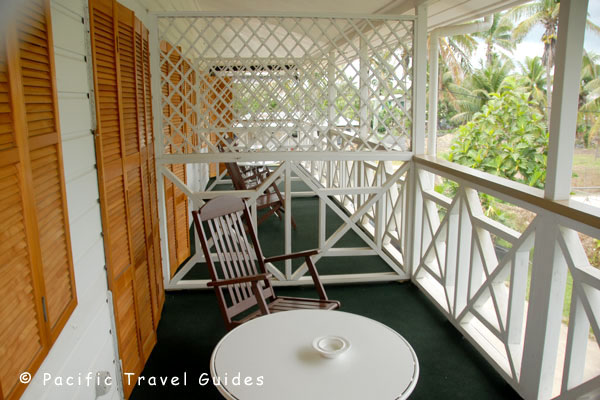 veranda outlook
Accommodation is in eight identical rooms, each with a comfortable King size bed, writing desk, small TV, open modern shelves for clothes and a bathroom featuring an excellent power shower with back massage. All rooms have a balcony, although these are connected to adjacent rooms and don't offer privacy. Continental breakfast is included in the room rate.