Independent review for Royal Sunset Resort in Tongatapu Lagoon the Kingdom of Tonga

Royal Sunset Resort is a small resort fronting a sandy beachfront on Atata Island, 30-minutes by boat from Nuku'alofa town. Wrapped around the southern point of the island, this boutique budget style resort offers a small island experience and a relaxing no thrills beach holiday. Royal Sunset Resort provides just enough comfort for a enjoyable and affordable beach holiday.
Recommended For:
Singles, Couples and Families on a Budget
Relaxing Island Atmosphere
Snorkelling, Kayaking & Scuba Diving
Quick Facts
22 Bungalows
Mainland Offshore - Beachfront Location
Restaurant & Bar, Swimming Pool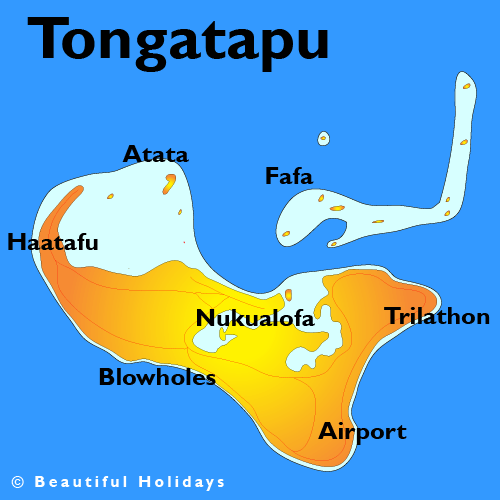 Tonga Map


Tongatapu Map
Royal Sunset Resort Room Details & Rates
Room Category
(click for details & pix)
Sleeps
(c = child)
Hotel Public Rate
(for 2 people)
Budget Fale
4
T$ 250
Western Fale
4
T$ 330
Superior Fale
2
T$ 350
Royal Sunset Resort Information & Facts
Hotel Location: Small island in Tongatapu Lagoon, off from Nuku'alofa
Getting There: 40 mins by road from International Airport PLUS 40 mins by boat
Unique Qualities: Nice beach, lots of water activities
Ideal for: Couples and Families
Hotel Features: 22 bungalows, swimming pool, tennis court (rough grass)
Dining: Restaurant & bar - no independent restaurants close by
Children Policy: All ages welcome
Local Attractions / Tours: Snorkel reefs, uninhabited islands, sightseeing on Tongatapu
The Beach: Good, fine white sand on point
The Ocean: Excellent, sandy bottom, protected with no waves
Snorkelling: Good off from beach - outer reef snorkel trips
Other Activities: Scuba diving, game fishing, catamarans, boat excursions
Hotel Amenities
The resort offers enough activities to keep you busy for a short stay including kayaks, snorkelling gear, windsurfing, a small salt water swimming pool, pool table and on site scuba diving operator. The restaurant is atmospheric with wood carvings and other souvenirs and the menu offering at least two choices, usually one meat and one fish – vegetarians should put in a special meal request prior to their arrival. The lagoon in front of the resort is good for swimming and has some reasonable snorkelling reefs offshore. For those interested in cultural interaction, the solitary village on Atata is a short walk along the beachfront.
Accommodation is in spacious stand alone wooden A-frame bungalows facing the protected western lagoon. Superior and Standard bungalows are similar in design, although the superior bungalows are larger with added lounge which can have two single beds for children. All bungalow interiors boast hard wood timber floors and are decorated in sliced bamboo walls with thatch dressing. Bathrooms are equally spacious and although the bedding is clean, be prepared for broken hinges, dripping taps, loose door handles and water and electricity being turned off during the night.