Independent review for Paradise Hotel in Vava'u, the Kingdom of Tonga

The Paradise Hotel is set on a stunning hillside location with landscaped gardens and hotel rooms fronting the ocean and stunning views across the Port of Refuge towards Neiafu Town which is a ten minute walk along the road. With old fashioned but spacious rooms, Paradise makes an affordable base for travellers and a good option for dive groups.
Recommended For:
Singles, Couples & Groups
Beautiful Views of Harbour Front
Great Base for Cruises, Diving & Whale Watching
Quick Facts
48 Rooms
Outer Island - Town Location
Independent Restaurant close by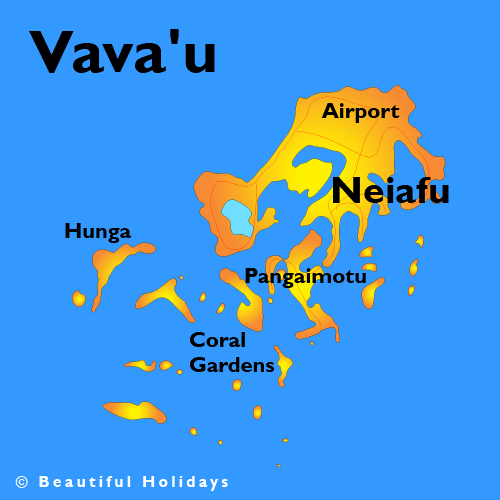 Tonga Map


neiafu Map
Paradise Hotel Room Details & Rates
Room Category
(click for details & pix)
Sleeps
(c = child)
Hotel Public Rate
(for 2 people)
Island Room
4
T$ 215
Lower Harbour View Room
4
T$ 270
Upper Garden View Room
4
T$ 320
Paradise Hotel Information & Facts
Hotel Location: In Neiafu Town, overlooking to Harbour on Vava'u Island
Getting There: 55 minutes flight to Vava'u Airport + 20 mins by road
Unique Qualities: Excellent value base for exploring and activities
Ideal for: Budget Travellers, Groups
Hotel Features: 48 Rooms, activities desk
Dining: Restaurant on site- several excellent independent restaurants close by
Children Policy: All ages welcome
Local Attractions / Tours: Humpback whales, boat tours, Neiafu market<
The Beach: Not on beach, closest beach 20 mins by road
The Ocean: Overlooking Neiafu Harbour
Snorkelling: Not practical - boat trips to coral gardens
Other Activities: Game fishing, sailing charters, day cruises, scuba diving
Hotel Amenities
Paradise Hotel has no restaurant which was destroyed by a fire in 2008 and the swimming pool is not operational. Presently, the hotel is undergoing a very slow process of rebuilding which may not suit guests looking for a full service hotel. There is a reception which opens during normal business hours and al rooms are serviced daily but otherwise there are few facilities for guest use. For dining, there's a café and a restaurant a short walk from the hotel entrance or it's a 10-minute walk into Neiafu Town and its waterfront restaurants and bars.

Island Rooms are located in the gardens and backing the main road. These rooms are located in single storey wooden bungalows, two rooms per bungalow. Each room has a double bed, a single bed, two ageing but comfy armchairs and a small bathroom which is in need of refurbishment. Rooms have a screened veranda overlooking the gardens and Harbour View Rooms.

Harbour View Rooms are the preferred accommodation option at Paradise Hotel and a have spacious interiors and harbour views through trees from private balconies on the first floor. Rooms have two double beds, a writing desk, tea & coffee, mini fridge and a small bathroom featuring a combined bath/shower.