Independent review for Otuhaka Beach Resort on Tongatapu Island in the Kingdom of Tonga

Otuhaka Beach Resort is a small beachfront backpacker retreat at the southern end of Ha'atafu Beach, Tongatapu's most popular beach location with a good swimming lagoon and snorkelling reefs in front of the resort and some challenging surfing breaks at the northern end of the beach (must bring own board). Otuhaka offers the cheapest beachfront accommodation in Tongatapu with a very affordable restaurant making this a popular choice with backpackers.
Recommended For:
Singles, Couples, Budget Travellers / Backpackers
Relaxing Beachfront Atmosphere
Snorkelling & Surfing
Quick Facts
12 Rooms & Huts
Mainland - Beachfront Location
Restaurant & Bar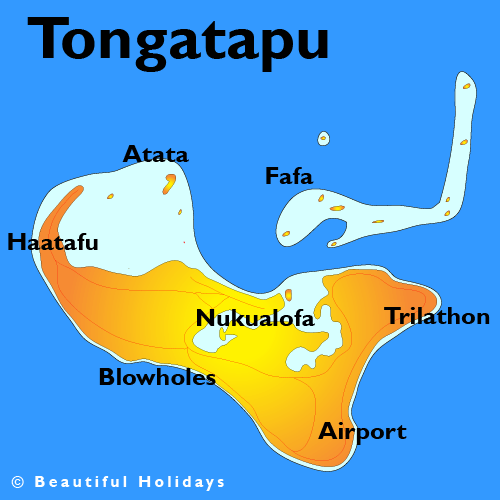 Tonga Map


Tongatapu Map
Otuhaka Beach Resort Room Details & Rates
Room Category
(click for details & pix)
Sleeps
(c = child)
Hotel Public Rate
(for 2 people)
Beach Hut - Shared Bathroom
2a
T$ 90
Bungalow Room - Shared Bathroom
3a
T$ 100
Standard Room
3a
T$
Superior Room
4a
T$ 140
2-Bedroom Apartment
6a
T$ 350
Otuhaka Beach Resort Information & Facts
Hotel Location: Beachfront on western tip of mainland Tongatapu
Getting There: 40 minutes by road from Tonga International Airport
Unique Qualities: Beautiful beach, surfing, sightseeing
Ideal for: Budget Travellers
Hotel Features: 12 Rooms and Beach Huts
Dining: Restaurant & bar at resort - no independent restaurants close by
Children Policy: All ages welcome
Local Attractions / Tours: Blowholes, Flying foxes
The Beach: Excellent, fine white coral sand stretching for miles
The Ocean: Good, part coral bottom, some swimming areas, some waves
Snorkelling: Good, offshore from beach on outer reef
Other Activities: Surfing, game fishing
Hotel Amenities
Accommodation is in very basic and slightly untidy wooden huts in a staggered line so all have ocean views and with a double bed and mosquito net. Bathrooms are shared (cold water showers only) and located in the main restaurant area. Behind the restaurant are five larger bungalows, some private, others with two private rooms per bungalow. These rooms offer various room configurations for couples or families and have en-suite bathrooms.

Snorkelling in the lagoon is good and snorkel gear can be rented from the resort. Kayaks can also be rented to explore the lagoon

Otuhaka is only a one minute walk and a short paddle across the lagoon to the most consistent surfing wave on the island, "The Pass." Several other offshore breaks are within walking distance and only minutes away. April through October is the winter south swell season, while November through May is the summer swell season. Boat trips can be arranged for those who want to surf the outer reefs.