Independent review for Lindsay Guesthouse in the Ha'apai Group, Tonga Islands
Lindsay Guesthouse offers budget accommodation for travellers at the quiet southern end of Pangai Village. The friendly Tongan hosts live in a house at the front of the property whilst in the back garden the standalone guesthouse offers twelve basic rooms, two with en-suite bathrooms, a large communal lounge, kitchen and veranda.
Recommended For:
Budget Travellers
Village Setting
Exploring Laid Back Ha'apai Island
Quick Facts
8 Rooms
Outer Island - Town / Village Location
Self Catering / No Restaurant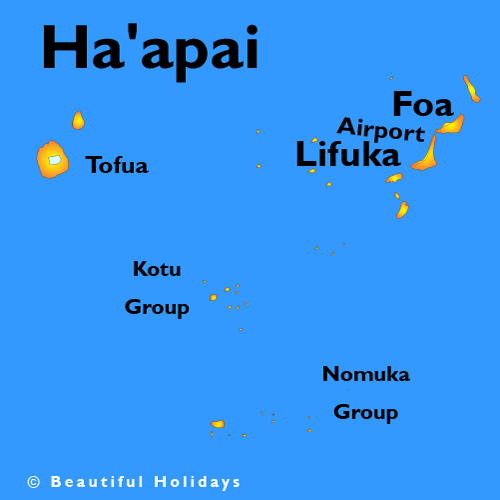 Tonga Map


Ha'apai Map
Lindsay Guesthouse Room Details & Rates
Room Category
(click for details & pix)
Sleeps
(c = child)
Hotel Public Rate
(for 2 people)
Single Room - Shared Bathroom
1
T$ 40
Standard Room - Shared Bathroom
2
T$ 50
Private Room - En-suite
2
T$ 65
Lindsay Guesthouse Information & Facts
Hotel Location: Pangai Village on the main island of the Ha'apai Group
Getting There: 35 minutes to Ha'apai Airport PLUS 10 mins by road
Unique Qualities: Guesthouse within main town in the Ha'apai Group
Ideal for: Singles, Couples Exploring
Hotel Features: 8 rooms with shared bathroom and communal kitchen
Dining: Communal Kitchen - no independent restaurants close by
Children Policy: All ages welcome
Local Attractions / Tours: Exploring Pangai Village and nearby islands
The Beach: Not on beach - nearest beach about 30 minutes walk
The Ocean: Not on ocean
Snorkelling: Not on ocean
Other Activities: Exploring Pangai village
Guesthouse Information
Standard Rooms are small but with decent privacy with access via the lounge and shared bathrooms at the back. Private Rooms are accessed from an outdoor courtyard and have tiny en-suite bathrooms (cold water only). There's 24-hr electricity from the village power station which can be heard whirring away behind the property.