Independent review for Heilala Holiday Lodge on Tongatapu Island in the Kingdom of Tonga

Heilala Holiday Lodge is a great value budget resort in the heart of Ha'atafu Beach, with sweeping sand, good snorkelling spots and some great surfing breaks at its northern end. With an atmospheric restaurant, traditionally designed bungalows set in colourful landscaped gardens and complimentary bikes, this affordable resort makes a great base for a beach holiday for singles or couples, young and old.
Recommended For:
Singles, Couples, Budget Travellers & Backpackers
Relaxing Beach Atmosphere
Snorkelling & Kayaking
Quick Facts
12 Rooms & Bungalows
Mainland - Beachfront Location
Restaurant & Bar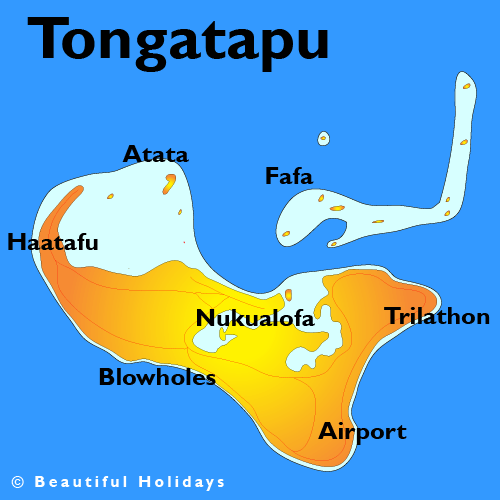 Tonga Map


Tongatapu Map
Heilala Holiday Lodge Room Details & Rates
Room Category
(click for details & pix)
Sleeps
(c = child)
Hotel Public Rate
(for 2 people)
Tongan Fale - Single Person
1
T$ 105
Tongan Fale
2
T$ 135
Superior Fale - Single Person
1
T$ 145
Superior Fale
3
T$ 175
Heilala Holiday Lodge Information & Facts
Hotel Location: Beachfront on western tip of mainland Tongatapu
Getting There: 40 minutes by road from Tonga International Airport
Unique Qualities: Beautiful beach, surfing, sightseeing
Ideal for: Couples, Families Backpackers
Hotel Features: 12 Rooms and Beach Huts
Dining: Restaurant & bar - several small restaurants close by
Children Policy: All ages welcome
Local Attractions / Tours: Blowholes, Flying foxes
The Beach: Excellent, fine white coral sand stretching along coast
The Ocean: Good, part coral bottom, some swimming areas, some waves
Snorkelling: Good, offshore from beach on outer reef
Other Activities: Surfing, game fishing
The resort is enthusiastically managed by a German / Tongan couple, Heilala sits in the heart of Ha'atafu Beach, Tongatapu's most popular beach location.

Accommodation is in newly built traditional style bungalows featuring wood and woven coconut walls, each with a private covered veranda. Interiors feature wooden walls decorated in traditional Tongan art and craft, a double bed with bed side table and lamp with tidy en-suite bathroom.