Independent review for Whitesands Villas in Rarotonga Cook Islands

Whitesands Villas Cook Islands features three fully quipped split level villas fronting a beautifully secluded white sandy beach with good swimming and excellent snorkelling in the lagoon. This peaceful retreat is the ideal choice for holidaymakers looking to do their own thing (no on-site manager) or to sit and relax on a peaceful beach.
Recommended For:
Couples
Lagoon View
Good Snorkelling & Kayaking
Quick Facts
Minimum Stay = 4 Nights
3 Villas / Beachfront Location
Self Catering


Cook Islands Map

Rarotonga Map
Whitesands Villas Room Details & Rates
Room Category
(click for details & pix)
Sleeps
(c = child)
Hotel Public Rate
(for 2 people)
Beach Villa
5a
NZ$
Whitesands Villas Information & Facts
Hotel Location: Beachfront, off main road, South Rarotonga
Getting There: 20 mins by road from Rarotonga Airport
Unique Qualities: Peaceful beachfront, great snorkelling, spacious living
Ideal for: Couples and Families with older children
Hotel Features: 3 Villas
Dining: Self catering - independent restaurants at Titikaveka
Children Policy: Best suited for over 10yrs but all welcome
Local Attractions / Tours: Fruits of Rarotonga, Snorkelling, Takitumu Rainforest, Papua Waterfall
The Beach: Excellent - secluded fine white sand extending along coast
The Ocean: Excellent - shallow part sandy bottom, good for swimming
Snorkelling: Excellent - coral heads and plenty of reef fish off from beach
Other Activities: Kayaking
Room Information
Three mezzanine style villas are located directly on a secluded beach front. Upstairs is the master bedroom with views through a large window to the ocean. Downstairs is the lounge and kitchen area and a second bedroom with the bathroom. Each villa has a large sun deck accessed through French doors that look out onto the beach and ocean. Villas have DVD, TV, stereo, personal laundry and are serviced daily.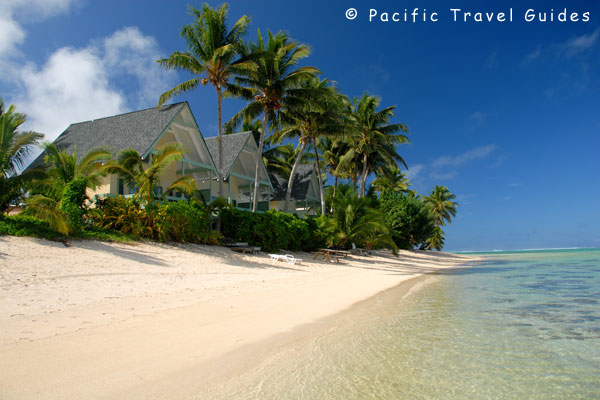 beach setting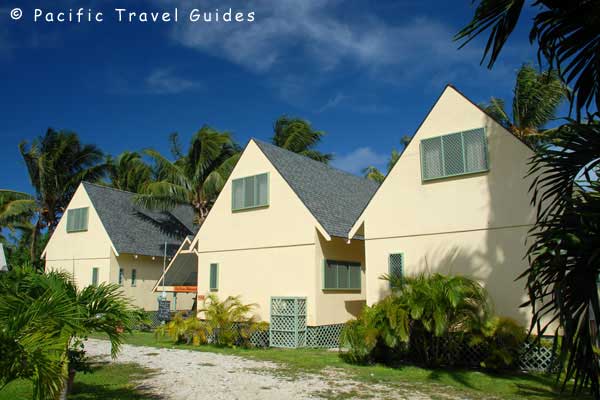 villas - entrance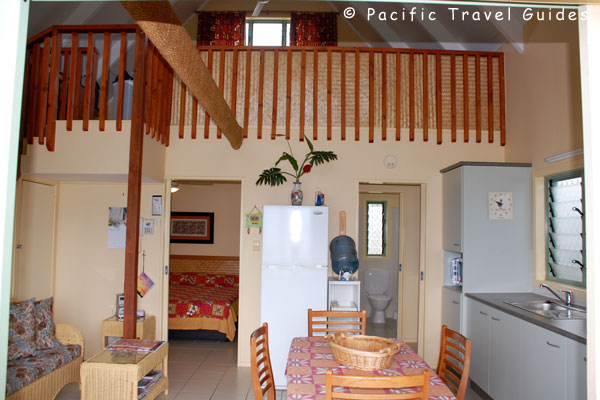 interior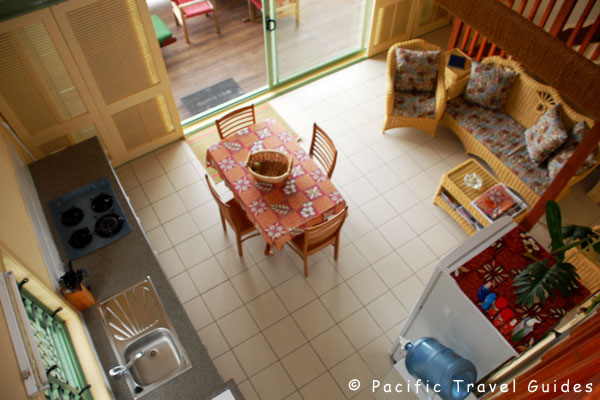 view - mezzanine
kitchen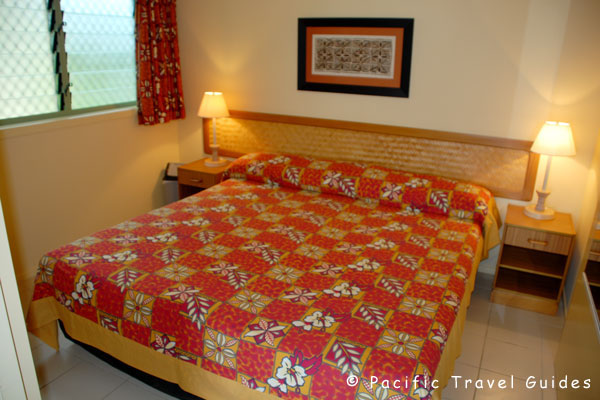 master bed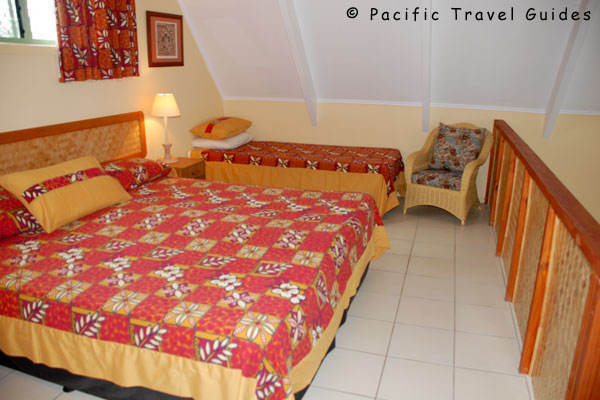 mezzanine bed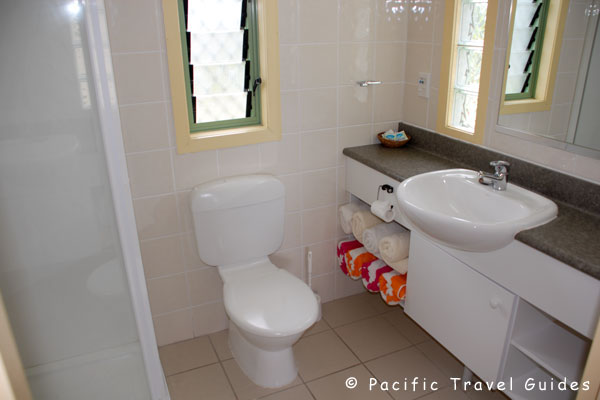 bathroom
Hotel Amenities
The beach directly infront of Whitesands has soft white sand and fronts a beautiful turquoise lagoon with good swimming and snorkelling. The beach stretches for several kilometres in both directions and makes for great exploring. The south cost is the quietest beach area on Rarotonga so there are no crowds and just a few tourists and locals out fishing walking up and down the beach.
There is ample parking space for those hiring a car. The villas are self contained and there are only a couple of restaurants walking distance so car hire is recommended for those looking to explore a bit.