Independent review for Atiu Villas in the Cook Islands

Atiu Villas offers the most comfortable accommodation for exploring the beautiful island of Atiu. With spacious bungalows in a tranquil garden setting, a restaurant on site and reception for booking all your island tours and excursions, plus scooter hire, this is the place to stay in the Cook Islands for anyone looking for a little adventure and off the beaten track exploring.
Recommended For:
Adventurous Travellers
Nature Lovers & Bird Watching
Culture
Quick Facts
6 Bungalows / Inland Location
Restaurant & Bar


Cook Islands Map

Atiu Map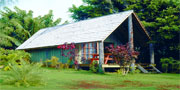 villa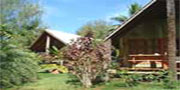 villa setting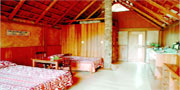 villa interior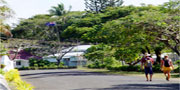 village setting
Atiu Villas Room Details & Rates
Room Category
(click for details & pix)
Sleeps
(c = child)
Hotel Public Rate
(for 2 people)
Standard Villa
4
NZ$ 200
Family Villa
6
NZ$ 240
Atiu Villas Information & Facts
Hotel Location: Inland on the Atiu plateau
Getting There: 40 mins flight from Rarotonga Airport PLUS 15 mins by road
Unique Qualities: Great base for exploring the island
Ideal for: Couples, singles or groups
Hotel Features: 6 Bungalows
Dining: Restaurant at the hotel - no other restaurants on the island
Children Policy: All ages welcome
Local Attractions / Tours: Limestone Caves, Bush Tamanu, Natural Forests
The Beach: Not on beach - all villages are located inland way from the rugged coast
The Ocean: No
Snorkelling: No
Other Activities: All island tours pick-up from the Villas
Hotel Amenities
Atiu Villas is located on a central plateau inland from the coast in the same vicinity as the islands' four villages. There are several secluded beaches which can be explored within a half hour walk of the villas but swimming lagoon is limited due to the nature of Atiu's rocky coastline.

The Villas has on site management, offers guest transfers to and from Atiu airport and all day tours can be arranged on site along with moped hire for exploring the island.