Independent review for Virgin Cove Resort on Upolu Island in Samoa

Virgin Cove Resort Samoa is one of the best budget retreats in the South Pacific on an unbelievably fine white sand beach and carefully carved out of virgin rain forest on the south coast of Upolu. Hand crafted fales are mostly well spaced apart for privacy and connected by sand pathways meandering through the forest. A tropical style restaurant overlooking the sea is a focal point and serves a good mix of local and international dishes.
Recommended For:
Singles & Couples
Stunning Remote Beach Holiday & Coastal Walks
Secluded Tropical Setting
Quick Facts
15 Fales
Mainland - Beachfront Location
Restaurant & Bar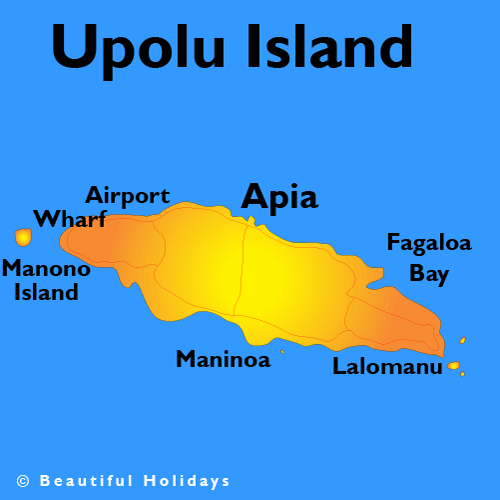 Samoa Islands Map


Upolu Island Map
Virgin Cove Resort Room Details & Rates
Room Category
(click for details & pix)
Sleeps
(c = child)
Hotel Public Rate
(for 2 people)
Standard Fale - single person
1
ST$ 140
Garden Bungalow - single person
1
ST$ 190
Secluded Fale - single person
1
ST$ 190
Beach Villa - single person
1
ST$ 380
Family Fale
4
ST$ 160
Standard Fale
3
ST$ 200
Garden Bungalow
3
ST$ 240
Secluded Fale
3
ST$ 240
Beach Villa
6
ST$ 450
Get these Free Inclusions
Daily Buffet Breakfast

Virgin Cove Resort Information & Facts
Hotel Location: Beachfront, in secluded forest on South Coast of Upolu Island
Getting There: 55 minutes by road from Faleolo International Airport
Unique Qualities: Gorgeous beach, pristine forests, miles of beach walks
Ideal for: Couples, Families, Backpackers
Hotel Features: 15 Fales
Dining: Resort Restaurant & bar - no independent restaurants nearby
Children Policy: Chilkdren under 12 yrs NOT permitted
Local Attractions / Tours: Beach walks, Rainforest walks
The Beach: Secluded cove beaches with fine white sand and virgin forest
The Ocean: Delightful - excellent for swimming with sandy bottom
Snorkelling: Good offshore from beach - excellent at outer reef
Other Activities: Hand line fishing
Hotel Amenities
All fales at Virgin Cove have sheets, towels, mosquito net, 230V power lighting and outlets, lockable safe-box and are cleaned daily.