Independent review for Vacations Beach Fales on Savaii Island in Samoa

Vacations Beach Fales Samoa offers absolute beachfront traditional thatch bungalows with shared facilities. Family run property prides itself on traditional values, cleanliness and good quality food with an emphasis on local products. This is one good spot to relaxing and to meet fellow travellers. Features include a restaurant, bar and large wooden veranda overlooking the ocean.
Recommended For:
Backpackers & Travellers
Exploring Savaii Island
Snorkelling & Kayaking
Quick Facts
8 Fales
Savaii - Beachfront Location
Set Meal Plan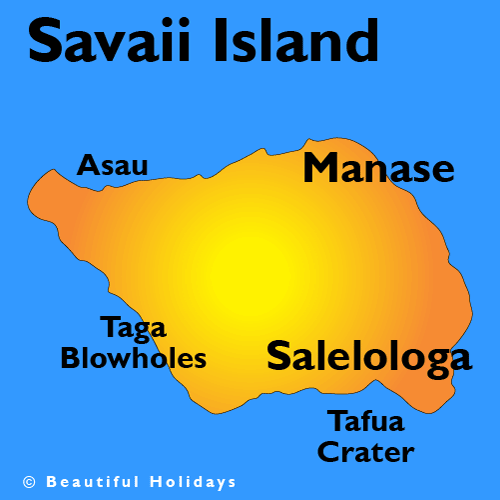 Samoa Islands Map


Savaii Island Map
Vacations Beach Fales Room Details & Rates
Room Category
(click for details & pix)
Sleeps
(c = child)
Hotel Public Rate
(for 2 people)
Ocean View Fale - per person
2a+2c or 3a
ST$ 80 pp
Beach Front Fale - per person
2a+2c or 3a
ST$ 90 pp
Bungalow Unit
3
ST$ 250
Self Contained Fale
4
ST$ 400
Vacations Beach Fales Information & Facts
Hotel Location: Beachfront, abutting to road on North East Coast of Savaii Island
Getting There: 1hr ferry to Savaii Island PLUS 40 minutes by road
Unique Qualities: Gorgeous beach, peaceful atmosphere, sightseeing
Ideal for: Couples and Backpackers
Hotel Features: 8 Fales
Dining: Beach fale restaurant serves set meal plan - no independent restaurants nearby
Children Policy: All ages welcome
Local Attractions / Tours: Lava Fields, Turtle Sanctuary, Villages
The Beach: Picturesque sweeping beach with fine white sand
The Ocean: Delightful - excellent for swimming, protected with sandy bottom
Snorkelling: Good offshore from beach - excellent at outer reef
Other Activities: Scuba Diving
Hotel Amenities
Vacations Beach Fales is set on the popular beach at Manase Village on the north east coast of Savai'i. There are six beachfront fales which are screened from the ocean with palm trees giving them great privacy. The restaurant extends out to a large wooden deck built overlooking the beach which is also a great place to relax during the day or for enjoying a drink at sunset.