Independent review for Taufua Beach Fales on Upolu Island in Samoa

Taufua Beach Fales Samoa is located at Lalomanu, Samoa's most picturesque swimming lagoon on the south east tip of Upolu Island. Taufua is the pick the Samoan beach fales for backpackers to chill out on the beach and offers excellent value for money, fabulous hosts, a happy atmosphere and one of the best beaches in Samoa.
Recommended For:
Backpackers & Travellers
Great Beach Location with Snorkelling Lagoon
Lively Atmosphere & Meeting Travellers
Quick Facts
10 Fales
Mainland - Beachfront Location
Set Meal Plan, Watersports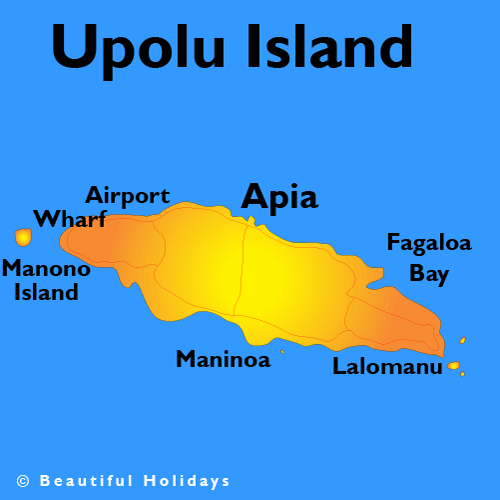 Samoa Islands Map


Upolu Island Map
Taufua Beach Fales Room Details & Rates
Room Category
(click for details & pix)
Sleeps
(c = child)
Hotel Public Rate
(for 2 people)
Open Fale (mattress) - single person
1
ST$
Closed Fale (mattress) - single person
1
ST$
Closed Fale (bed) - single person
1
ST$ 140
Open Fale (mattress)
3
ST$ 180
Closed Fale (mattress)
3
ST$ 190
Closed Fale (bed)
3
ST$ 220
Mountain View En-suite Room
3
ST$ 260
Taufua Beach Fales Information & Facts
Hotel Location: Beachfront, abutting to road on South East tip of Upolu Island
Getting There: 1 hour 50 minutes by road from Faleolo International Airport
Unique Qualities: Gorgeous beach, lively atmosphere, activities
Ideal for: Couples and Backpackers
Hotel Features: 12 Fales
Dining: Restaurant & bar at beach fale - no independent restaurants nearby
Children Policy: All ages welcome
Local Attractions / Tours: Offshore islands, hiking trails, villages
The Beach: Picturesque beach with fine white sand and sweeping views
The Ocean: Delightful - excellent for swimming, protected with sandy bottom
Snorkelling: Good offshore from beach - excellent at outer reef
Other Activities: Surfing (boards not provided)
Hotel Amenities
Taufua is a family run business and operates an excellent restaurant with spacious decking overlooking the beach. The efficient hosts can organise kayaking and snorkelling trips to the nearby offshore islands, cliff top walks, sightseeing tours around the island and shopping trips to Apia Town.