Independent review for Stevenson's at Manase on Savaii Island in Samoa

Stevenson's at Manase Samoa is a long established beach resort on Manase Beach in Savaii which over the years had been neglected until a recent injection of cash and passion has resurrected the property. With a large restaurant and simple budget rooms across the road, and beach villas and modern air-con studio units right on the beach, Stevensons offers an excellent value holiday on a beautiful beach.
Recommended For:
Couples & Families
Affordable Beach Holidays
Exploring Savaii Island
Quick Facts
23 Fales & Rooms
Savaii - Beachfront Location
Restaurant & Bar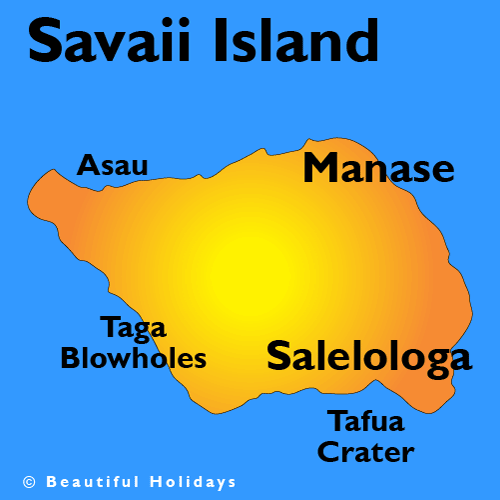 Samoa Islands Map


Savaii Island Map
Stevenson's at Manase Room Details & Rates
Room Category
(click for details & pix)
Sleeps
(c = child)
Hotel Public Rate
(for 2 people)
Beach Fale
4
ST$ 280
Beach Villa
4
ST$ 400
Deluxe Beach Suite
3
ST$ 550


Stevenson's at Manase Information & Facts
Hotel Location: Beachfront on north east coast of Savaii Island
Getting There: 1hr ferry to Savaii Island PLUS 40 minutes by road
Unique Qualities: Excellent value beach resort on Savaii, picturesque beach, great sightseeing
Ideal for: Couples, Families
Hotel Features: 23 Rooms & Bungalows
Dining: Resort Restaurant - no independent restaurants nearby
Children Policy: All ages welcome
Local Attractions / Tours: Manase Beach, Lava Fields, Turtle Sanctuary
The Beach: Excellent - white sandy beach infront of resort with stunning views
The Ocean: Excellent - sandy bottom and shallow with little waves
Snorkelling: Good offshore from beach - excellent 15mins walk along beach
Other Activities: Kayaking, Scuba Diving
Budget Beach Fales
Accommodation at Stevenson's Beach Fales is in simple open sided traditional style beach fales with a mattress on the floor, mosquito net over the top and a small private deck overlooking the beach. Two fales have en-suite bathrooms and the remainder share communal hot water bathrooms with flush toilets close by.
The Bungalows and Suites
The seven stand alone beachfront bungalows are tardy from the outside but clean and very presentable inside with two Queen size beds, attractive traditional furnishings and an en-suite bathrooms that comprises of a small inside area with toilet and hand basin and a huge outdoor enclosed courtyard with shower. These bungalows sit directly on the beachfront and offer exceptional value for money The six Deluxe Beach Suites sit on a rock wall on the ocean's edge overlooking the beach which extends to either side. Each suite offers the same interior space but different colour designs and are fully air-conditioned featuring 2 queen-size beds, a lounge area with tables and 4 chairs.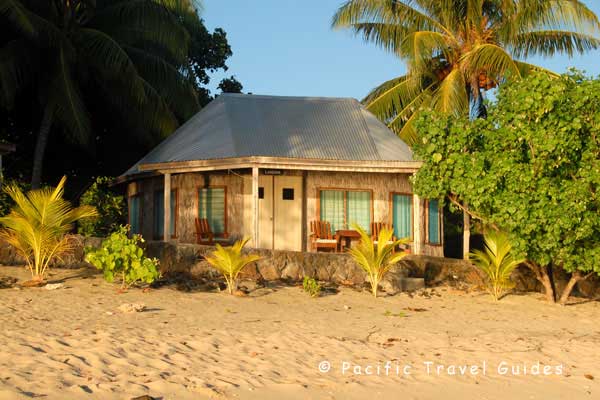 beach villa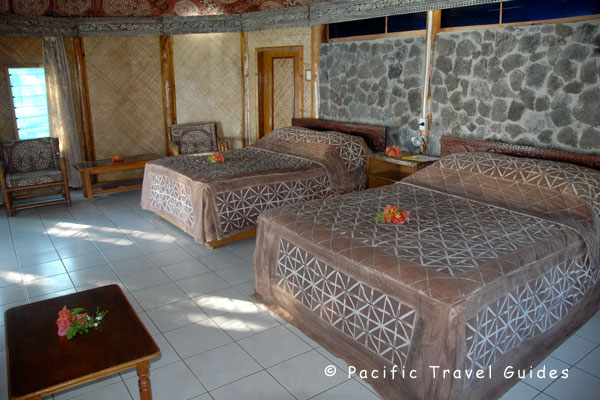 interior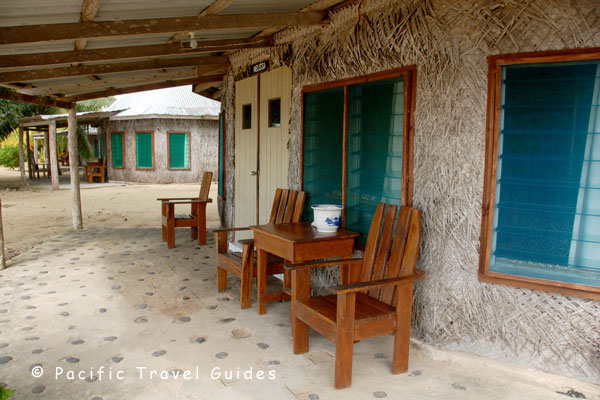 deck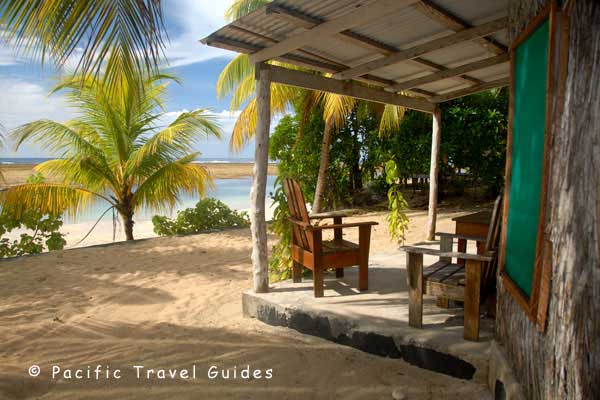 outlook