Independent review for Sinalei Reef Resort on Upolu Island in Samoa

Serene Sinalei Resort Samoa is the most upmarket resort in Samoa perched on a hillside descending to a narrow secluded beachfront with a variety of well appointed villas. With a small golf course, tropical spa, landscaped swimming pool, a sophisticated yet laid back atmosphere with attentive staff, and a no children policy, Sinalei is the perfect retreat for couples.
Recommended For:
Couples seeking Luxury Beach Escape
Spa Centre & Fine Dining
Exploring Villages & Waterfalls
Quick Facts
18 Bungalows
Children Under 12yrs NOT Permitted
Restaurant & Bar, Watersports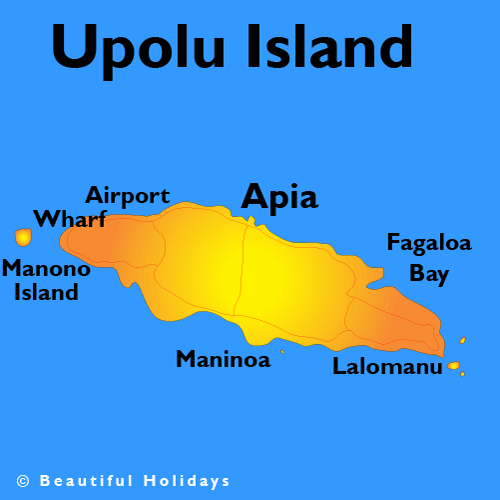 Samoa Islands Map


Upolu Island Map
Sinalei Reef Resort Room Details & Rates
Room Category
(click for details & pix)
Sleeps
(c = child)
Hotel Public Rate
(for 2 people)
Garden View Fale
3a
US$ 351
Ocean View Fale
3a
US$ 503
Beach Side Fale
2a
US$ 615
Executive Fale
3a
US$ 729
Sinalei Reef Resort Information & Facts
Hotel Location: On Hillside overlooking beach on South Coast Upolu Island
Getting There: 1 hour by road from Faleolo International Airport
Unique Qualities: Upmarket resort, gorgeous swimming beach, beautiful ocean views
Ideal for: Couples and Honeymooners
Hotel Features: 18 Bungalows, Swimming Pool, 9-hole Golf Course, Spa
Dining: Resort Restaurant & bars - no independent restaurants nearby
Children Policy: Under 12yrs NOT permitted
Local Attractions / Tours: Surfing Breaks, Waterfalls, Hiking Trails, Villages
The Beach: Cove beach backed by tropical forest & overlooking Maninoa Beach
The Ocean: Excellent, sandy bottom
Snorkelling: Good, offshore from beach
Other Activities: Game Fishing, Scuba Diving, Surfing, Kayaking
Room Information
The Ocean View Fales are located on the hillside in landscaped tropical gardens, each with a private veranda offering ocean views. Some bungalows have a separate lounge area, others have a jacuzzi tub on the veranda. All fales have King size beds.
The Beach Side Fales are tucked against the hillside amongst ancient tropical trees and look directly over the ocean. At low tide there's a lovely soft white sand beach snaking around the tree trunks. Beach Fales are traditional in design with timber walls and offer open plan living with high ceilings, King size bed and lounge area. Large louvre windows surround the room with a wide French door at the front opening up to a large wooden deck allowing views of the ocean from inside.

Hotel Amenities
The central feature at Sinalei is a large traditionally designed Samoan fale located on the hilltop with dining and communal lounge area. Lunch is served at a smaller restaurant on the waters edge overlooking Maninoa Beach where sunset cocktails are also served. Activities at Sinalei Resort include sailing cruise, game fishing, scuba diving and coral viewing.