Independent review for Le Vasa Resort on Upolu Island in Samoa

Le Vasa Resort is a secluded luxury oceanfront resort perfect for romantic getaways. The resort faces a private sheltered lagoon with a small cove beach and backed by coconut palms with traditional styled fales abutting the ocean and with stunning sunset views towards Manono and Savaii islands. This is the ideal spot for combining relaxation with a little adventure.
Recommended For:
Couples
Spacious Villas with lovely ocean views
Kayaking & Game Fishing
Quick Facts
15 Bungalows
Mainland - Beachfront Location
Restaurant & Bar, Swimming Pool, Watersports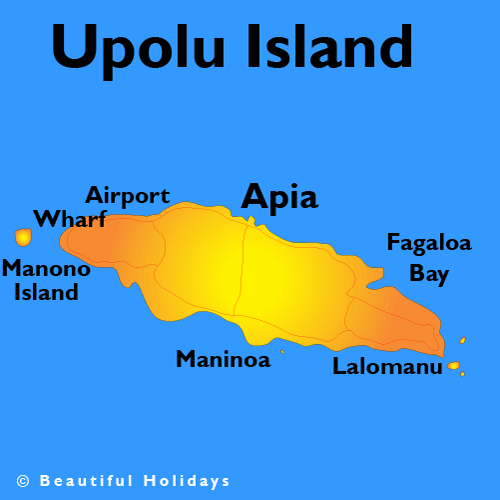 Samoa Islands Map


Upolu Island Map
Le Vasa Resort Room Details & Rates
Room Category
(click for details & pix)
Sleeps
(c = child)
Hotel Public Rate
(for 2 people)
Superior Ocean Front Fale
3
US$ 273
Deluxe Ocean Front Fale
4
US$ 319
Sunset Ocean Front Villa
5
US$ 466
Ocean Front Villa Malietoa
5
US$ 526
Ocean Front Villa Le Vasa
6
US$ 894
Under 11yrs Not Permitted Except school holiday periods

Le Vasa Resort Information & Facts
Hotel Location: Beachfront, on north west coast of Upolu
Getting There: Road transfer from Airport = 10 mins
Unique Qualities: Intimate boutique resort with plenty of water activities and good base for exploring
Ideal for: Couples
Hotel Features: 15 Villas, Scuba Diving
Dining: Ocean view Restaurant, 3 bars, Pool
Children Policy: Under 10 yrs NOT permitted
Local Attractions / Tours: Manono Island, Paradise Beach, Traditional Villages, Rainforest Walks
The Beach: Good - fine white sand in a small cove setting
The Ocean: Excellent - placid with sandy bottom for swimming and Kayaking
Snorkelling: Good on boat trips to outer reef - limited snorkelling off the beach
Other Activities: Kayaking, Scuba Diving, Game Fishing, Motorised Boat (water-ski, knee board etc)
Room Information
The Superior Fales are located on a slightly braised volcanic sea wall abutting the ocean and close to the beach with a separate bedroom, lounge area. These fales have traditionally designed interiors with high ceilings. thatch roofs with a wooden veranda.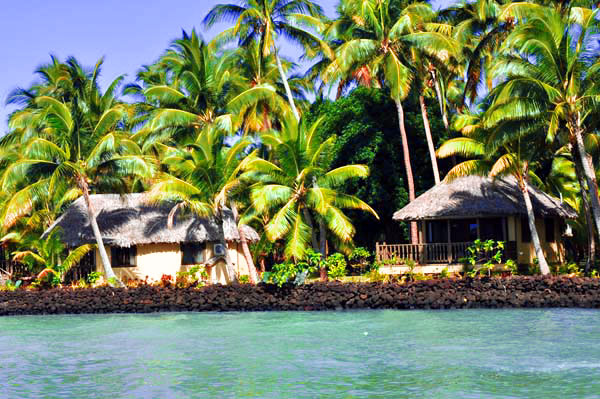 fale setting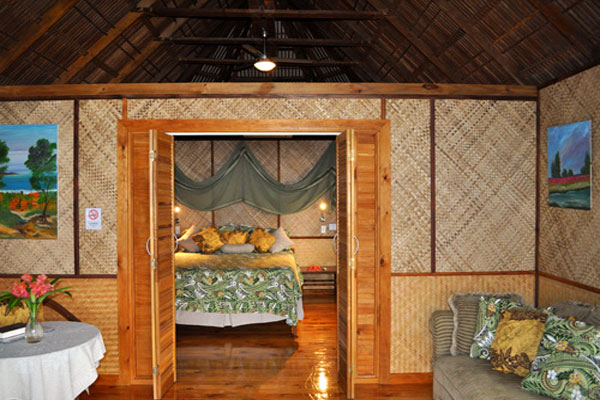 superior interior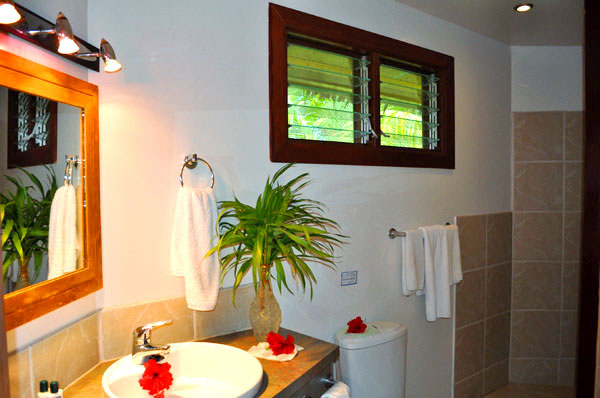 fale bathroom
The Deluxe Fales are located in a more secluded oceanfront setting than the Superior Fales. Interiors are similar with a separate bedroom and lounge area with a larger bathroom. Fales are traditionally designed featuring high ceilings and thatch roofs with a private wooden veranda offering views across the ocean to Manono and Savaii islands and beautiful sunsets.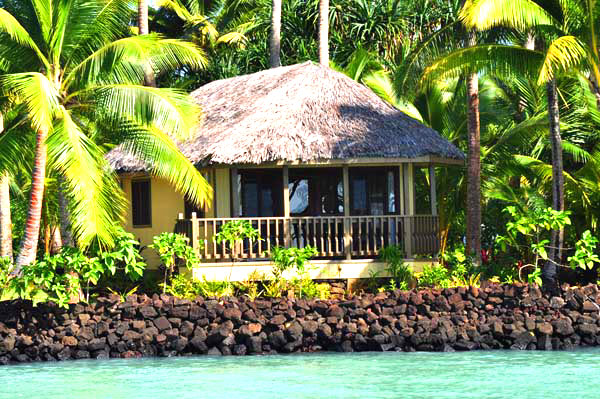 ocean front fale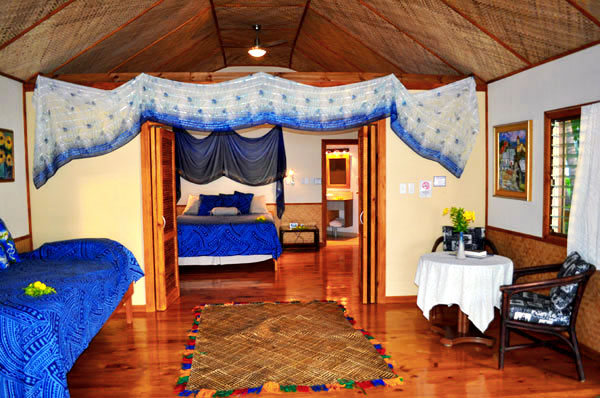 deluxe interior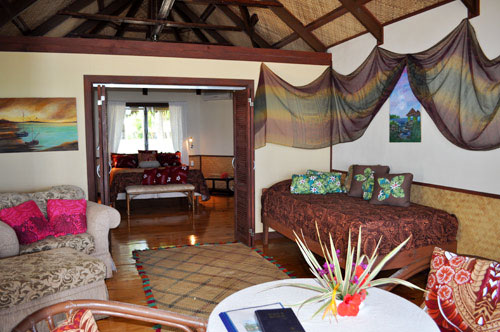 deluxe interior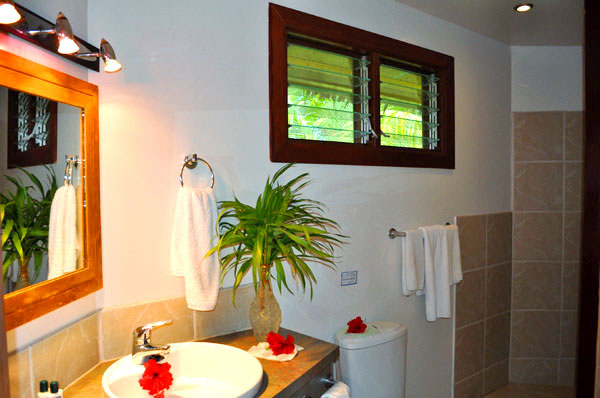 fale bathroom
The Sunset Villa has two separate bedrooms and a large living room with exposed wooden beams. The villa is traditionally designed with bamboo wainscot and Samoan artwork.
Malietoa Villa offers the most privacy and is located under palm trees on the water's edge and features two bedrooms with ocean views, a large lounge area and good size bathroom with whirlpool spa and two private sun decks for enjoying unrivalled views across the lagoon to Manono Island and with sunsets over Savaii.
Le Vasa Villa offers the largest living space with a spacious lounge with a King-size sofa bed and two day beds, a fully equipped kitchen, two separate bedrooms with ocean views, two bathrooms, a media centre and a full length wooden balcony with steps leading directly into the ocean.

Hotel Amenities
Le Vasa has a picturesque oceanfront restaurant with a la carte menu. The restaurant has a traditional style ambience with high ceilings and exposed wooden beams with open sided walls for enjoying the cool ocean breezes and magnificent views. Traditional dance performances and island buffets are help weekly.
Le Vasa has its own private charter boat for sun set cruises, island hopping tours, snorkelling trips to the outer reef and game fishing excursions which can all be booked on demand .Island tours can also be arranged in-house as well as guided walks into the rainforest to visit waterfalls and mountain lookouts.

Scuba Diving is both PADI and CMAS certified with dive courses for beginners and explorer dives for the more advanced. Nitrox dives are also available.