Independent review for Coconuts Beach Club Resort on Upolu Island in Samoa

Coconuts Beach Resort Samoa is one of Samoa's few upmarket resorts with stylish rooms and bungalows, good service, a spa, restaurant and activities centre. Set alongside a part sand, part rock wall coastline and directly infront of a good swimming, snorkelling and surfing lagoon, Coconuts is a good choice for couples and holiday surfers.

Recommended For:
Couples
Relaxing Atmosphere with Spa
Snorkelling, Kayaking & Surfing
Quick Facts
25 Rooms & Bungalows
Mainland - Beachfront Location
Restaurant & Bar, Swimming Pool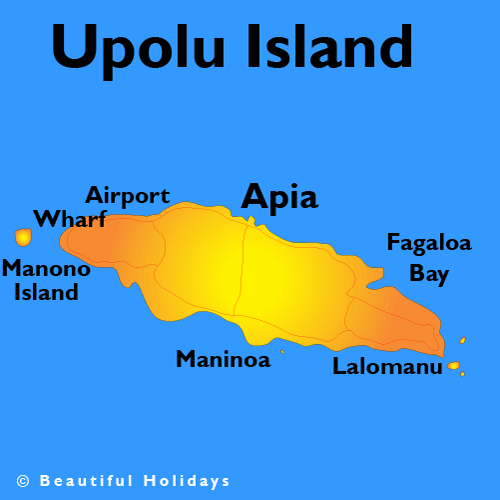 Samoa Islands Map

Upolu Island Map
Coconuts Beach Club Resort Room Details & Rates
Room Category
(click for details & pix)
Sleeps
(c = child)
Hotel Public Rate
(for 2 people)
Garden Coco Suite
4
US$ 344
Treehouse Junior Suite
3
US$ 344
1-Bedroom Beach Fale
3
US$ 401
2-Bedroom Beach Fale
5
US$ 447
Villa Pule / Alii
3
US$ 493
Villa Maitai
5
US$ 804

Minimum Stay = 3 Nights
Coconuts Beach Club Resort Information & Facts
Hotel Location: Beachfront on access road off highway, South Coast Upolu Island
Getting There: 40 minutes by road from Faleolo International Airport
Unique Qualities: Peaceful, gorgeous swimming beach, good snorkelling
Ideal for: Couples
Hotel Features: 25 Rooms, Swimming Pool
Dining: Resort Restaurant & bar - no independent restaurants nearby
Children Policy: Under 3yrs NOT permitted
Local Attractions / Tours: Surfing Breaks, Waterfalls, Hiking Trails, Villages
The Beach: Picturesque white sandy beach backed by coconuts trees
The Ocean: Excellent, sandy bottom
Snorkelling: Good, offshore from beach
Other Activities: Surfing, Scuba Diving, Game Fishing, Kayaking
Room Information
Each Garden Suite is comprised of a full-size bedroom with a king size bed, and a full size sitting room with sleeping facilities to accommodate one or two additional adults.  Each bedroom and sitting room has its own en-suite, open-air bathroom (two full bathrooms!), featuring a sunken tub with lava rock "waterfall" shower. These suites each have their own, individual covered terrace area, and extensive use of beautiful slate floors, teak and bamboo furniture and local materials throughout the rooms creates an distinctive, Polynesian atmosphere.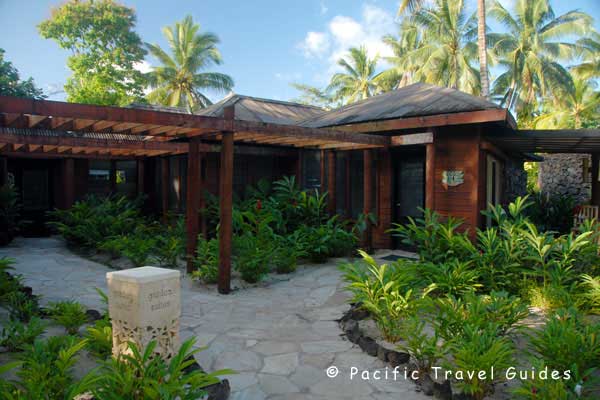 garden suite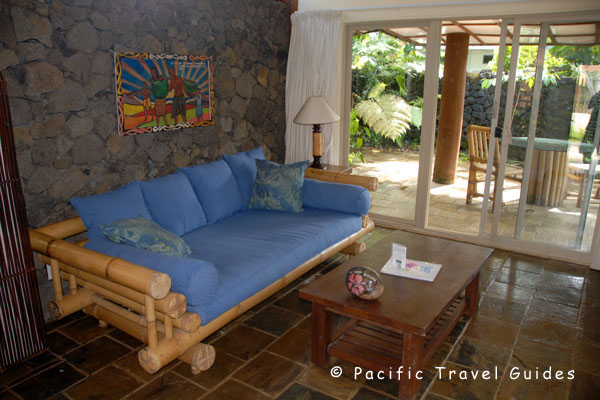 lounge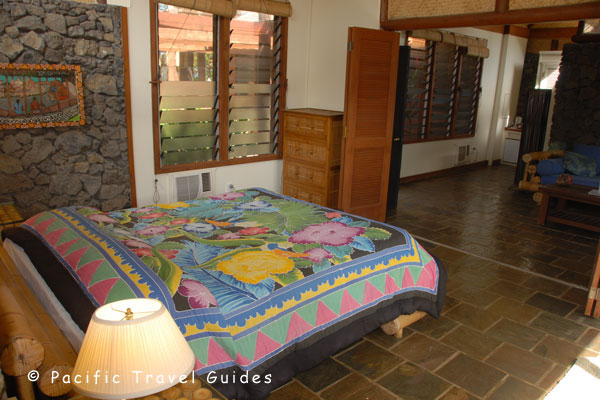 bedroom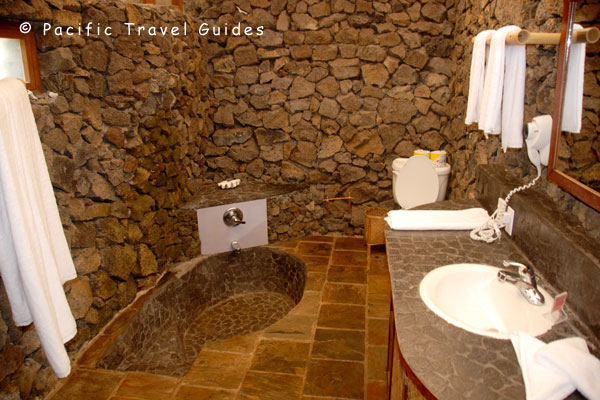 bathroom
The Treehouse Suites offer ocean views with jungle and treetop entrances, and recently have been remodeled. All rooms feature slate and hardwood floors and bamboo four-poster beds. The uniquely styled bathrooms, with their two-person bathtub with a view and beautiful Quartzite stone floors and walls, have also been expanded. Enormous seven meter wide decks with chaise lounges and hammocks enjoy the fabulous ocean view. These rooms are available with either one king size bed or one double bed and one twin bed.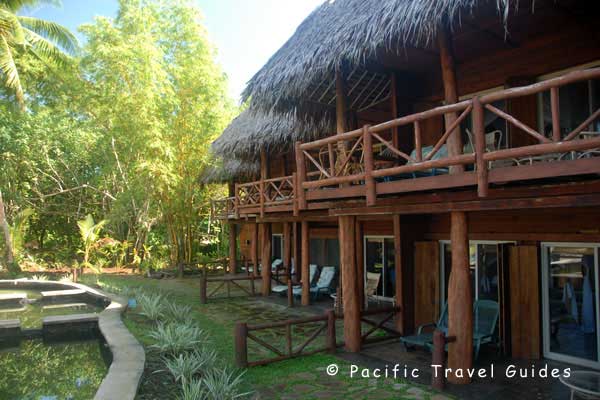 treehouse suite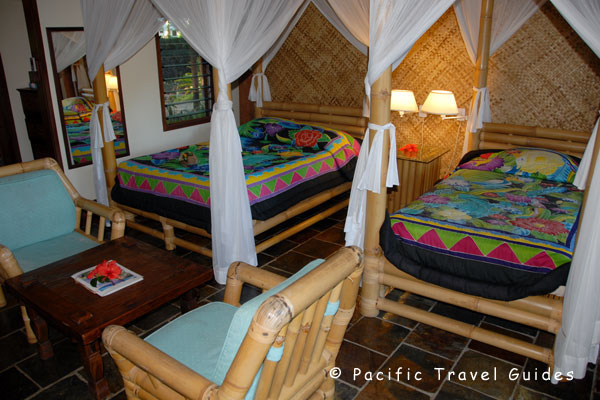 interior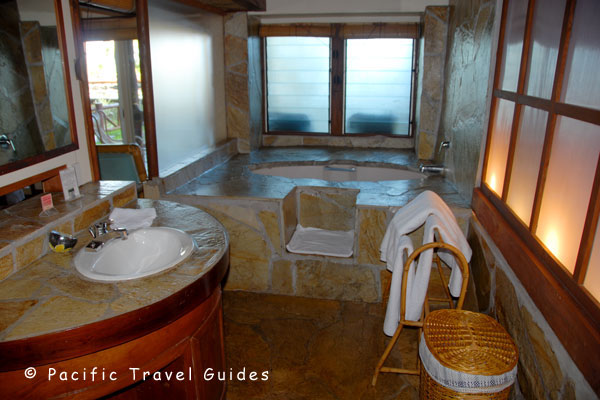 bathroom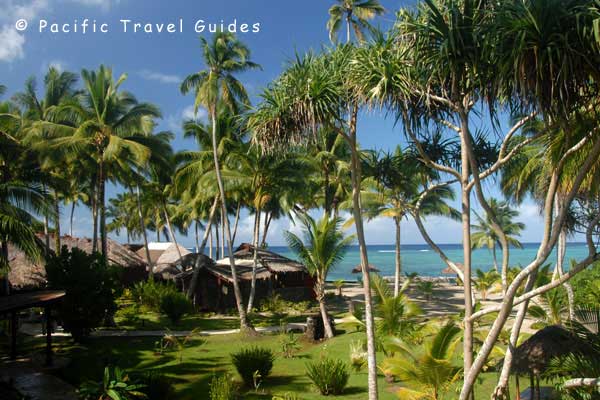 veranda view
Located directly on a sandy landscape garden, just meters from the water's edge, the 1 Bedroom Beach Fales feature unique open air bathrooms with lava-rock walls and a sunken shower nestled under a private "waterfall". Finishing touches include thatched roofs, covered terraces facing the sea & island decor.  Beach Fales have a split-level open plan design with a sitting room in the front and a King size bed on a raised area behind.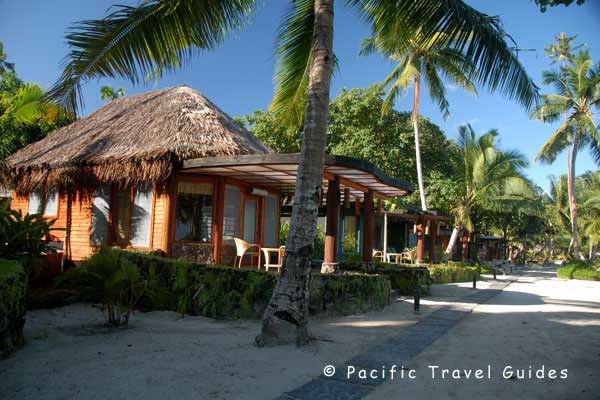 1 bed beach fale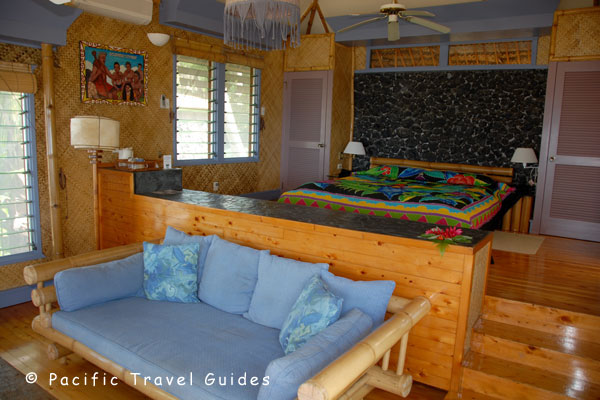 interior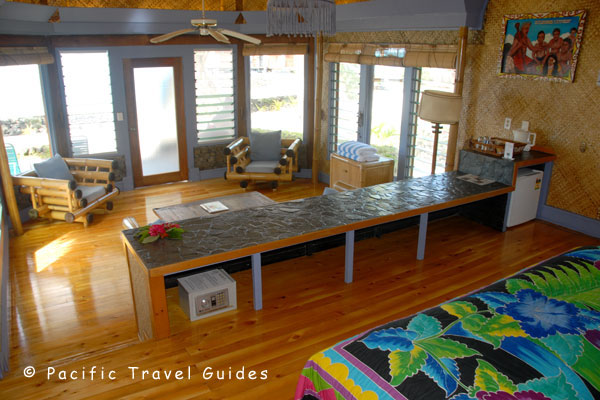 bed view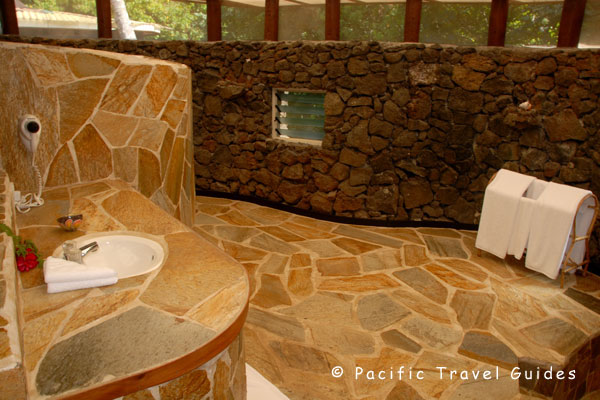 bathroom
Located on a sandy landscape garden amongst along with the 1 Bedroom Beach Fales and just meters from the water's edge, the 2 Bedroom Beach Fales also feature unique open air bathrooms with lava-rock walls and a sunken shower nestled under a private "waterfall". Finishing touches include thatched roofs, covered terraces facing the sea & island decor.  Beach Fales have a split-level design with a separate sitting room in the front and two bedrooms behind with interconnecting doors.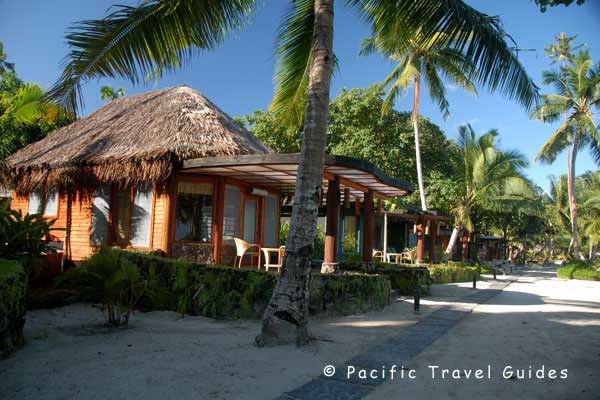 2 bed beach fale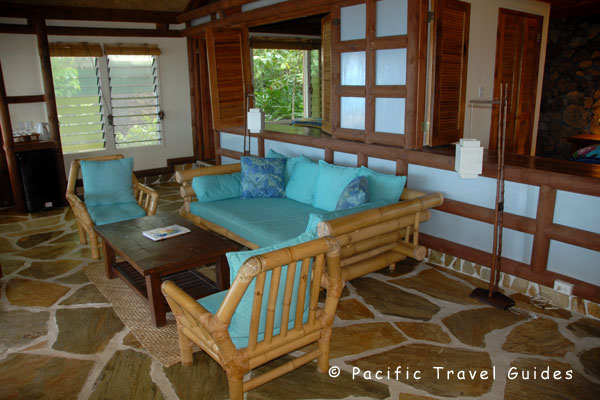 lounge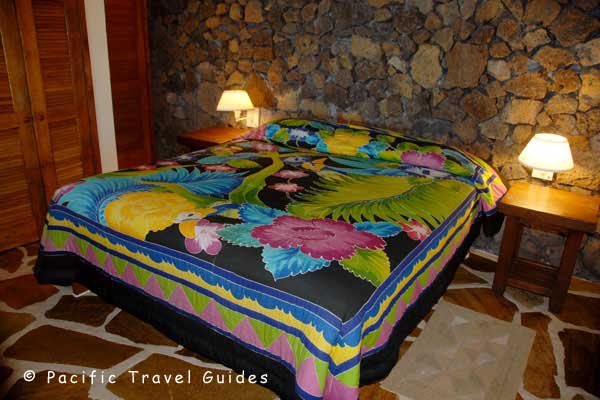 master bedroom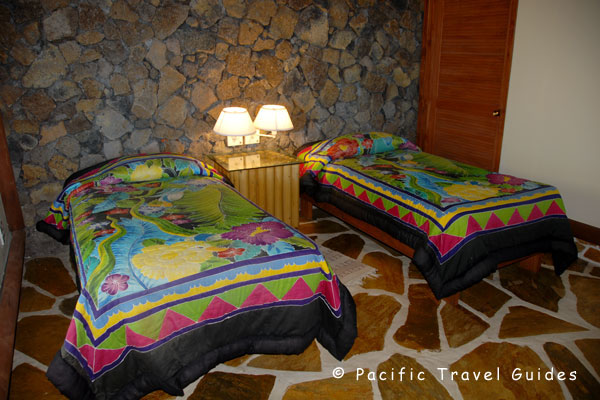 2nd bedroom
The three villas is comprised of two one-storey beach villas (Villa Pule and Villa Ali'i) flanking an immense, two-storey central villa (Villa Matai).  Villas Pule & Alii are identical in design, each with over 600 sq. ft of living space including bedroom, sitting room, walk-in closet, writing alcove and large open-air style bathroom, complete with lava rock "waterfall" shower.
Villa Maitai is located between Villas Pule and Alii and has two storeys with an observatory and balcony upstairs, accessed via a circular staircase, which can also serve as additional sleeping quarters. The villa is split level design with exposed-beam pole ceilings and 180 degree views enhanced with local hardwoods, finely crafted lava rock walls and beautiful quartzite tile. These villas are connected via covered bridge, and can be booked as an entire suite or individually, making it perfect for anything from one couple to families or groups of up to ten people total.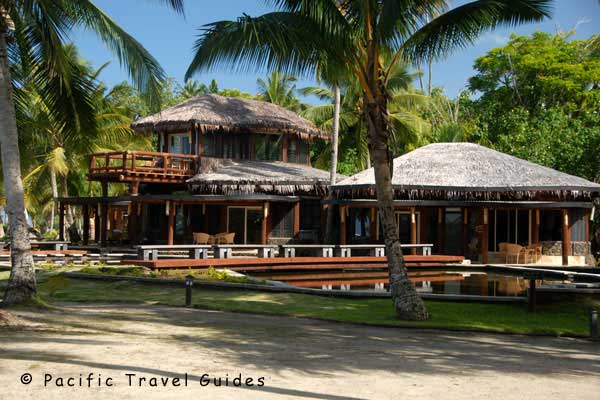 villa maitai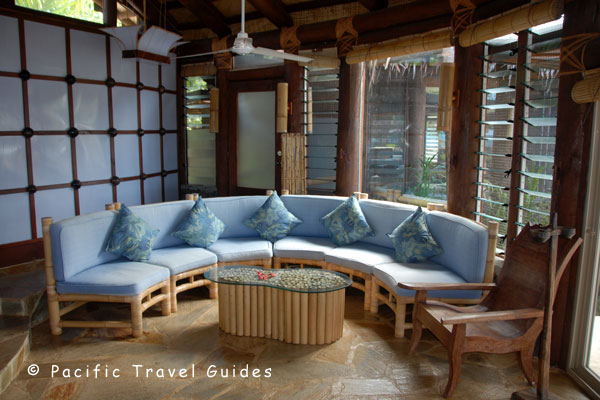 lounge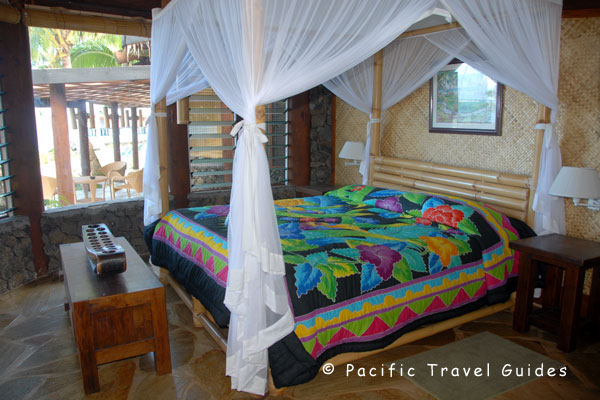 master bedroom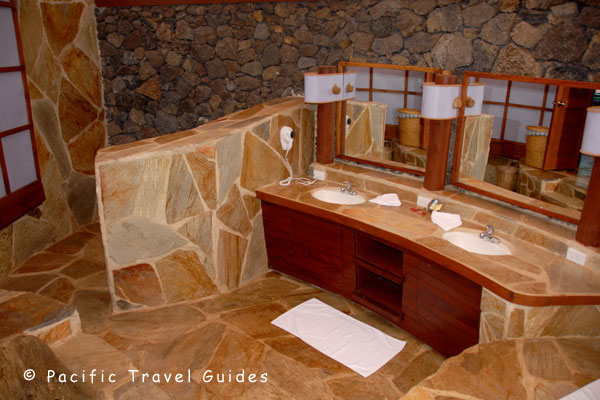 bathroom
Hotel Amenities
Coconuts Beach Resort is located on Maninoa Beach on the southern side of Upolu. The beach has yellow sand and fairly tidal with high tide coming right up to the shoreline. The lagoon has a sandy bottom near to shore with patchy coral heads further out bin the lagoon with reasonable snorkelling and swimming holes to cool off in.

All rooms and bungalows are finished in fine, local materials and feature both air conditioning and ceiling fans, tea and coffee making facilities, electronic in-room safe and mini-refrigerator. Included complimentary with all Fales is a mini-bar (beer, wine, soda, bottled water - restocked daily), and snorkelling equipment.
Activities at Coconuts Beach Resort include surfing (surfing breaks can be reached from the shore by good swimmers), scuba diving, kayaking tours to the nearby mangrove forests and half and full day sightseeing tours around the island. There's also a tropical spa for those looking to unwind. Kayaks, mountain bikes & snorkelling gear are complimentary and guest can hire cars from the resort to explore the island or visit Apia Town.