Independent review for Aggie Grey's Hotel in Apia Town on Upolu Island in Samoa

What better way to experience the charming seaside town of Apia than staying at the elegant Aggie Grey's Hotel Samoa. Located opposite the waterfront five minutes walk into downtown and close to several excellent restaurants, Aggie Grey's is undoubtedly the most gracious hotel in the South Pacific with immaculate service, old world charm and functional rooms, making it the perfect place to rest and explore.
Recommended For:
Singles, Couples, Families & Business People
Great Base for Exploring Apia Town
Romantic South Seas Ambience
Quick Facts
182 Rooms
Mainland - Town Location
Restaurant & Bar, Swimming Pool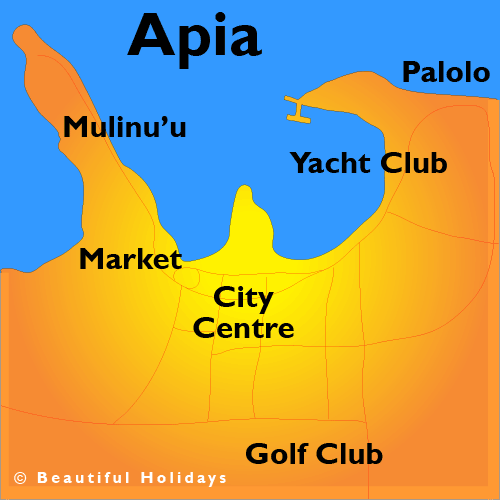 Samoa Islands Map


Apia Town Map
Aggie Grey's Hotel Room Details & Rates
Room Category
(click for details & pix)
Sleeps
(c = child)
Hotel Public Rate
(for 2 people)
Hibiscus Room - Single Person
1a
US$ 167
Hibiscus Room
2a+1c
US$ 178
Garden Bungalow - Single Person
1a
US$ 190
Garden Bungalow
2a+3c
US$ 201
New Wing Room - Single Person
1a
US$ 219
New Wing Room
3a
US$ 224
Executive Suite
2a
US$ 518
Included in rates: Return Airport Transfers (NZ / Aus / Fiji & Hawaii flights only), Full Buffet Breakfast, Daily Green Fees at Penina Golf Course in Mulifanua for adults

Aggie Grey's Hotel Information & Facts
Hotel Location: Apia Town, on Beach Road, facing harbour
Getting There: 40 minutes by road from Faleolo International Airport
Unique Qualities: Central location ; Excellent service ; Resort style atmosphere
Ideal for: Couples, Families and Business People
Hotel Features: 182 Rooms, Swimming Pool, Gym
Dining: Resort Restaurant & bars - excellent independent restaurants nearby
Children Policy: All ages welcome - nder 16yrs NOT permitted in New Wing / Suite
Local Attractions / Tours: Palolo Marine Reserve, Golf Course, RL Stevenson House
The Beach: Not on beach - closest beach 40 minutes by road
The Ocean: Facing Apia Harbour
Snorkelling: Excellent at Palolo Deep Reserve - 10 minutes walk
Other Activities: Game Fishing
Hotel Amenities
The hotel has two restaurants: one fine dining and another larger open style restaurant facing the pool which offers buffet meals and themed night menu's; plus a coffee shop. The reception is wonderfully old world, with highly attentive butler's awaiting every visitor, a large airy lounge area decorated in memorabilia, a business lounge with hot spot internet, and a tour desk. For fitness enthusiasts, an air-conditioned gym is onsite. Complimentary green fees are also offered at the Royal Samoa Country Club.

Aggie Grey's Hotel has, over the years, become one of the legends of the South Pacific. It offers a regal atmosphere where everyone is greeted by smart porters and hostesses adorned in sweet scented flowers. The hotel is set amongst lush tropical gardens across the main road from the majestic Apia Harbour and shoreline of Apia, the capital of Samoa.