Independent review for Ramada Plaza Hotel in Noumea the capital of New Caledonia

Ramada Plaza New Caledonia is a large hotel with 188 spacious rooms in two 17-storey hotel towers set five minutes walk back from Anse Vata Beach and overlooking the Hippodrome Race Course. The Ramada Plaza offers some of the best value room interiors in Noumea as well as a unique 360 degree revolving restaurant on top of one of the towers with fine dining and wonderful views of Noumea.
Recommended For:
Couples and Business Travellers
Walking distance to Noumea beach
360 degree revolving restaurant

Quick Facts
120 Rooms
Noumea - Seaside Location
Restaurant & Bar, Swimming Pool


New Caledonia Map


Noumea Map
Ramada Plaza Hotel Rooms & Room Details & Rates
Room Category
(click for details & pix)
Sleeps
(c = child)
Hotel Public Rate
(for 2 people)
Deluxe Room
2
Euro € 310
Junior Suite
4
Euro € 365
Premium Junior Suite
4
Euro € 395
Deluxe Suite
4
Euro € 440
Premium Deluxe Suite
4
Euro € 475
Executive Suite
6
Euro € 550
Ramada Plaza Hotel Information & Facts
Hotel Location: Twin towers, Anse Vata Suburbs, Noumea
Getting There: 1 hr drive from Tontouta Airport
Unique Qualities: Good value self-catering rooms, exceptional service
Ideal for: Couples, Families
Hotel Features: 120 Rooms, Swimming Pool, Spa
Dining: Restaurant & Bar at the hotel - several restaurants walking distance
Children Policy: All ages welcome
Local Attractions / Tours: Anse Vata Beach, Ouen Toro Hill, Downtown Noumea, Island Cruise
The Beach: Five minutes walk to Anse Vata Beach
The Ocean: As above
Snorkelling: As above
Other Activities: As above
Room Information
Superior Rooms are located in the main tower and are slightly larger in size than Deluxe Rooms but don't have kitchen facilties. However, these rooms have a small separate lounge from the master bedroom where twin beds can be placed, enabling up to four people to sleep comfortably in this room category.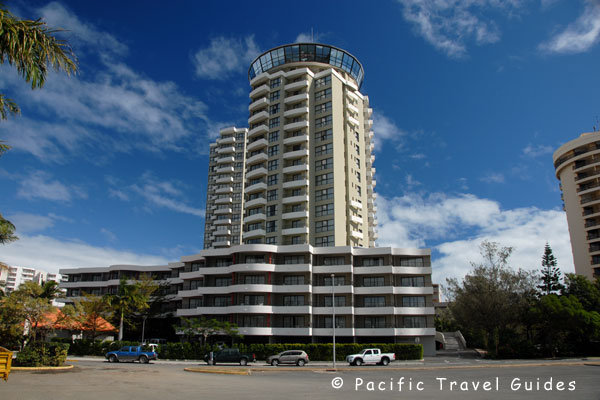 hotel rooms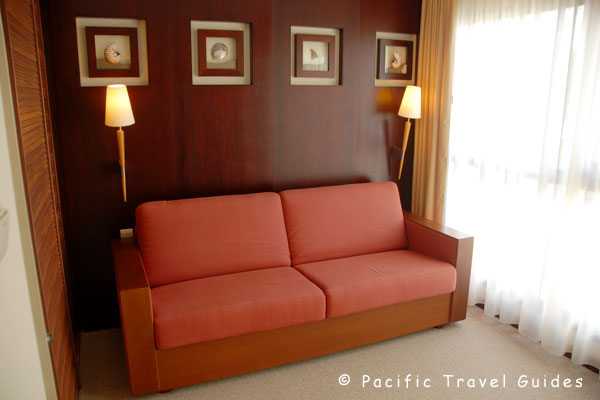 lounge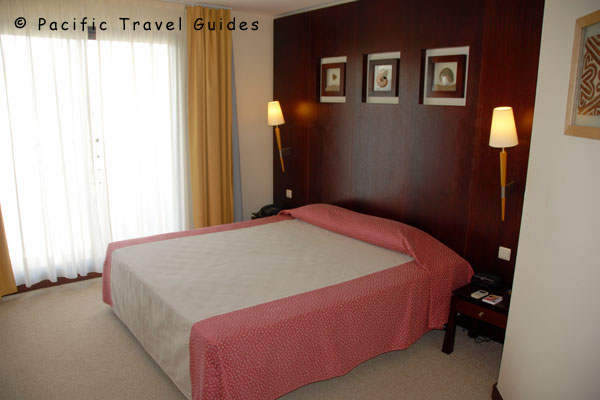 master bedroom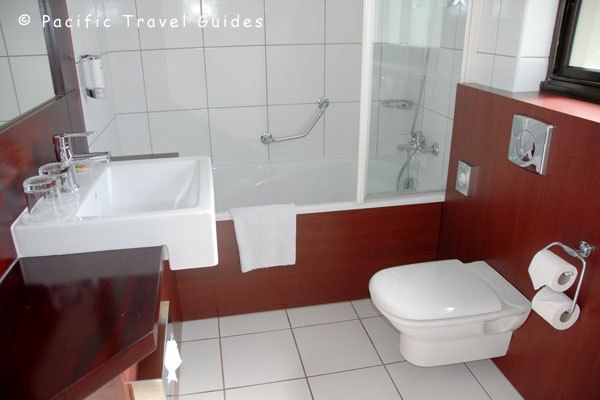 bathroom
The Deluxe Rooms are located in a separate four storey building at the front of the main hotel. Although these rooms are smaller in living space than the Superior Rooms,they have open plan living which includes a full kitchen area.
Junior Suites are located in the main hotel tower and offer open plan living with a queen size bed, lounge area and kitchen. Premium Junior Suites are located on higher floors with the best views towards Anse Vata Beach.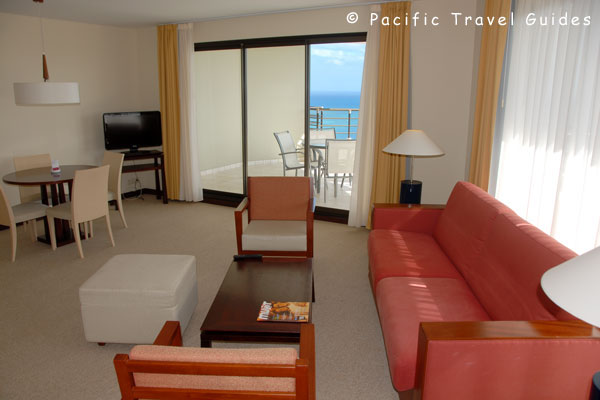 lounge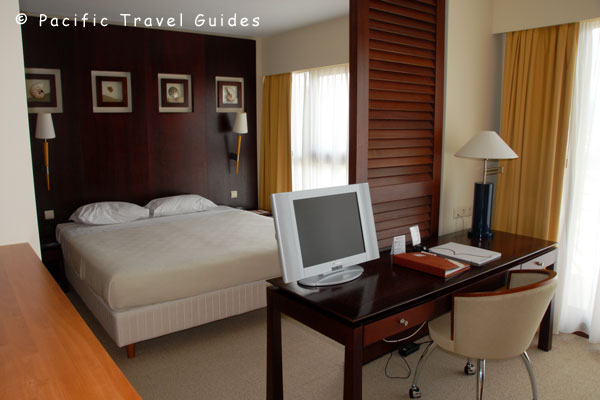 bedroom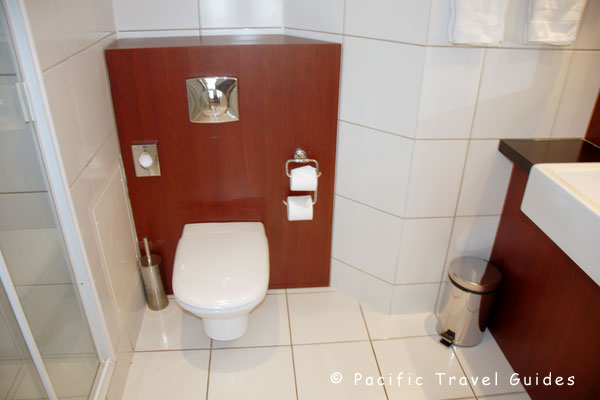 bathroom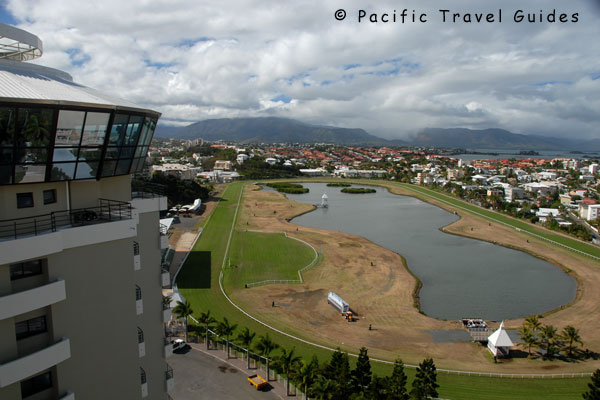 view
Deluxe Suites are located in the main hotel tower and have a separate bedroom with queen size bed, a large lounge area with sofa bed, plus full kitchens (no dishwasher) and laundry room with washing machine and dryer. Premium Suites are located on higher floors with the best views.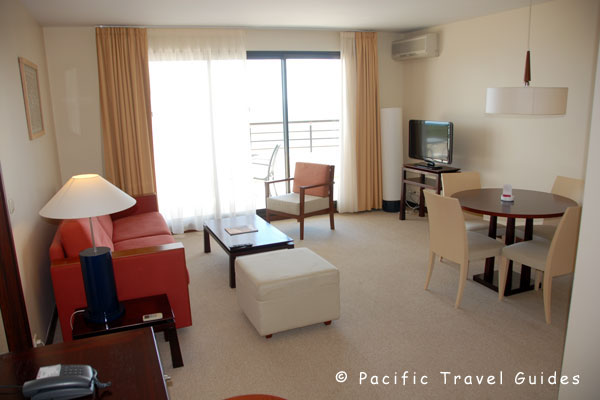 lounge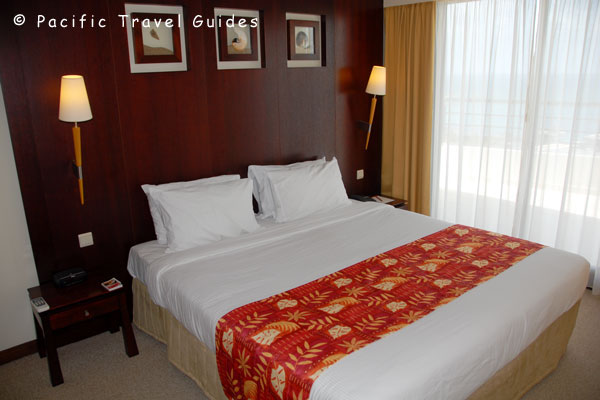 master bedroom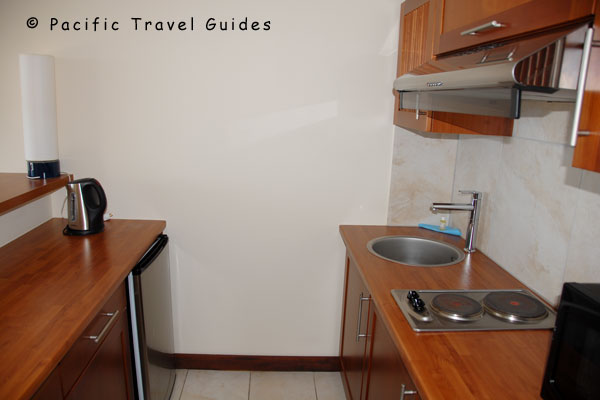 kitchen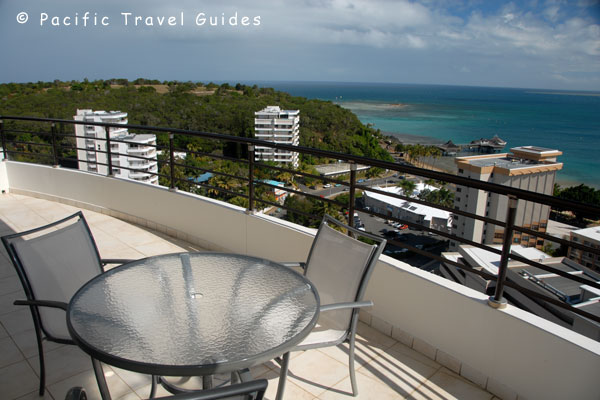 balcony view
Executive Suites offer the largest living space and with best views in the hotel. Lounges are very spacious with dining area and full kitchens, plus a laundry room with washing machine and dryer. These suites have two bedrooms, the Master bedroom with King bed and the 2nd bedroom with twin beds.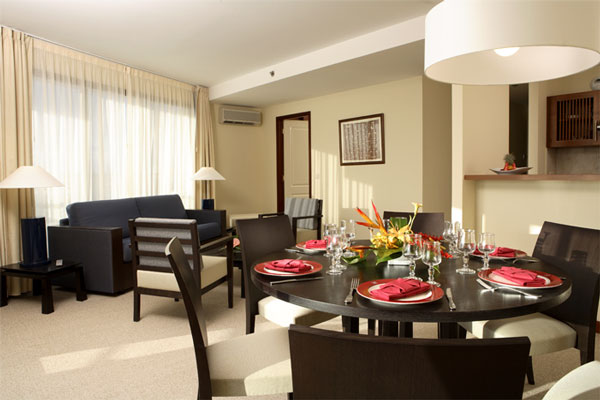 executive lounge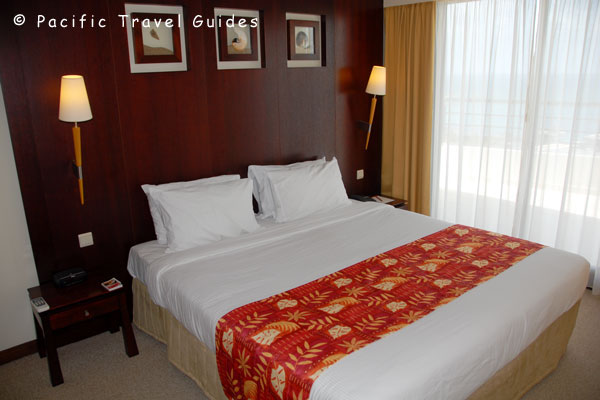 master bedroom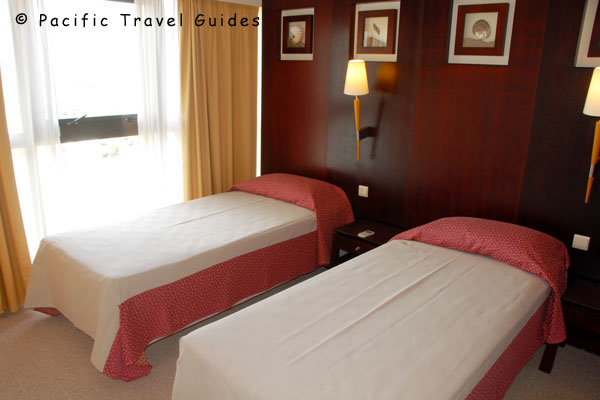 2nd bedroom
suite view
Hotel Amenities
There's a small swimming pool surrounded by lovely tropical gardens and a sandy area beside the pool with sun loungers re-creating a beach holiday atmosphere. If being right beside the beach isn't paramount, the Ramada Plaza makes an extremely comfortable and good value base whilst staying in Noumea.