Independent review for Oasis Kiamu Hotel in the Loyalty Islands of New Caledonia

Oasis Kiamu Hotel New Caledonia is a two star budget hotel with 15 lodge style rooms in a landscaped plantation backed by limestone cliffs and sitting across the road from a small pretty white sand cove beach about ten minutes drive south of the main centre of We. With a swimming pool and good restaurant, this makes an excellent choice for those travelling on a budget and not too concerned about luxury living.
Recommended For:
Couples and Families
Secluded cove beaches
Exploring Lifou Island

Quick Facts
15 Rooms
Outer Islands - Beachfront Location
Restaurant & Bar, Swimming Pool


New Caledonia Map


Loyalty Islands Map
Oasis Kiamu Hotel Rooms & Room Details & Rates
Room Category
(click for details & pix)
Sleeps
(c = child)
Hotel Public Rate
(for 2 people)
Lodge Room
4
Euro € 143
Studio Room
2
Euro € 166
Oasis Kiamu Hotel Information & Facts
Hotel Location: Across road from secluded cove beach, East Lifou, Loyalty Islands
Getting There: 40-minute flight from Noumea + 20-minute by road
Unique Qualities: Peaceful setting, affordable base for sightseeing
Ideal for: Couples, Families
Hotel Features: 15 Rooms, Swimming Pool
Dining: Restaurant on site
Children Policy: All ages welcome
Local Attractions / Tours: We Beach, Island Sightseeing
The Beach: Good - small cove beach across road
The Ocean: Good - deep sandy bottom, some waves, good for swimming
Snorkelling: Good - some reef fish off from beach and coral reefs further out
Other Activities: None
Room Information
Accommodation is in wooden bungalows with four guest rooms per bungalow. Room interiors feature a low King size bed, air-conditioning and ceiling fans and a spacious bathroom with separate toilet and shower.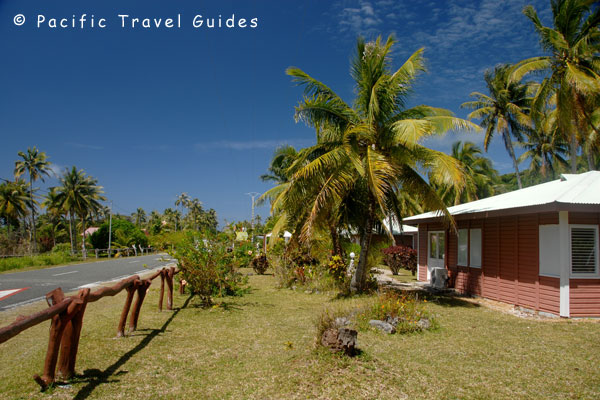 lodge bungalows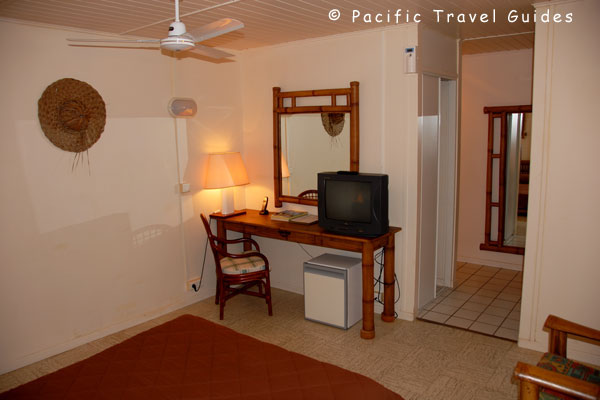 room interior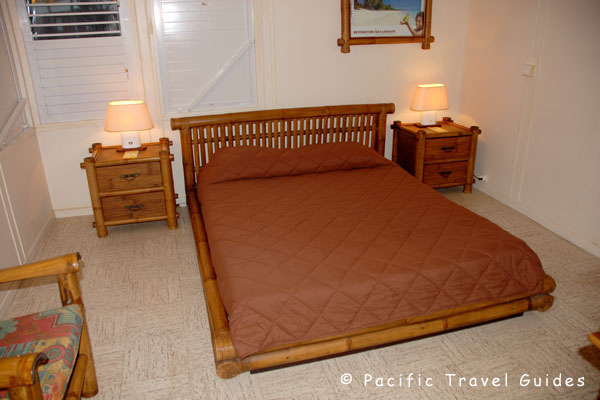 bed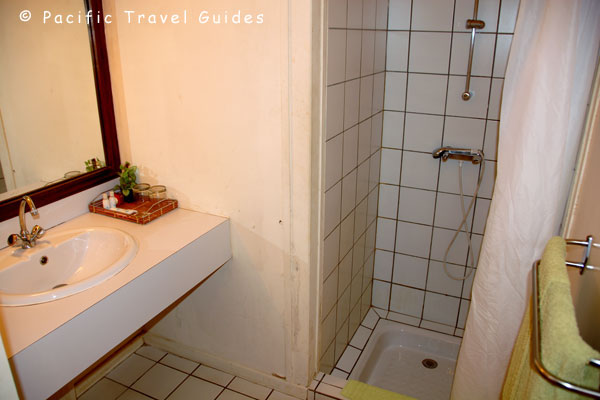 bathroom