Independent review for Nouvata Parc Hotel in Noumea the capital of New Caledonia

Nouvata Parc New Caledonia is a multi-complex resort comprising of three different wings: Le Parc is two star, Nouvata is three star and Le Pacifique is four star. All three hotels surround a huge swimming pool and share the same facilities including a common reception area, ballroom, bar, restaurant, beauty salon, fitness centre and nightclub.
Recommended For:
Couples, Families, Groups and Weddings
Large hotel with massive pool
Convenient to beach, shops / restaurants

Quick Facts
303 Rooms
Noumea - Seaside Location
Restaurant & Bar, Swimming Pool


New Caledonia Map


Noumea Map
Nouvata Parc Hotel Rooms & Room Details & Rates
Room Category
(click for details & pix)
Sleeps
(c = child)
Hotel Public Rate
(for 2 people)
Le Pacifique Standard Room
3
Euro € 225
Nouvata Superior Room
3
Euro € 240
Le Parc Deluxe Room
3
Euro € 270
Nouvata Parc Hotel Information & Facts
Hotel Location: Across road from Le Promenade, Anse Vata Beach, Noumea
Getting There: 1 hr drive from Tontouta Airport
Unique Qualities: Large multi purpose hotel complex, close to beach
Ideal for: Couples, Families
Hotel Features: 303 Rooms, Swimming Pool, Fitness Centre
Dining: Restaurant & Bar at the hotel - several restaurants walking distance
Children Policy: All ages welcome
Local Attractions / Tours: Anse Vata Beach, Ouen Toro Hill, Downtown Noumea, Island Cruise
The Beach: Good - white sand beach extending infront of promenade
The Ocean: Excellent - sandy bottom, protected, good for watersports
Snorkelling: Average - some reef fish off from beach
Other Activities: Windsurfing, Waterskiing, Kayaking, Paddle Boats
Hotel Set-up
Nouvata Parc is made up of three hotel buildings sharing the same facilities and location:
Le Park Hotel - 4 Star
The most upmarket of the three hotels is Le Park, a 7-storey complex with 110 deluxe rooms and suites. Le Park is a modern hotel overlooking a huge landscaped swimming pool with stylish rooms.
Located over seven floors, the Deluxe Rooms have a large living space with separate bed and lounge area and a large terrace with sun loungers.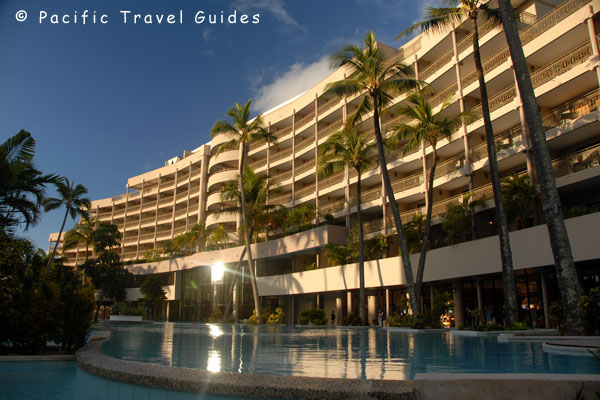 deluxe rooms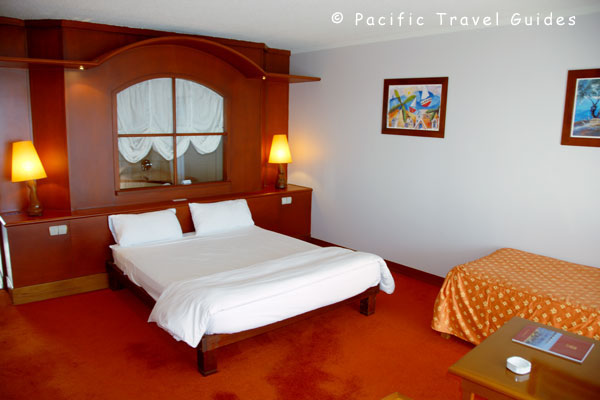 bedroom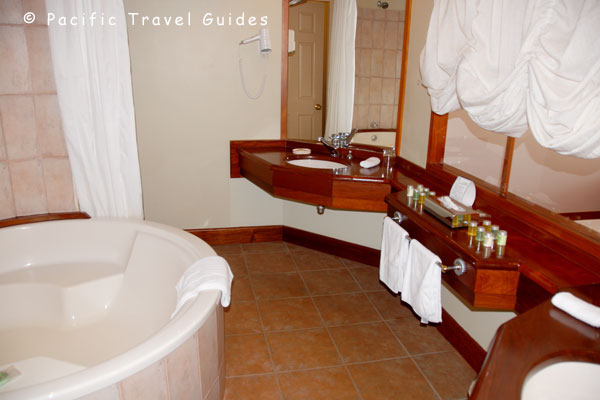 bathroom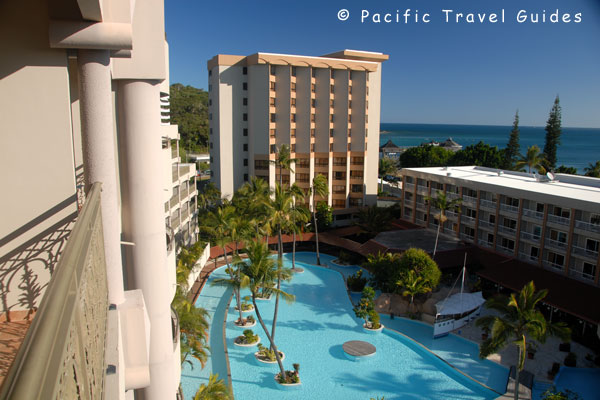 balcony view
Nouvata Hotel - 3 Star
Nouvata is the original portion of the hotel with 73 refurbished superior rooms and sits across the road from Anse Vata Beach.
Nouvata Hotel offers comfortable hotel rooms, each with a King size and single bed and small bathroom in a three storey building with views from a small private terrace either towards the Nouvata Park Complex swimming pool or across the road to Anse Vata beach and the ocean. Access to rooms is via a single old lift or classical curved stairway.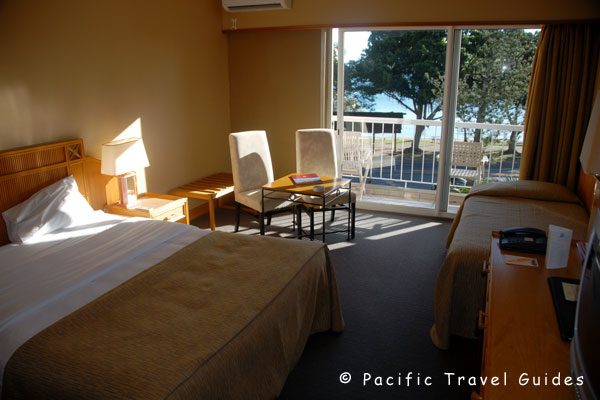 superior in
superior in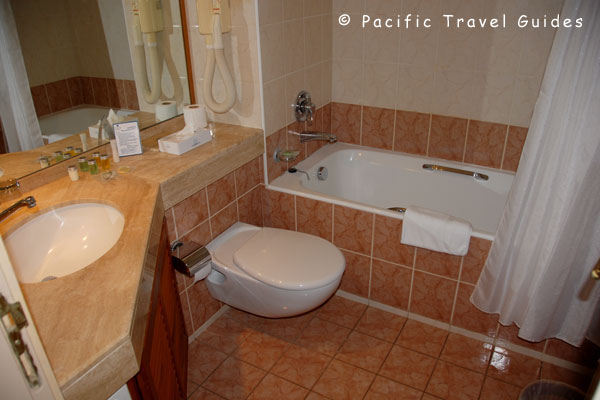 superior bathroom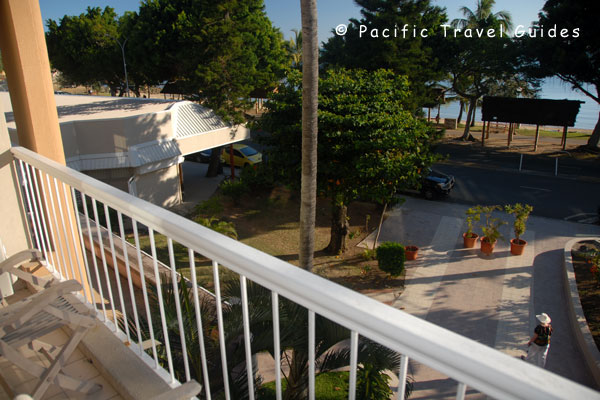 ocean view veranda
Le Pacifique Hotel - 2 Star
The most affordable is the two-star Le Pacifique with 120 standard rooms over 10 floors. Le Pacifique Hotel is a 10-storey hotel tower with 120 standard rooms with either a double and single bed or three single beds, and with interconnecting rooms available for families. These rooms are the smallest room sizes in the Nouvata Complex but have a fridge, microwave oven and tea and coffee making enabling guests to enjoy light snacks.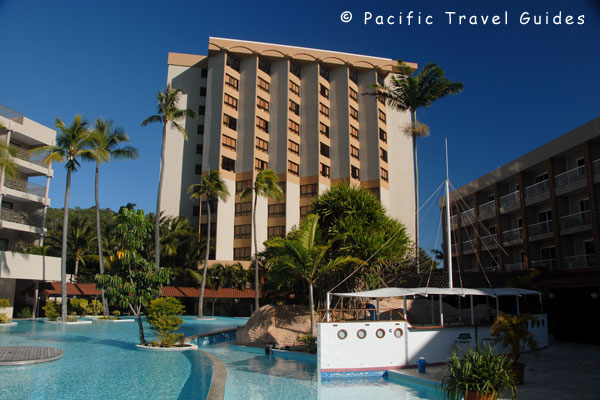 hotel setting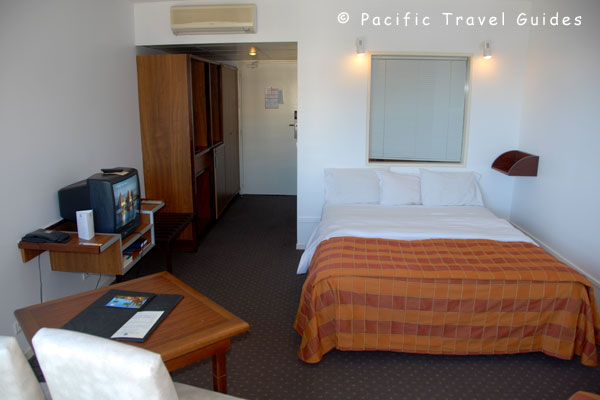 standard room in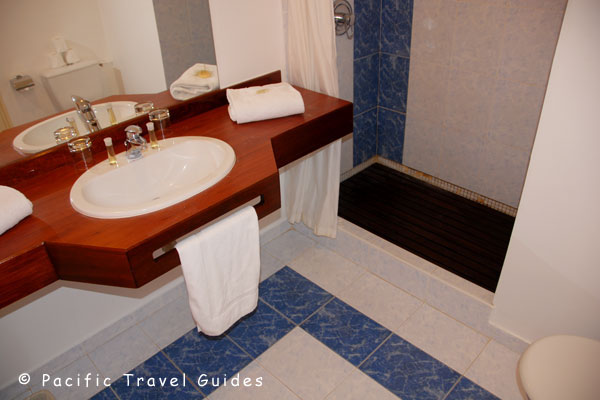 standard room bath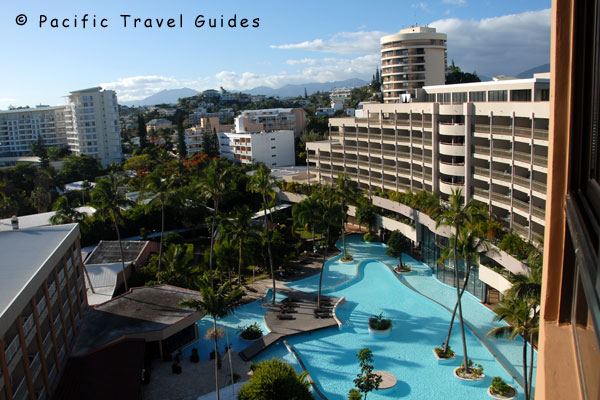 room view