Independent review for Le Surf Hotel in Noumea the capital of New Caledonia

Hotel Le Surf New Caledonia is the original large hotel in Noumea located on the point straddling Anse Vata and Citrons Bay and directly across the road from the northern stretch of Anse Vata beach. With a large reception area and restaurant with partial ocean views, a nice swimming pool, direct access to the Casino Royal, and 167 affordable no thrill hotel rooms, Le Surf is an excellent value for money full service hotel.
Recommended For:
Couples and Families
Noumea beach location
Convenient to nightclub and bars

Quick Facts
167 Rooms
Noumea - Seaside Location
Restaurant & Bar, Swimming Pool


New Caledonia Map


Noumea Map
Le Surf Hotel Rooms & Room Details & Rates
Room Category
(click for details & pix)
Sleeps
(c = child)
Hotel Public Rate
(for 2 people)
Standard Garden Room
3
Euro € 175
Standard Sea View Room
3
Euro € 187
Junior Suite
4
Euro € 420
Duplex Suite
4
Euro € 420
Le Surf Hotel Information & Facts
Hotel Location: Across road from Anse Vata Beach in Noumea
Getting There: 1 hr drive from Tontouta Airport
Unique Qualities: Full service hotel offering affordability
Ideal for: Couples, Families
Hotel Features: 167 Rooms, Swimming Pool
Dining: Restaurant & Bar at the hotel - independent restaurants walking distance
Children Policy: All ages welcome
Local Attractions / Tours: Anse Vata Beach, Ouen Toro Hill, Downtown Noumea, Island Cruise
The Beach: Good - white sand beach extending infront of promenade
The Ocean: Excellent - sandy bottom, protected, good for watersports
Snorkelling: Average - some reef fish off from beach
Other Activities: Windsurfing, Waterskiing, Kayaking, Paddle Boats
Room Information
Garden View and Lagoon View rooms have identical interiors with Queen size bed, writing desk with tea and coffee making, mini fridge and TV, a small bathroom and private balcony. These rooms are located either in the New Wing, with two double beds, or the Old Wing with Queen size bed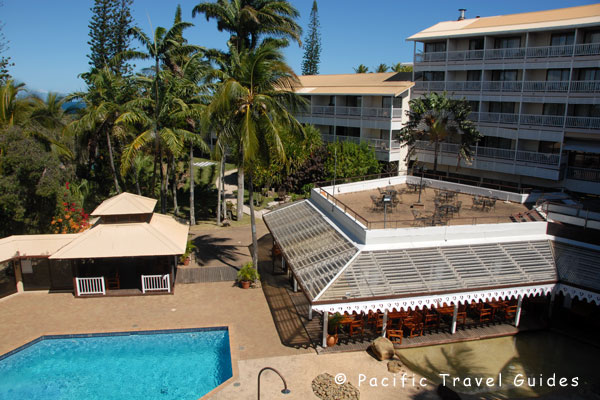 gardenview room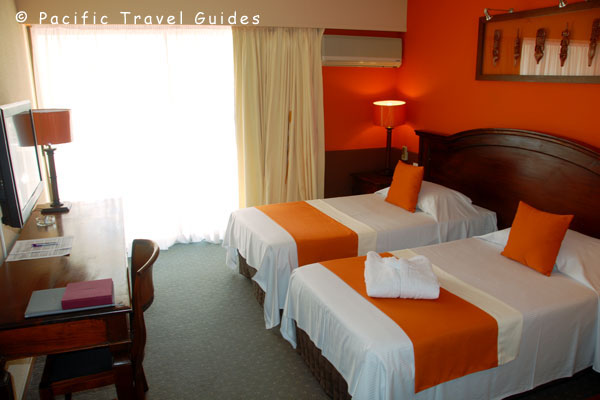 new wing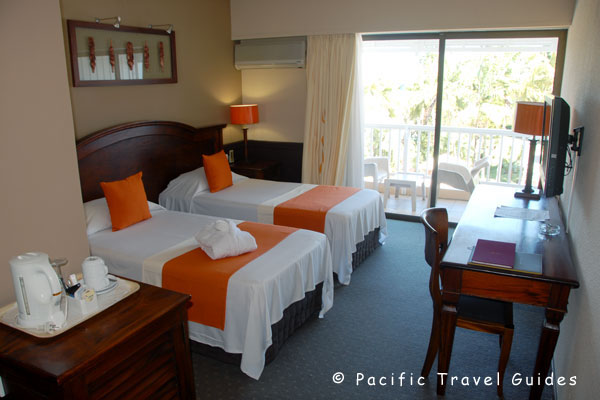 new wing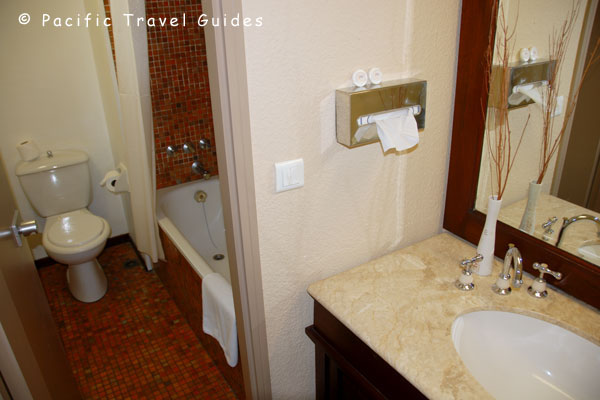 bathroom
Junior Suites provide more spacious living for couples and combining two rooms with interconnecting doors. One room is set up as the Master bedroom whilst the other room is set up as a lounge. The Suites have superior ocean views from the balcony.

suites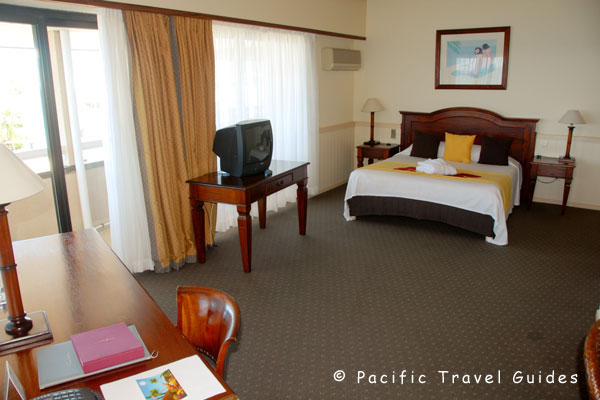 interior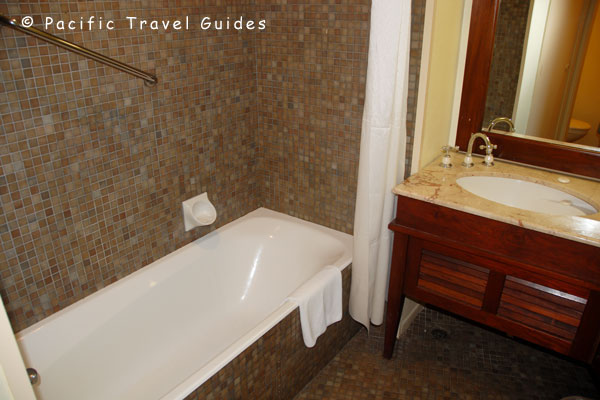 bathroom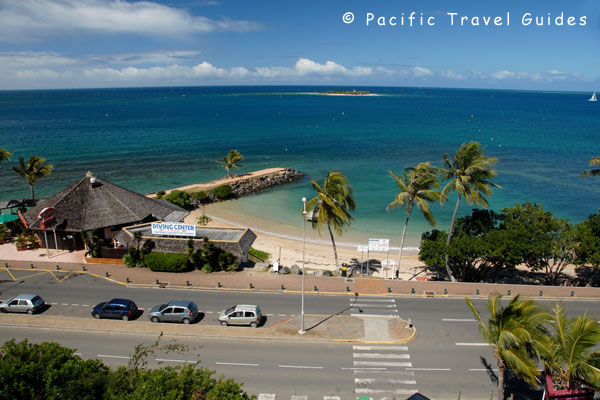 balcony view
Duplex Suites are located over two floors and offer the largest living space at the hotel with a generous size living area downstairs and a master bedroom and second bedroom upstairs.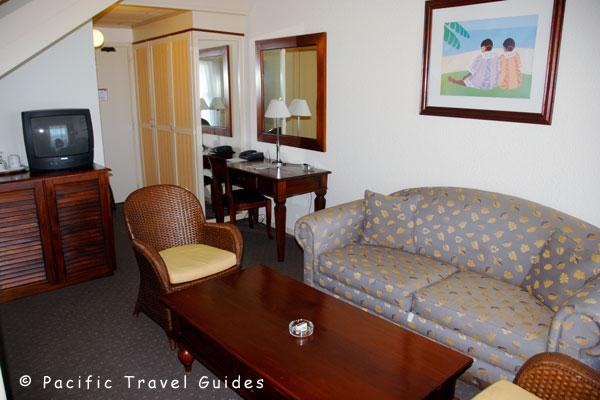 lounge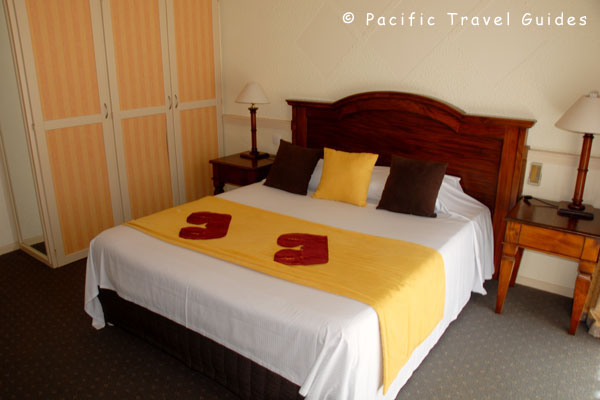 master bedroom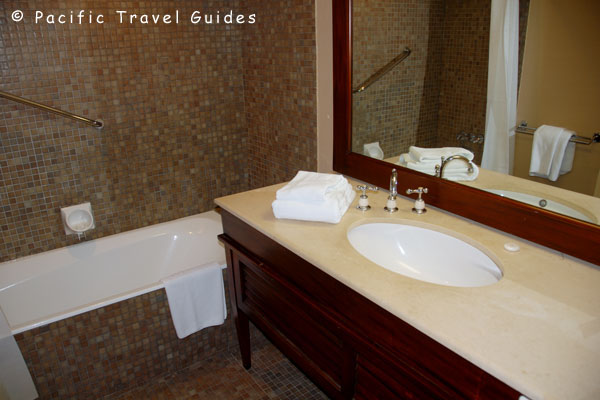 bathroom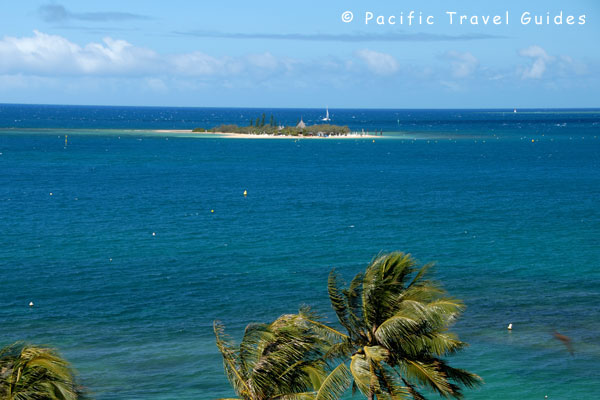 balcony view
Hotel Amenities
Accommodation is in standard size hotel rooms either in the 4-storey Old Wing or 5-storey New Wing.