Independent review for Hotel Evasion on Grand Terre in New Caledonia

Hotel Evasion New Caledonia is a delightful eco retreat and rainforest spa in the charming tropical hideaway of Sarramea, twenty minutes inland from La Foa or a two hour drive north of Noumea. Located beside a small stream at the end of a fertile farming valley and backed by towering mountains, this boutique retreat offers ten private bungalows in landscaped gardens with private verandas and a classical ambient interior with wooden floors and large bathrooms.
Recommended For:
Couples
Therapeutic holiday breaks
Walking and horse-riding
Tropical rainforest ambience

Quick Facts
10 Rooms
Mainland - Mountain Location
Restaurant, Swimming Pool

New Caledonia Map

Grand Terre Map
Hotel Evasion Rooms & Room Details & Rates
Room Category
(click for details & pix)
Sleeps
(c = child)
Hotel Public Rate
(for 2 people)
Garden Bungalow
2a+1c
Euro € 255
Hotel Evasion Information & Facts
Hotel Location: Inland in the mountain retreat of Sarramea, Grand Terre
Getting There: 1 hr drive north of Tontouta Airport
Unique Qualities: Peaceful environment for nature lovers, spa retreat
Ideal for: Couples
Hotel Features: 10 Bungalows, Swimming Pool, Spa
Dining: Restaurant at hotel - several small restaurants / tea-houses close by
Children Policy: Not recommended
Local Attractions / Tours: Sarramea Mountains, La Foa Adventure and Eco Tours
The Beach: Mountain setting
The Ocean: Inland
Snorkelling: No
Other Activities: Hiking, Horse Riding
Room Information
Bungalows face a small stream with private veranda, timber floors and modern styled interiors.
bungalow veranda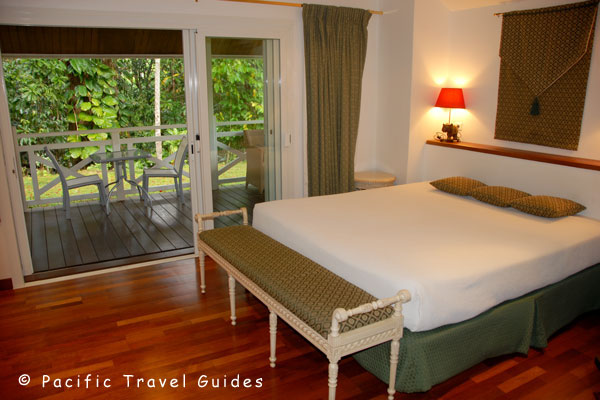 interior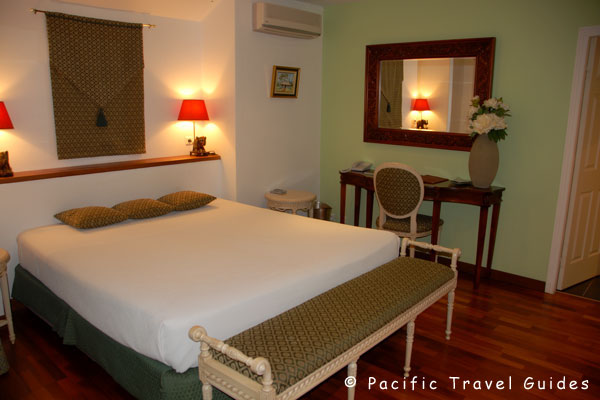 interior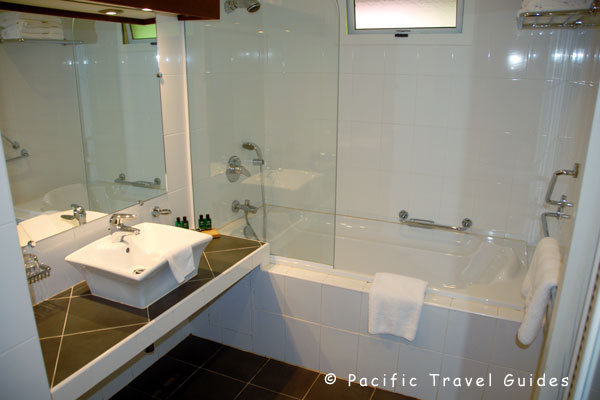 bathroom
Hotel Amenities
There's a small swimming pool, spa area and intimate restaurant all surrounded by beautiful scenery with mountain walks and horse riding trails.