Independent review for Drehu Village Resort Lifou Island, in the Loyalty Islands of New Caledonia

Drehu Village Resort is the most upmarket accommodation on Lifou with 28 boutique style bungalows directly fronting a gorgeous white sandy beach in the islands main commercial centre at We on the east coast. With a relaxing swimming pool, fine dining restaurant overlooking the beach, exceptional service and snorkelling or kayaking in the lagoon, Drehu Village makes the best base for exploring the island and enjoying a relaxing and comfortable beach holiday.
Recommended For:
Couples
Romantic beach holiday
Snorkelling and kite surfing

Quick Facts
30 Bungalows
Outer Island - Beachfront Location
Restaurant & Bar, Swimming Pool

New Caledonia Map

Loyalty Islands Map
Drehu Village Resort Rooms & Room Details & Rates
Room Category
(click for details & pix)
Sleeps
(c = child)
Hotel Public Rate
(for 2 people)
Bungalow
2a+2c or 3a
Euro € 195
Bungalow Suite
2a+1c
Euro € 325
Drehu Village Resort Information & Facts
Hotel Location: Beach front at We, east coast Lifou Island
Getting There: 40-minute flight from Noumea + 20-minute by road
Unique Qualities: Boutique resort on beautiful beach
Ideal for: Couples and Families
Hotel Features: 30 Bungalows, Swimming Pool
Dining: Restaurant & Bar at the hotel - a couple of other restaurants walking distance
Children Policy: All ages welcome
Local Attractions / Tours: We Beach, Island Sightseeing
The Beach: Excellent - white sand beach extending along coastline
The Ocean: Excellent - sandy bottom, protected, good for watersports
Snorkelling: Good - some good reefs along outer lagoon
Other Activities: Windsurfing, Kite Surfing at We Centre
Room Information
The majority of accommodation is in duplex bungalows (two independent rooms within one bungalow and a dividing wall separating each veranda for privacy) with contemporary, light and spacious interiors with a King size bed, single bed, flat screen TV and small but pleasantly outfitted bathrooms. Bungalows are set in two lines, with the beachfront bungalows having excellent privacy and ocean view bungalows staggered in a row behind with partial ocean views.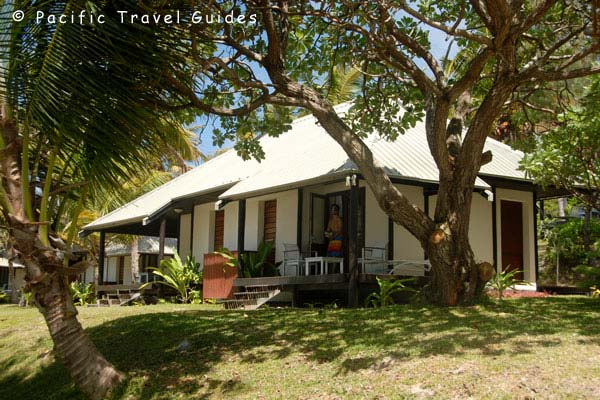 duplex bungalows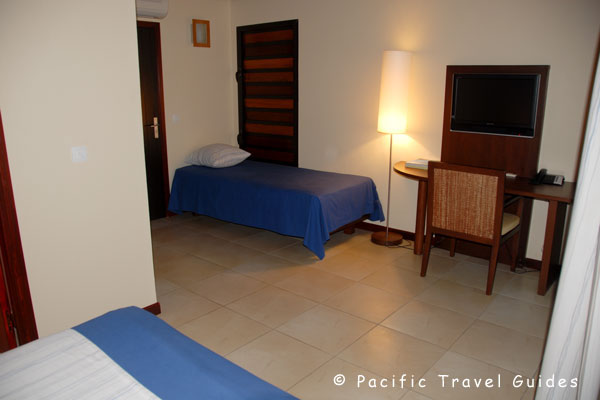 interior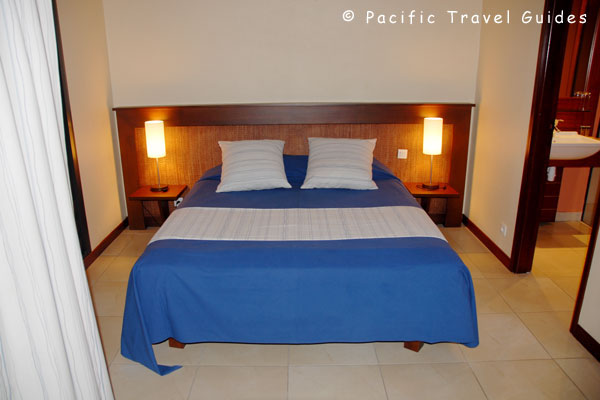 bed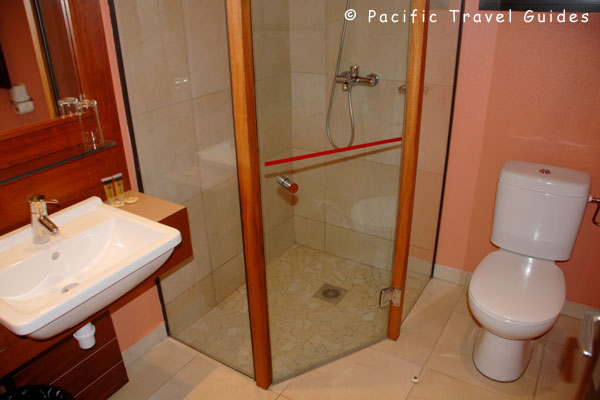 bathroom
Three bungalow suites are located at the secluded northern end of the property with lovely ocean views. These are stand-alone private bungalows with larger living space than the standard bungalows and large bathrooms with bath tub. Interior furnishings include a King size bed, single bed, flat screen TV and spacious bathrooms.
interior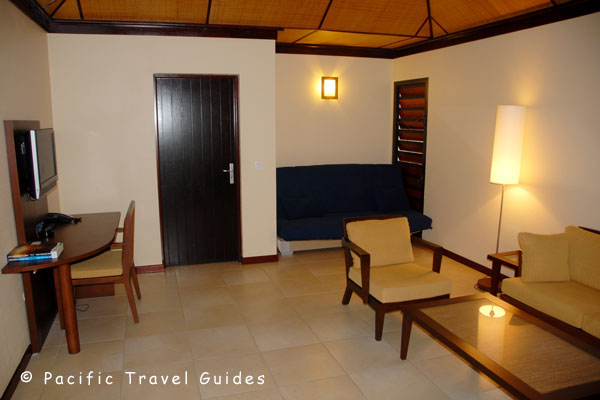 lounge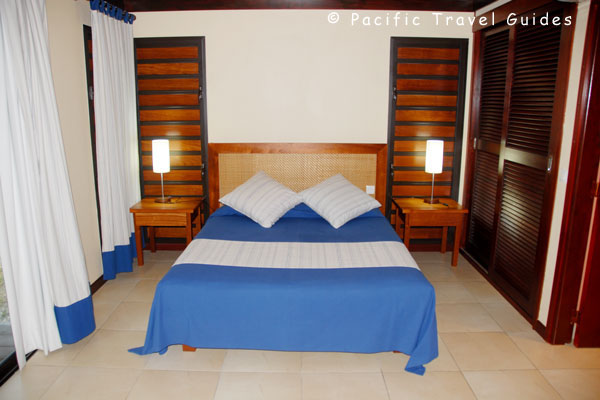 bedroom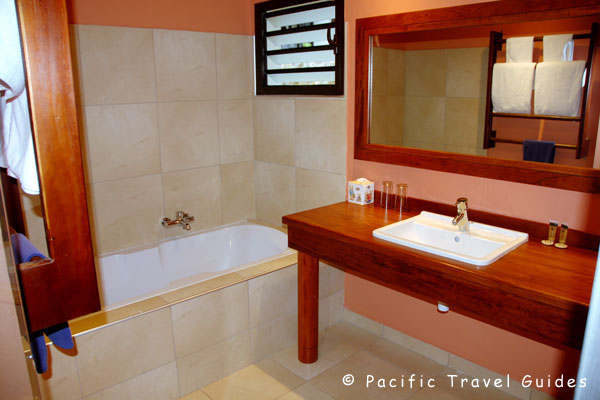 bathroom
Hotel Amenities
Island tours and village visits can be arranged, there's a friendly reception and bar and an independent water sports centre is located five minutes walk along the beachfront hiring out kite surfing, catamarans and offering deep sea fishing. Several small independent restaurants and shops are also walking distance to the resort.