Independent review for Chez Ihage Tribal Huts Lifou Island, in the Loyalty Islands of New Caledonia

Chez Ihage New Caledonia is collection of budget tribal huts in the village of Luecila facing a beautiful lagoon – it's less than a minute walk to the long sweeping sandy beach of We. With three traditional huts sharing communal hot water showers and flush toilets, this is a great option for backpackers and budget travellers looking to enjoy the prime location on Lifou and easy access to the beach.
Recommended For:
Discerning travellers / backpackers
Staying in a tribal hut & Interaction with village
Stunning beach and snorkelling lagoon

Quick Facts
3 Huts
Outer Island - Beachfront Location
Communal Kitchen - Meals on Request only

New Caledonia Map

Loyalty Islands Map
Chez Ihage Tribal Huts Rooms & Room Details & Rates
Room Category
(click for details & pix)
Sleeps
(c = child)
Hotel Public Rate
(for 2 people)
Thatched Hut
5
Euro € 69
Chez Ihage Tribal Website Information & Fact
Hotel Location: Ocean front in tribal village, outskirts of We, east coast Lifou Island
Getting There: 40-minute flight from Noumea + 20-minute by road
Unique Qualities: Traditional Accommodation, Village Culture
Ideal for: Travellers and Backpackers
Hotel Features: 3 Huts
Dining: Meals prepared, self service kitchen or several restaurants in We
Children Policy: All ages welcome
Local Attractions / Tours: We Beach, Village Visits, Island Sightseeing
The Beach: Excellent - white sand beach extending along coastline
The Ocean: Excellent - sandy bottom, protected, good for watersports
Snorkelling: Good - some good reefs along outer lagoon
Other Activities: Windsurfing, Kite Surfing at We Centre
Room Information
Thatched hut with screened window, padlock on door and either a double bed or a double bunk bed. Shared bathroom.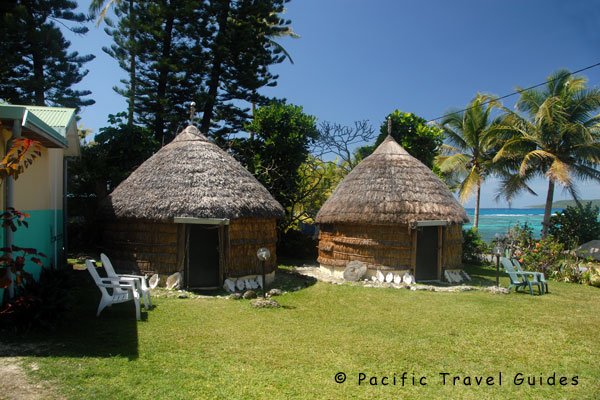 standard huts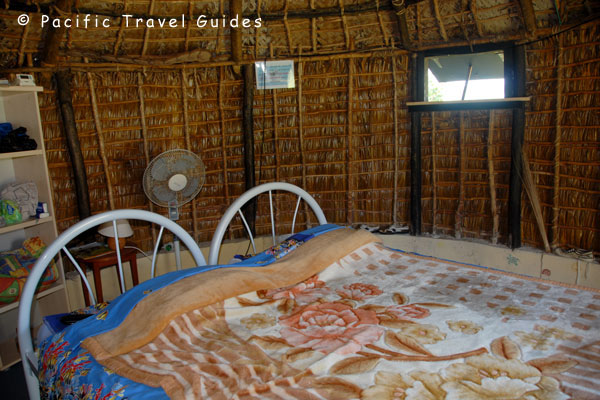 standard hut in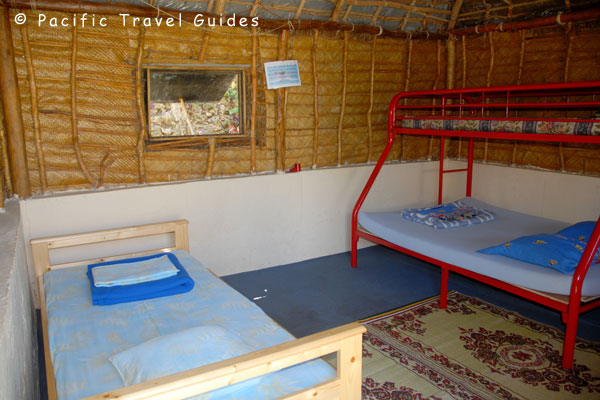 standard hut in
Hotel Amenities
Chez Jeanette has a communal dining area with kitchen for self-catering or for an additional fee and with prior arrangement, Jeanette can cook local style meals for guests.