Independent review for White Grass Ocean Resort on Tanna Island in Vanuatu

White Grass Resort Vanuatu is the only up-market resort on Tanna Island set in beautifully serene landscaped gardens overlooking a coral lagoon and deep ocean. Perched on an uplifted limestone rock-shelf with a strip of white sand beach beneath, White Grass is a boutique style resort with plenty of organised activities, hot water bathrooms, 24-hr electricity and a fine dining restaurant.
Recommended For:
Luxury Accommodation on Tanna Island
Visiting Mt Yasur Volcano (3hr by road)
Coastal Walks and Visiting Kastom Villages
Quick Facts
10 Bungalows
Outer Island - Oceanfront Location
Restaurant & Bar, Swimming Pool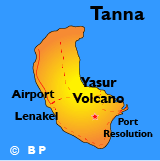 Vanuatu Islands Map


Tanna Island Map
White Grass Ocean Resort Room Details & Rates
Room Category
(click for details & pix)
Sleeps
(c = child)
Hotel Public Rate
(for 2 people)
Ocean View Bungalow
2a+2c / 3a
V$ 27,664
Included in rates: Return Airport Transfers; Daily Cooked Breakfast; Daily Guided Snorkelling Tour to Turtle Reef

White Grass Ocean Resort Information & Facts
Hotel Location: Rocky coastline, West Coast, Tanna
Getting There: 5 mins by road from Tanna Airport (White Grass)
Unique Qualities: Luxury boutique resort on Tanna
Ideal for: Couples, Families
Hotel Features: 10 Bungalows
Dining: Restaurant & Bar on site
Children Policy: All ages welcome
Local Attractions / Tours: Kastom Villages, Blue Hole, Mt Yasur Volcano
The Beach: Rocky oceanfront with small cove sand beach
The Ocean: Not practical for swimming but good for reef-walking
Snorkelling: Good on outer reef but for confident swimmers only (guided trips)
Other Activities: None
Room Information
Bungalows are traditionally influenced with thatch roofs, high ceilings and have traditionally designed décor and artefacts on its white-washed cement walls and have cool ceramic tiled floors. Set in landscaped gardens of coconut palms and bougainvillea plants, most with ocean views, bungalows have either twin or queen size beds and day bed, or double and two single beds for families. All bungalows have en-suite hot water bathrooms and 24-hr electrical lamps with limited day / night use 240-volt power points.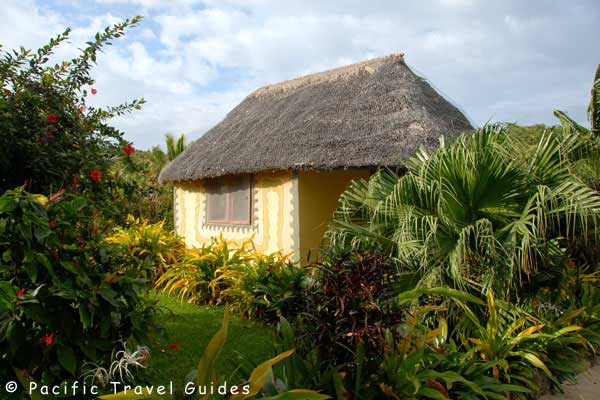 bungalow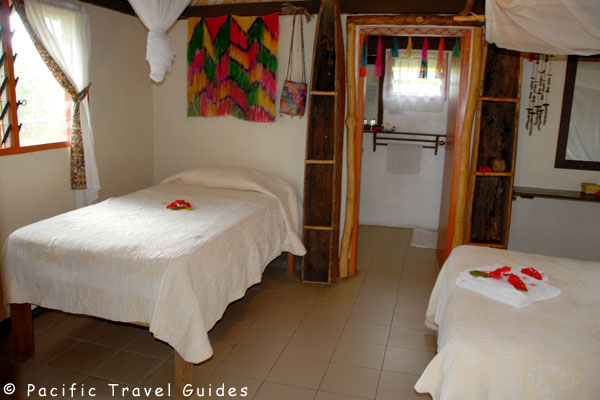 bungalow interior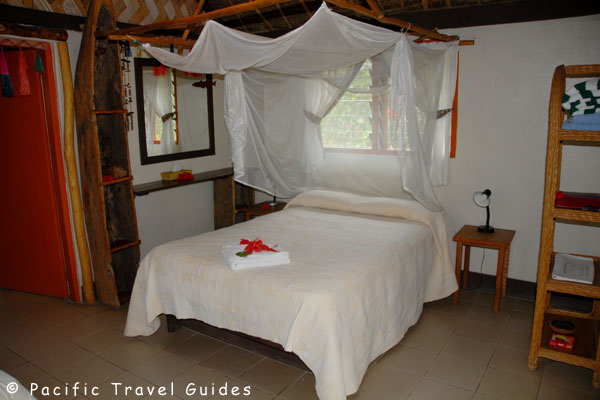 bungalow interior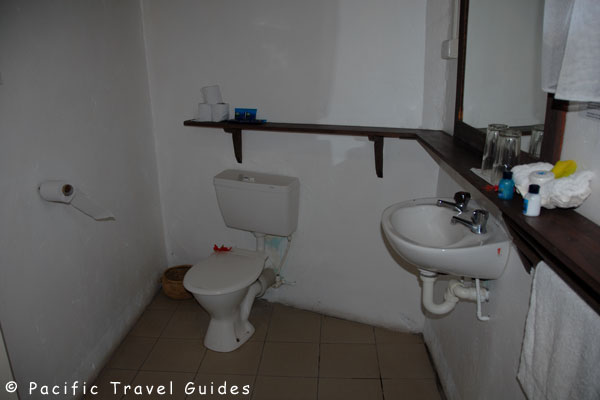 bungalow bathroom
Hotel Amenities
White Grass has a fleet of vehicles for sightseeing tours, with daily trips to Mt Yasur Volcano departing at 2.30pm and returning at 8pm (2-hr journey one way), as well as tours to three uniquely different custom villages (Black Magic Kava Drinking Tour, Ipai Cultural style Tour and Yakel traditional dance tour), as well as trips to the Blue Hole underwater caves and a Rainforest or Waterfall tour, enough to fill a week-long holiday.

The beach at White Grass is of coarse coral sand and edges a sharp rocky lagoon with rock pools practical for reef walking (require sturdy reef shoes). For confident swimmers and on calm days only, swimming is possible off the jetty into deep sea and there's excellent snorkelling along a thirty metre drop-off along the coral reef.