Independent review for Village de Santo on Espiritu Santo Island in Vanuatu

The Village de Santo markets itself as a village within a village. Village de Santo offers 18 semi self-contained apartments. The fully serviced outdoor Chief's bar is conveniently located next to the pool and has free access to wireless Internet. The village restaurant '1606' is open all day providing local organic food with a modern twist.
Ideal for:
Budget Travellers
Exploring Espiritu Santo
Diving the Coolidge wreck
Quick Facts
18 Rooms
Mainland - Town Suburb Location
Restaurant & Bar


Vanuatu Islands Map

Espiritu Santo Map
Village de Santo Room Details & Rates
Room Category
(click for details & pix)
Sleeps
(c = child)
Hotel Public Rate
(for 2 people)
Double Deluxe Suite
3
Family Suite
2a+3c
Village de Santo Information & Facts
Hotel Location: Outskirts of Luganville Town on Espiritu Santo
Getting There: 10 mins from the Airport
Unique Qualities: Village style ambience
Ideal for: Budget Travellers
Hotel Features: 18 Rooms
Dining: Restaurant & Bar on site
Children Policy: All ages welcome
Local Attractions / Tours: Luganville Town, Million Dollar Point, SS President Coolidge
Beach Setting: Across road from mediocre beach
Room Information
The Deluxe Suites are split level apartments with fully screened timber louvres providing natural airflow, a mezzanine floor with open plan design and private balconies overlooking the pool. The master bedroom with Queen size bed is on the Mezzanine floor and there's a day bed and Sofa bed on the ground floor folds out to a double bed when required for families. The lounge area also has a microwave, bar fridge, tea/coffee making facilities and ceiling fans.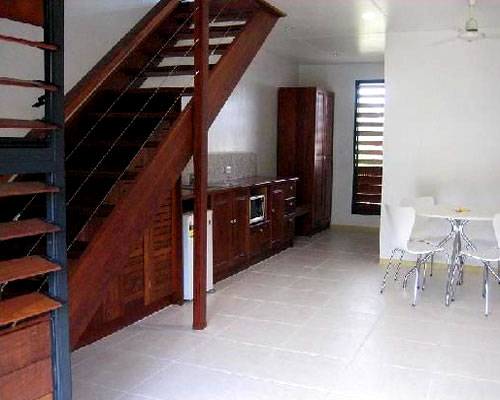 interior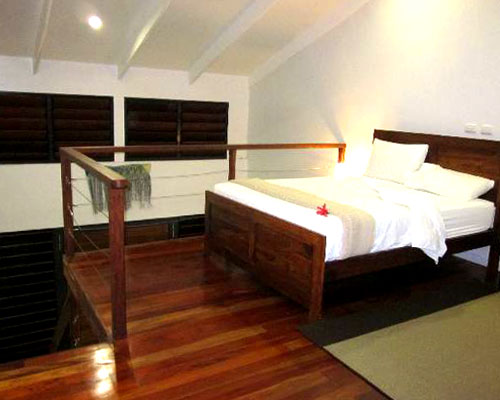 bed
Hotel Amenities
The The fully serviced outdoor Chief's bar is conveniently located next to the pool and has ceiling fans attached to the thatched roof and free access to wireless Internet.

Village de Santo has its own reception and tours desk, pick up and drop off for divers, Guest laundry service, baby sitting, restaurant and bar, outdoor poolside bar with wireless Internet and fans and swimming pool.