Independent review for Tanna Evergreen Lodge on Tanna Island in Vanuatu

Tanna Evergreen Lodge Vanuatu is a small resort perched on a limestone rocky coastline five minutes drive north of Tanna Airport. With ten bungalows set in tropical vegetation and a restaurant with a la carte dining and partial ocean views, this locally owned property makes an affordable but adequately comfortable base to explore the island, its custom villages and the Yasur Volcano, 2-hr drive across the island (daily afternoon tours).
Recommended For:
Singles, Couples & Families
Visiting Mt Yasur Volcano (3hr by road)
Visiting Kastom Villages
Quick Facts
10 Rooms & Bungalows
Outer Island - Oceanfront Location
Restaurant & Bar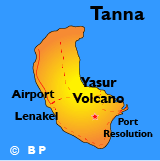 Vanuatu Islands Map


Tanna Island Map

garden bungalow

family bungalow interior

honeymoon suite interior

ocean bungalow deck
Tanna Evergreen Lodge Room Details & Rates
Room Category
(click for details & pix)
Sleeps
(c = child)
Hotel Public Rate
(for 2 people)
Garden Bungalow - share bath
2
V$ 8,000
Garden Bungalow - ensuite
4
V$ 10,000
Ocean View Bungalow
3
V$ 13,000
Family Bungalow
5
V$ 13,000
Included in rates: Daily Continental Breakfast

Tanna Evergreen Lodge Information & Facts
Hotel Location: Rocky coastline, West Coast, Tanna
Getting There: 5 mins by road from Tanna Airport (White Grass)
Unique Qualities: Small affordable locally owned resort
Ideal for: Couples, Families
Hotel Features: 10 Bungalows
Dining: Restaurant & Bar on site
Children Policy: All ages welcome
Local Attractions / Tours: Ipai Kastom Village, Blue Hole, Mt Yasur Volcano
The Beach: Rocky oceanfront
The Ocean: Not practical for swimming
Snorkelling: Good but on outer reef and for confident swimmers only
Other Activities: None
Room Information
Five bungalows are perched on the limestone ledge with queen size bed, en-suite bathroom and ocean views through light vegetation.


The farthest of the Ocean View bungalows is the Honeymoon Bungalow and has the best ocean views and most privacy.
The Family Bungalow combines the two Garden Bungalows which are joined in the middle by a bathroom and have two separate bedrooms units.

Hotel Amenities
Accommodation at Tanna Evergreen Bungalows is in simply crafted with cement walls and thatch roofing.