Independent review for Tamanu on the Beach on Efate Island in Vanuatu

Tamanu on the Beach offers the discerning traveller an authentic, private and romantic South Pacific experience ..... where sometimes the best thing to do is nothing. Tamanu on the Beach is truly the right antidote for today's busy world and as such makes it the ideal resort in Vanuatu for couples, weddings, honeymoons and special events with friends.
Recommended For:
Intimate Couples, Honeymoons & Weddings
Quiet Beach Holiday
Coastal Walks
Quick Facts
6 Bungalows
Mainland - Beachfront Location
Restaurant & Bar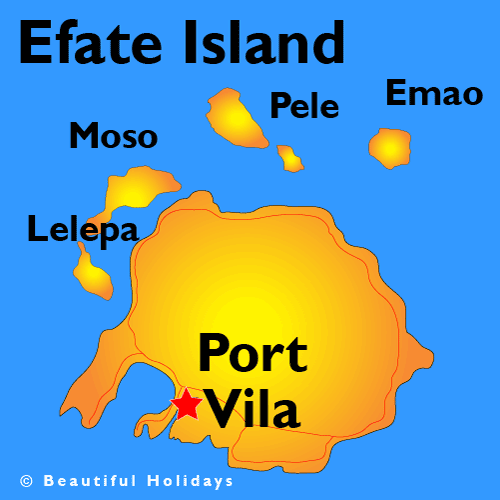 Vanuatu Islands Map

Efate Island Map
cottages
outlook

relaxing in hammock

view to ocean
Tamanu on the Beach Room Details & Rates
Room Category
(click for details & pix)
Sleeps
(c = child)
Hotel Public Rate
(for 2 people)
Plantation Beach Cottage
2a
A$ 330
Premium Beachfront Cottage
2a
A$ 380
Tamanu on the Beach Information & Facts
Hotel Location: Beachfront, South East Coast, Efate Island
Getting There: 30 mins by road from Bauerfield Airport
Unique Qualities: Secluded beach location and panoramic ocean vista
Ideal for: Couples
Hotel Features: 6 private cottages
Dining: Fine Dining Restaurant & Bar on site
Children Policy: Under 13yrs NOT permitted
Local Attractions / Tours: Eton Beach
The Beach: Good - secluded white sand beach stretching along coast
The Ocean: Average for swimming - coral reef in front of resort
Snorkelling: Excellent in calm seas along reef edge - complimentary equipment provided
Other Activities: Bicycles and Snorkelling equipment (complimentary), Orchid Day Spa
Room Information
Three Plantation Beach Cottages are set back only a few metres from the beach with slightly smaller floor plans than the Premium Cottages. Each cottage has a slightly different interior but feature a King size bed, open air bathroom plus a verandah or deck with views towards the ocean.
The three Premium Beachfront Cottages are located right on the edge of the beach that offer a large floor plan with either separate living room or large open plan living and bedroom. Each cottage has a King size bed, open air bathroom plus a large verandah which opens directly to the beach.