Independent review for Sunset Resort in Port Vila Vanuatu

Sunset Resort Vanuatu is an intimate resort with a no child policy located on the southern side of Efate Island along a narrow strip of land between the main road and ocean. With comfortable and spacious accommodation boasting large wooden veranda's perched at the water's edge and tranquil views across the bay, this is a good choice for couples seeking a quiet good value retreat but with access to Port Vila and the island's sightseeing attractions.
Recommended For:
Couples Only - Honeymoons
Peaceful Setting on Outskirts of Port Vila
Beautiful Traditional Styled Bungalows
Quick Facts
19 Rooms & Bungalows
Mainland - Lagoon Location
Restaurant & Bar, Swimming Pool


Vanuatu Islands Map


Port Vila Map
Sunset Resort Room Details & Rates
Room Category
(click for details & pix)
Sleeps
(c = child)
Hotel Public Rate
(for 2 people)
Lagoon View Room
3a
A$ 273
Waterfront Superior Bungalow
3a
A$ 338
Honeymoon Spa Bungalow
2a
A$ 410
Included in rates: Daily Cooked Breakfast

Sunset Resort Information & Facts
Hotel Location: Oceanfront overlooking Erakor Inlet, South Efate
Getting There: 20 mins by road from Bauerfield Airport
Unique Qualities: Waterfront bungalows, peaceful lagoon views, no children
Ideal for: Couples
Hotel Features: 19 Bungalows, Swimming Pool
Dining: Restaurant & Bar on site
Children Policy: Under 18yrs NOT permitted
Local Attractions / Tours: Cultural Village, Eton Beach, Port Vila Town
The Beach: No beach
The Ocean: Good for swimming
Snorkelling: Plenty of colourful fish but limited coral
Other Activities: Kayaks
Room Information
The eight units are located in a two storey building on the other side of the reception and restaurant area. These rooms have similar amenities to the bungalows including king size bed but have a smaller living area and bathroom. Rooms also have balconies overlooking the lagoon, but again smaller in size.
room exterior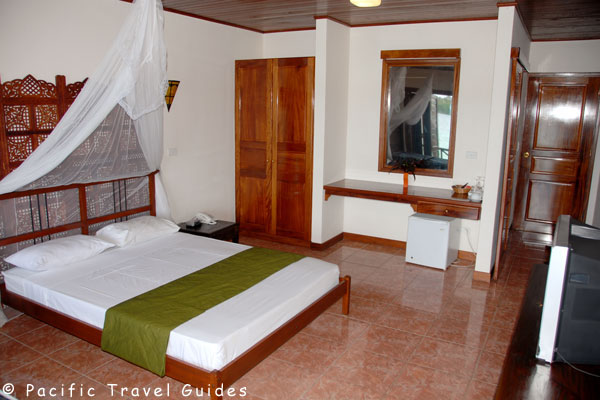 room interior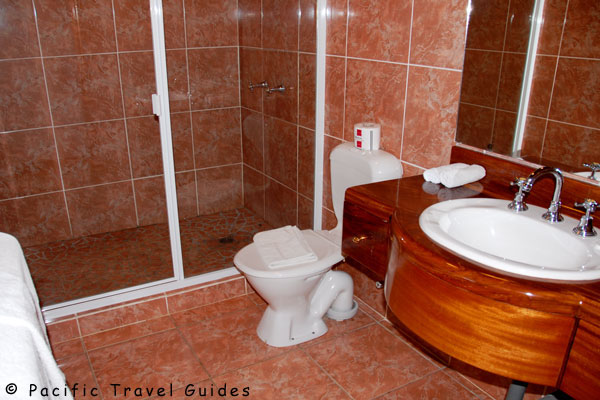 room bathroom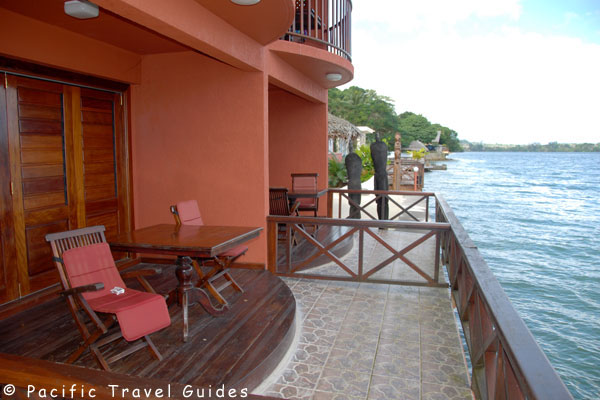 room deck
The Waterfront Bungalows have spacious interiors with king size beds and large en-suite bathrooms, some offering small kitchenettes with gas stoves and cooking utensils. The bungalow front sits almost directly over the lagoon and has large sliding doors offering full views from inside the bungalows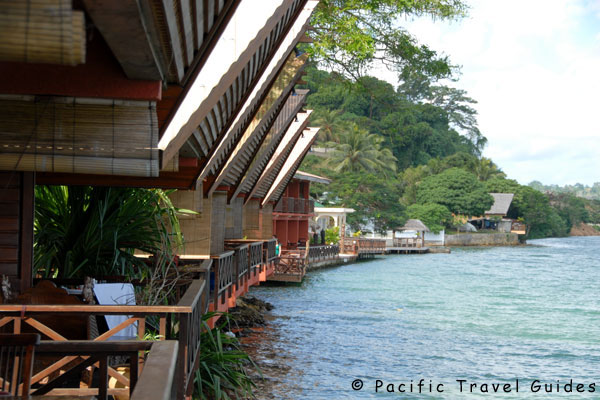 bungalow deck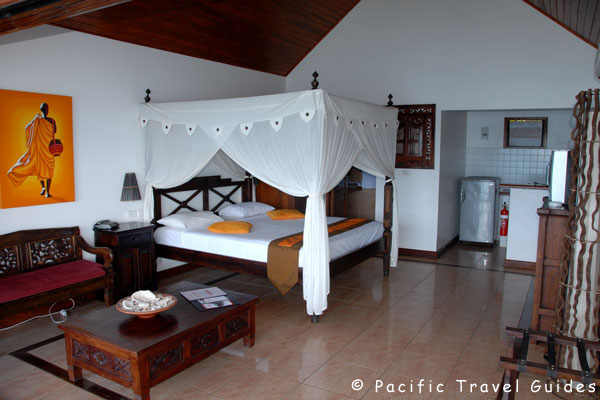 bungalow interior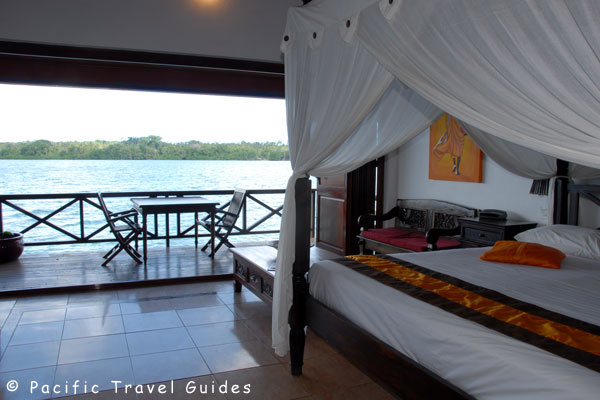 bungalow bedroom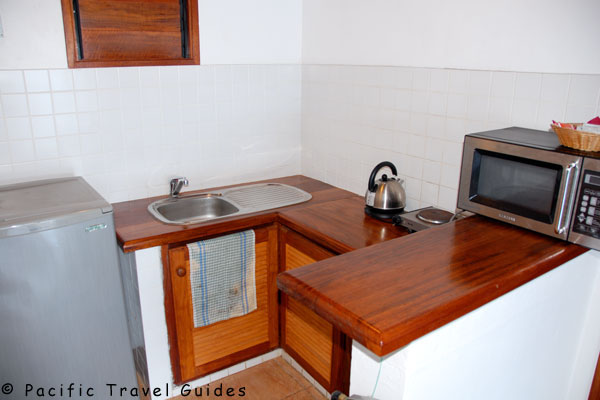 bungalow kitchen
The farthest bungalow from reception is the Honeymoon Bungalow, and perched on a point, its veranda faces away from other bungalows ensuring absolute privacy as well as a large spa bath which opens up onto the deck making this a great option for romantic couples. Otherwise, interiors are the same as the Waterfront Bungalow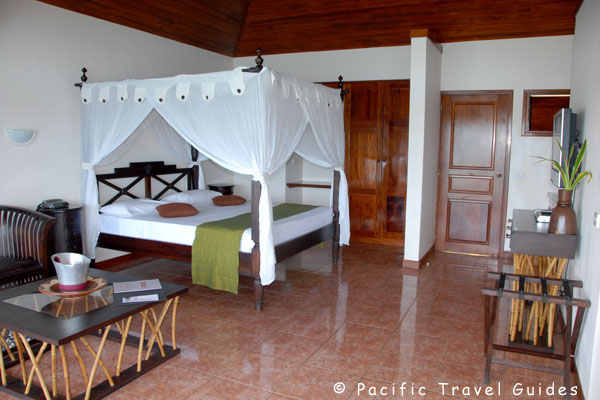 honeymoon interior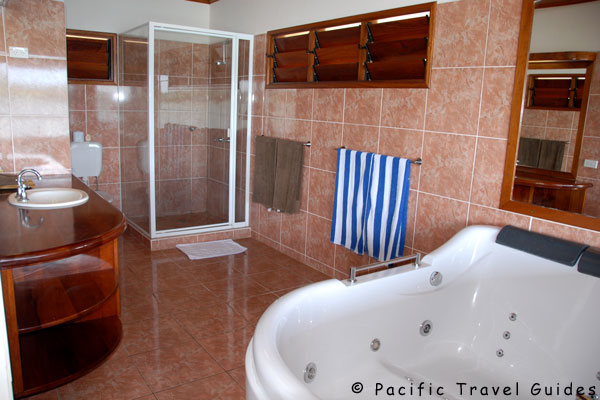 honeymoon - bath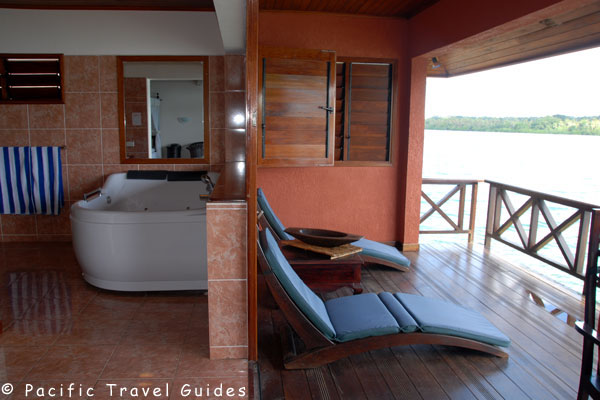 honeymoon deck
Hotel Amenities
The highlight of Sunset Resort is the view from the deck of the eleven Melanesian inspired A-framed wooden bungalows with large sliding doors offering full views from inside the bungalows.