Independent review for Hotel Santo on Espiritu Santo Island in Vanuatu

The Hotel Santo is located in the heart of main high street of Luganville Town providing great convenience for the independent traveller or holiday-maker looking to explore the island's sites. The hotel offers regular style rooms in a courtyard setting around the swimming pool and an atmospheric restaurant with a tinge of history. It's a short stroll to the park, sea-front and local produce market where you can mingle with locals and there are cafes, craft shops and restaurants all within a minute walk of the entrance.
Recommended For:
Singles, Couples, Business People
Exploring Espiritu Santo
Convenient Location in Heart of Town
Quick Facts
30 Rooms
Espiritu Santo - Town Location
Restaurant & Bar, Swimming Pool


Vanuatu Islands Map


Espiritu Santo Map
Hotel Santo Room Details & Rates
Room Category
(click for details & pix)
Sleeps
(c = child)
Hotel Public Rate
(for 2 people)
Standard Room (Fan) - Single Person
1
V$ 8,685
Standard Room (Fan)
2
V$ 10,042
Air-con Room - Single Person
1
V$ 14,577
Air-con Room
3
V$ 15,827
Included in rates: Daily Continental Breakfast

Hotel Santo Information & Facts
Hotel Location: Town Setting, Luganville, South Coast, Espiritu Santo
Getting There: 8 mins by road from Santo Airport (Pekoa)
Unique Qualities: Budget dive centre, great views
Ideal for: Couples, Budget Travellers
Hotel Features: 30 Rooms, Swimming Pool
Dining: Restaurant & Bar at the hotel - several restaurants walking distance
Children Policy: All ages welcome
Local Attractions / Tours: Luganville Town, Million Dollar Point, SS President Coolidge
The Beach: No - Located on main street of Luganville Town
The Ocean: Across road from ocean
Snorkelling: On Day Tours only
Other Activities: Nones
Room Information
Eight garden rooms are located in a separate single storey building running alongside the swimming pool and screened by lush tropical vegetaion. These rooms have either a queen or two single beds and are slightly smaller than air-con rooms and without air-conditioning. The rooms have a covered sitting area outside of the room entrance.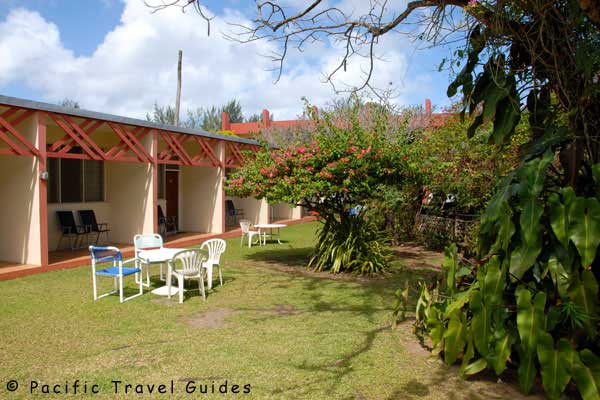 garden rooms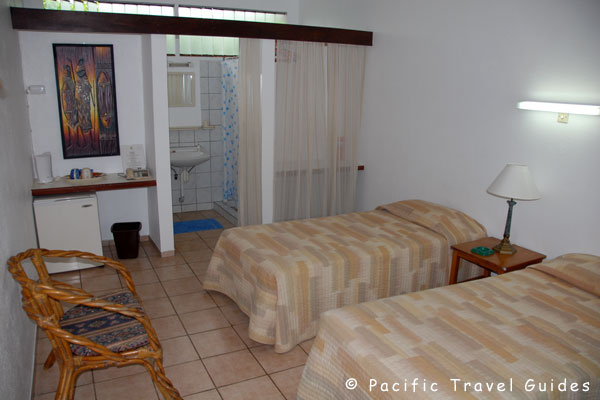 interior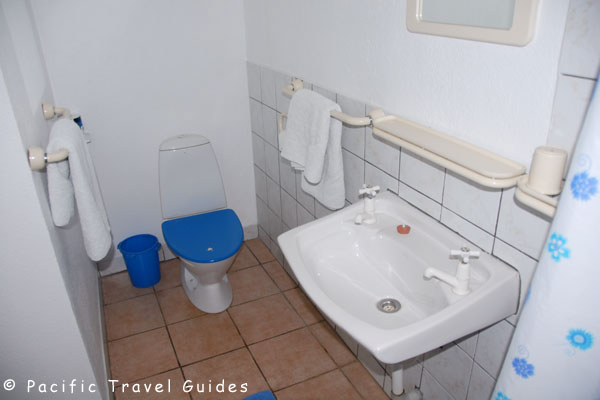 bathroom
balcony view
The 22 air-con rooms are located on the 2nd floor of the main hotel building and have a Queen and single bed, air-con as well as ceiling fans plus a bar fridge and tea / coffee making facilities. Each room has a small private balcony overlooking either the pool or main street

Hotel Amenities
Hotel Santo can accommodate single travellers, couples and families on a budget. Wireless Internet is available for guest use in the reception lounge area.