Independent review for Hideaway Island Resort on Efate Island in Vanuatu

Hideaway Island Resort Vanuatu is the liveliest budget accommodation in Vanuatu set on a private coral island three minutes by small boat off Mele Bay on Efate's southern coast. With a variety of accommodation from dorm rooms to private bungalows, a coarse sand beach, fantastic snorkelling and an on-site PADI dive centre, Hideaway is a popular and sometimes lively place for a holiday, overnight stay or day-trip from Port Vila.
Recommended For:
Family Holidays, Singles, Couples
Uninhabited Island Atmosphere
Day Tours, Scuba Diving & Snorkelling
Quick Facts
22 Rooms + Dorm
Mainland Offshore - Beachfront Location
Restaurant & Bar, Swimming Pool, Scuba Diving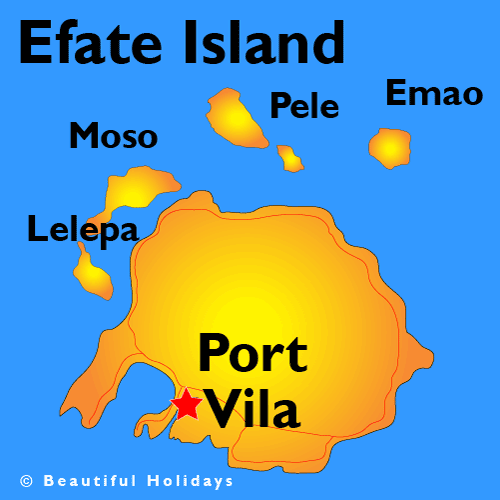 Vanuatu Islands Map


Efate Island Map
Hideaway Island Resort Room Details & Rates
Room Category
(click for details & pix)
Sleeps
(c = child)
Hotel Public Rate
(for 2 people)
Dorm Room
4
V$ 3,990 pp
Twin Share Room
2
V$ 9,310
1- Bedroom Bungalow
5
V$ 18,088
2- Bedroom Villa
4
V$ 35,910
Included in rates: Daily Continental Breakfast

Hideaway Island Resort Information & Facts
Hotel Location: Coral island off South Coast, Efate Island
Getting There: 10 mins by road from Bauerfield Airport + 3 mins by boat
Unique Qualities: Budget resort on coral island, great watersports, snorkelling and scuba diving
Ideal for: Budget Travellers, Young Couples
Hotel Features: 22 Rooms, Swimming Pool
Dining: Restaurant & Bar on site
Children Policy: All ages welcome
Local Attractions / Tours: Snorkelling Reefs, Mele Bay, Port Vila Golf Club
The Beach: Average: coral pebbles and coarse sand on one side only
The Ocean: Excellent for swimming
Snorkelling: Excellent off beach, even better on complimentary outer reef trips
Other Activities: Scuba diving, kayaks, catamarans, 24-hr shuttle ferry to mainland
Room Information
The dormitory lodge is set behind the main reception and restaurant with six rooms, each with 2 bunk beds sharing his and her communal bathrooms and a lounge and kitchen area upstairs.
Overlooking the main beach are the six twin-share lodge rooms each with a sink but sharing communal shower and toilets in a stand-alone building at the back of the lodge. All rooms have fans and are fully screened with optional mosquito nets.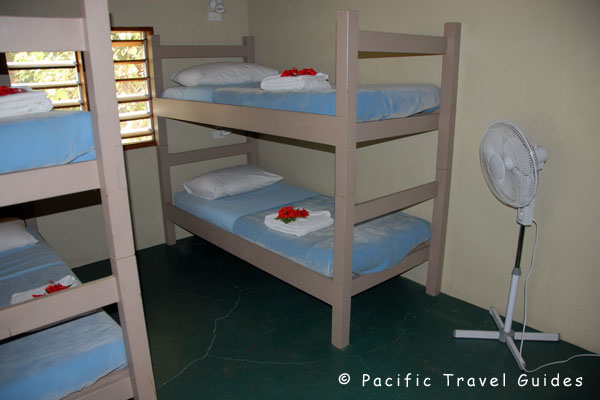 dorm room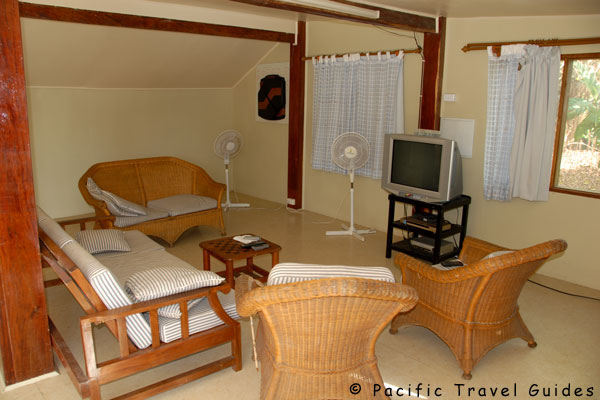 dorm lounge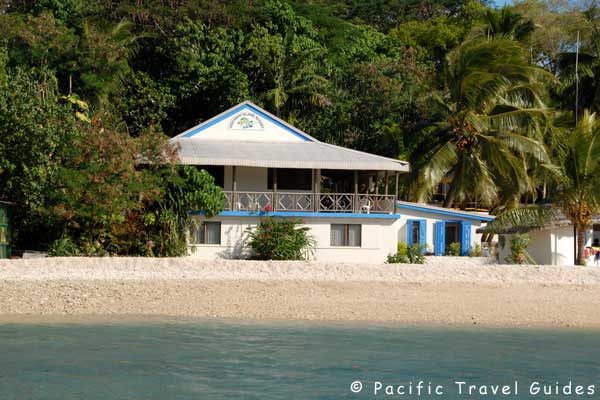 lodge rooms
The most comfortable accommodation is in one of ten one-bedroom free-standing en-suite bungalows located along the rocky eastern side of the tiny island overlooking the ocean and tucked under dense vegetation.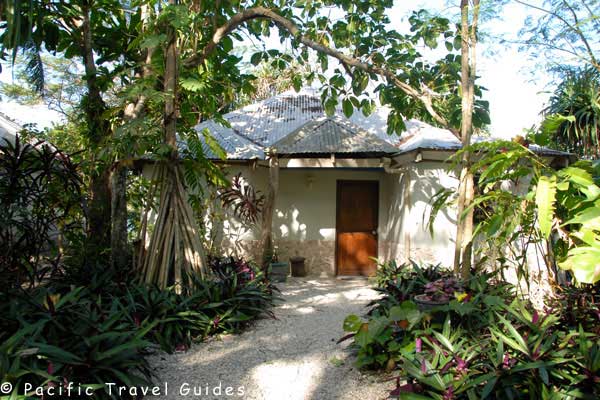 bungalow

bungalow

bungalow in
bungalow lounge
Hotel Amenities
Hideaway is set on a tiny coral island with partial sand / coarse coral beach on one side of the island and a sea-wall retainer on the other. With complimentary snorkelling gear and kayaks to explore the reefs directly off the beach, daily outer reef boat trips for more extensive snorkelling, as well as a small swimming pool and on-site PADI dive centre with regular day and night dives, Hideaway is a great choice for the water enthusiast.

A ferry shuttles back and forth to Mele Bay every ten minutes or so making a trip to Efate and port Vila easy.