Independent review for Friendly Bungalows on Tanna Island in Vanuatu

Friendly Bungalows Vanuatu is a mid-market beachfront accommodation on the east coast of Tanna, close to the islands premier attraction, Mt Yasur volcano. Located one and half hour by dirt road from Tanna airport, this traditional style resort has eight hand-crafted bungalows built from cane, bamboo and coconut leaves, most with hot water en-suite bathrooms and a delightful restaurant serving home-cooked meals overlooking the black sand beach.
Recommended For:
Budget Travellers
Climbing Mt Yasur Volcano
Visiting Traditional Villages
Quick Facts
8 Bungalows
Outer Island - Beachfront Location
Restaurant - Set Meals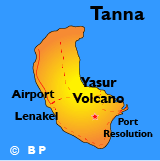 Vanuatu Islands Map


Tanna Island Map
Friendly Bungalows Room Details & Rates
Room Category
(click for details & pix)
Sleeps
(c = child)
Hotel Public Rate
(for 2 people)
1-Bed Ocean Front Bungalow
2
2-Bed Ocean Front Bungalow
4
Friendly Bungalows Information & Facts
Hotel Location: Beachfront, East Coast, Tanna Island
Getting There: 1 hr 30 mins by road from Tanna Airport (White Grass)
Unique Qualities: Traditional beachfront resort close to volcano
Ideal for: Couples, Families, Budget Travellers
Hotel Features: 8 Bungalows
Dining: Restaurant & Bar on site
Children Policy: All ages welcome
Local Attractions / Tours: Hot Springs, Mt Yasur Volcano, Ipai Kastom Village
The Beach: Reasonable: grey coloured sandy beach
The Ocean: Reasonable - can be too rough for swimming
Snorkelling: Good at reef drop-off but in open ocean (must bring own gear)
Other Activities: Outrigger Canoe, 4WD tours
Hotel Amenities
Friendly Bungalows is a quaint mix of old and new . Accommodation is located beneath a forest canopy in traditional style bungalows that may have wonky floors and creaky door hinges but if you're looking for something a little off-the-beaten track, with easy access to the volcano, this is a good base. For creature comfort lovers, White Grass Bungalows on the west coast is your only up-market option.

Food is simple and hearty, mostly from local produce and served as a set meal plan in a sand floor restaurant also overlooking the beach (no a la carte menu, although vegetarians or special dietary needs will be specially catered for by prior request).

Volcano tours are arranged daily (it takes 20 minutes to reach the volcano rim), although with only one 4WD vehicle and obligations for airport pick-ups and drop-off's, a vehicle for day trips may not always be available. Other activities include custom village trips, bush walking, hot-springs, island massages and traditional canoe paddling.