Independent review for Benjor Beach Club on Efate Island in Vanuatu

Benjor Beach Club Vanuatu is a secluded boutique style resort with 1- and 2-bedroom self-catering apartments set amongst 23-acres of landscaped gardens and close to both Mele Beach (black sands) and the Port Vila Golf Club (18-holes). Located at the western end of Mele Bay alongside a rocky coastline with landscaped sand cove lounging areas, Benjor offers a swimming pool, good snorkelling and it's a ten minute walk to the long dark sand beach at Mele.
Recommended For:
Relaxing holidays for Couples or Families
Coastal Walks
Golf Course nearby
Quick Facts
20 Rooms
Mainland - Beachfront Location
Restaurant & Bar, Swimming Pool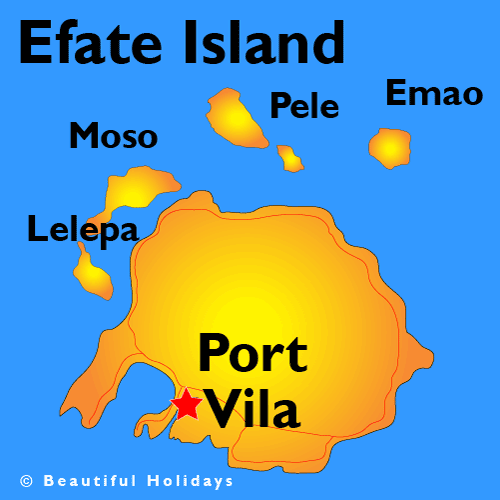 Vanuatu Islands Map


Efate Island Map
Benjor Beach Club Room Details & Rates
Room Category
(click for details & pix)
Sleeps
(c = child)
Hotel Public Rate
(for 2 people)
1 Bedroom Ocean Villa
2a+2c or 3a
A$ 170
Studio Spa Ocean Villa
2a+2c or 4a
A$ 280

The Retreat


2a
A$ 280
2 Bedroom Ocean Spa Villa
5
A$ 340
Chiefs Villa
10
A$ 550
Benjor Beach Club Information & Facts
Hotel Location: Oceanfront on Mele Bay, South Coast, Efate
Getting There: 10 mins by road from Bauerfield Airport
Unique Qualities: Quiet location with tranquil walks and good snorkelling
Ideal for: Couples, Families, Groups
Hotel Features: 20 Units, Swimming Pool
Dining: Restaurant & Bar at the hotel - several restaurants walking distance
Children Policy: All ages welcome
Local Attractions / Tours: Mele Bay, Port Vila Golf Club, Cascades Waterfall
The Beach: Rocky coastline with man-made beach areas for sun-lounging
The Ocean: Good for swimming but with rocky bottom
Snorkelling: Goof offshore from coast
Other Activities: Kayaking, Pétanque, Bicycles
Hotel Amenities
Accommodation at Benjor Beach Club is in a collection of whitewashed bungalows within spacious landscaped gardens.