In this Article by South Pacific travel expert Ian Osborn
Our Top Day Tours in Fiji — Listings of Tour Companies
Although Fiji is best known for its beach resorts, there are plenty of activities on the land and on the water to keep you busy on your holidays. If your're looking to enjoy day tours in Fiji then Nadi and the Coral Coast make the best bases for sightseeing. On the outer islands, day tours are organised by the resorts as long as they can get enough guests to participate, which normally is the case. Of the outer islands, Taveuni is great for sightseeing tours with beautiful coastal scenery. If you're into history, then head over to Levuka Town, the old capital of Fiji - this historical Fiji tour can be organised from the small island resorts in the Lomaiviti Group (i.e. Toberua or Caqalai) or you can fly to Ovalau for the day from either Nadi or Suva.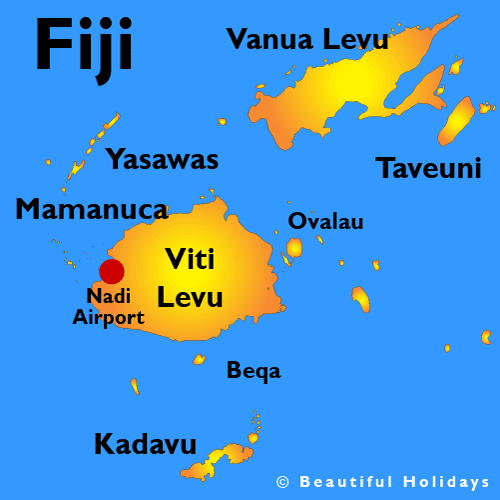 Fiji Islands Map
Best Fiji Tours
Island Cruise in the Mamanuca Islands
Sigatoka Sand Dunes
Fijian Village Visit (Navala)
Beqa Shark Dive
Navua River Tour

Popular Sightseeing Regions
Our Seven Favourite Day Tours in Fiji
Most of the day tour operations are based on the main island of Viti Levu serving tourists staying between Nadi and the Coral Coast. Most of the island resorts offer guided bush walks and local village visits, all of which are fantastic day tours in Fiji and could easily appear in the list below. Our selection lists only those day tours where you can join on an organised day tour independent on way you are staying.

Seaspray Sailing Cruise, Mamanuca Islands
Head to the outer Mamanuca Islands on board a sailing vessel to visit the island where the movie "Castaway" was filmed, featuring Tom Hanks
Stay at Mana Island Resort

Day Cruise to the Yasawa Islands
Take a scenic journey on board the Yasawa Flyer passenger ferry past twenty islands to Waya or Naviti for snorkelling and hill walks and beachcombing

Stay at Hilton Denarau Island

Navala Village Tour, Viti Levu Interior
Full day tour from Nadi to visit the remote thatch village of Navala with rural sightseeing along the way

Stay at Smugglers Beach Resort

Sigatoka River Valley Tour, Coral Coast
Rich farmland, Indian settlements and Fijian villages - visit the ancient archaeological sight of Tavuni Hill Fort just outside the town of Sigatoka with good walks and lookouts

Stay at Bedarra Inn

Biasevu Waterfall and Caves, Coral Coast
Walk through tropical forests inland from the Coral Coast and visit waterfalls and ancient sites in this beautiful coastal region

Stay at Hideaway Fiji Resort

Navua River Tours, Pacific Harbour
Long boat rides, bamboo rafting, zip-lining through the rainforest and waterfall hikes in the remote highlands of inland from Pacific Harbour.

Stay at Uprising Beach Resort

Pacific Harbour Cultural Centre and Suva City Tour
Theatrical display of Fijian customs including fire-walking, then head to Suva City, the picturesque capital of Fiji set around harbour with a quirky museum and huge local produce market

Stay at The Warwick Resort & Spa


Fiji Tour Companies
The best base for a sightseeing holiday is from either Nadi or the Coral Coast with plenty of bus tours visiting the major sites, and smaller private vans and river tours taking tourists further into the real Fiji where large vehicles and can't go. There are a couple of large tour operators based in Nadi but we find that the smaller tour operators tend to have a more flexible approach and visit more interesting and less commercial sites. Our preferred providers are Tourist Transfer Fiji (TTF) or you could try the smaller company Pehicle Tours. Another option is the Feejee Experience, a 4-night coach tour circumnavigating Viti Levu and visiting some great sights along the way including river tubing, jungle hikes and visiting a remote Fijian village.

On land, the tropical rainforest beckons adventure, with trails to waterfalls, zip-lining, white water rafting and several excellent championship golf courses. Most resorts organise Fijian village visits where you can explore the Fijian way of life, purchase souvenirs from local markets, participate in yaqona ceremonies or watch traditional dance performances. Generally the smaller the resort (hence fewer tourists) and the more remote you are, the more authentic the village experience will be. Day and overnight cruises are an excellent way to experience traditional Fijian life and soak in the natural beauty of the islands.
Nadi Tours
Vuda Marina
Lautoka
Sightseeing tour
Adrenalin Watersports
Denarau, Nadi
Activity tour
Awesome Adventures
Denarau, Nadi
Cruise, Island Hopping tour
Denarau Golf Club
Denarau, Nadi
Sightseeing tour
Jet Fiji
Denarau, Nadi
Activity tour
Port Denarau Marina
Denarau, Nadi
Sightseeing tour
South Sea Cruises
Denarau, Nadi
Cruise, Island Hopping tour
Adventure Fiji
Nadi
Scenic tour
Coral Cat Cruise
Nadi
Cruise, Snorkelling tour
Island Hoppers
Nadi
Scenic, Island Hopping tour
Koronayitu National Heritage Park
Nadi
Scenic tour
Nadi Golf Club
Nadi
Sightseeing tour
Nadi Restaurants
Nadi

Nadi Scuba Diving
Nadi
Scuba Diving tour
Nadi Shopping
Nadi

Nadi Surf Tours
Nadi
Surf tour
Nadi Temple
Nadi
Sightseeing tour
Nadi Village Tours
Nadi
Village, Cultural tour
Nausori Highlands
Nadi
Scenic tour
Ra Marama
Nadi
Sailing tour
Skydive Fiji
Nadi
Activity tour
Valentino Sailing Safari
Nadi
Sailing tour
Whales Tale
Nadi
Sailing tour
Navala Village
Viti Levu Interior
Village, Cultural tour
Mt. Tomanivi
Viti Levu Interior
Adventure, Scenic tour
Viti Levu Self-drive
Viti Levu
Scenic tour