In this Article by South Pacific travel expert Ian Osborn
Taveuni Island — Rainbow Reef — Qamea & Matangi — Vanua Levu — Savusavu — Labasa & The North
Taveuni Island is referred to as the Garden Island of Fiji. It is a yound volcanic island with a mix of colonial inspired coconut plantations on its west coast and ancient tropical rainforest in the remote east coast. The island has breathtaking forest trails with lots of waterfalls and plenty of endemic birdlife. Taveuni Island is undoubtedly the most popular island to visit for eco-travellers but it's main attraction is for scuba divers to dive the famous Rainbow Reef.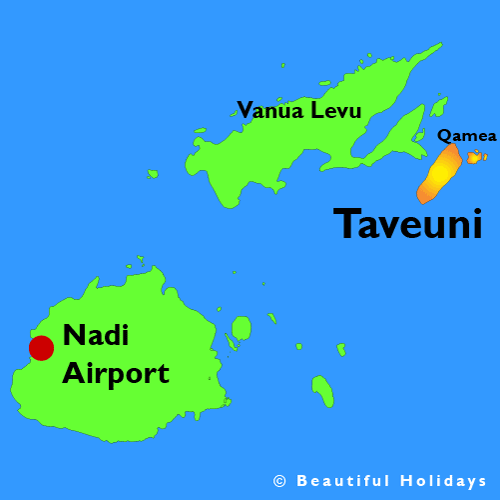 Map of Taveuni Island
Taveuni Island Holidays Overview

The most scenic area is Bouma National Heritage Park which encompasses over a third of the island and almost the entire east coast. The main attraction of the park is the Tavoro Falls (three lovely waterfalls between 10 minutes and an hour walk through virgin rainforest from the main road). At the end of the road is the attractive village of Lavena departure point for the 3 mile Lavena Coastal Walk along the forest edge, passing cove beaches and waterfalls. This coast can also be explored by kayak. The village operates the very basic Lavena Lodge for those wanting to stay overnight.
Matei Settlement
Matei is the main tourist centre located on the northern tip of Taveuni and home to the island's airstrip. It is a small settlement of expats and old European families who once owned large coconut plantations here during the colonial era. The coast has a few pretty beaches with decent snorkelling and there are a couple of small islets in the reef which are good for kayaking and also home to a black peral farm that can be visited on a tour. There's one restaurant in Matei, a store that stocks almost everything, and a handful of accommodations ranging from absolute luxury to budget, but bothing in between. Matei is about a 20-minute drive to the entrance of Bouma National Heritage Park making it a convenient base for exploring this stunning region.
Taveuni Palms, Matei
F$ 3,000
Upmarket villas tucked into cove beach.

Taveuni Island Resort, Matei
F$ 1,950
Small hillside resort with stunning views.

Nakia Resort, Taveuni
F$ 440 - 480
Hillside bures around swimming pool.

Makaira by the Sea, Taveuni
F$ 330 - 430
Cottages perched on hillside.

Bibi Hideaway, Matei
F$ 80 - 110


Bibi's Hideaway is a family run plantation with budget cottages and views looking across the gentle slopes of Taveuni's north west coast, five minutes from the airport. There's a beautiful white sand beach with excellent snorkelling across the coastal road.
West Coast & Rainbow Reef
The closest resort to the Rainbow Reef is Garden Island Resort or Paradise Taveuni (15 minutes by boat ). Other resorts on Taveuni also offer dive trips the reef which range from 30-minutes to 1-hour by boat. However, the north coast of Taveuni, which has a cluster of accommodation, has its own fantastic diving reefs to explore. The Rainbow Reef itself is 32km long with over 16 excellent dive sites ranging from intermediate to advanced. Highlights include the Great White Wall (soft corals) and Annies Bommie.
Paradise Taveuni, Taveuni
F$ 925 - 1,395


Paradise Taveuniis a boutique resort besdie the ocean with excellent snorkelling and is the closest resort on Tavuni Island to the world famous Rainbow Reef (fifteen minutes by boat).
Garden Island Resort, Taveuni
F$ 645 - 775


Garden Island Resort is primarily a dive resort with close access to the world renowned Rainbow Reef and an on-site scuba diving operator with full service PADI courses. Also makes a convenient base for exploring Taveuni, notably the sliding rocks, blowholes and Lake Tagimaucia.
Other Accommodation on Taveuni
Offshore Islands - Qamea & Matangi
Off the north coast of Taveuni are three lovely islands all within 20 minutes boat ride. Qamea is the largest of these and is the twelfth largest in Fiji. It has lovely bays, lush rainforest and excellent bird life. Across from Qamea is the spectacular horseshoe shaped collapsed volcanic crater of Matangi Island. There's a beautiful beach in the horseshoe, and on the other side of the island is Matangi Island Resort which specialises in intimate weddings and has excellent diving around the reefs as well as great fishing.
Matangi Island Resort
F$ 1,400 - 2,000


Matangi Island Resort is a private island resort with several beautiful white sand beaches and just fourteen traditional hand crafted bungalows making it the perfect resort for honeymoons, private beach weddings, nature lovers and diving enthusiasts.
Qamea Resort & Spa,
F$ 845 - 1,595


Located on a white sandy beach in a secluded tropical bay facing Taveuni, Qamea is an upmarket boutique resort aimed at honeymooners.
Other South Pacific Islands