In this Article by South Pacific travel expert Ian Osborn
Top Cook Islands Day Tours — Land & Water Activities
Both Rarotonga and Aitutaki are small islands so wherever you decide to stay, all activities are accessible. Most tour companies offer complimentary pick-ups from your accomodation and the majority of Cook Island tours can be arranged from your hotel reception. If you prefer to do your own thing, car and moped hire is cheap and easy to arrange and quite a few of the resorts have mopeds ready to drive away from the hotel carpark. If you don't want the bother of hiring you can catch a bus which circumnavigates Rarotonga every hour in each direction and the sites are never far from the main road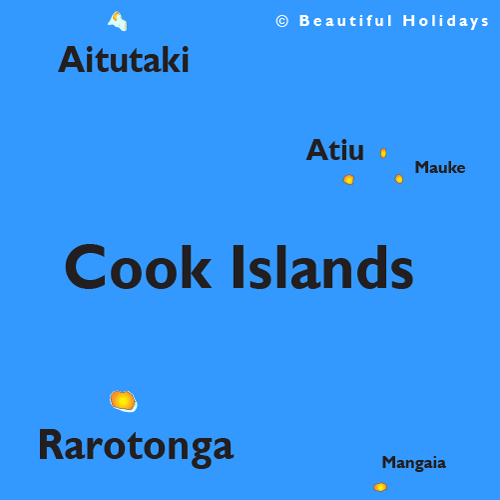 Cook Islands Map
Best Cook Islands Tours
Cross Island Hike
4WD Inland Tour of Rarotonga
Takitumu Nature Reserve
Day Cruise to One Foot Island
Day Cruise to Maina Island

Popular Sightseeing Regions
Our Top Five Favourite Day Tours in the Cook Islands
Aitutaki Lagoon Cruise
Head to the uninhabited coral atolls of Aitutaki Lagoon. Try One Foot Island to marvel at the stunning beaches and lagoon, or visit Maina Island for solitude, nesting sea-birds and excellent snorkelling.
Stay at Aitutaki Village
Cross Island Hike, Rarotonga
Take a guided walk through the stunning tropical rain forest of Rarotonga passing The Needle and Popoara Waterfall along the way.
Stay at Palm Grove

Takitumu Conservation Forest
Bird-lovers will enjoy this peaceful forest setting inland from Takitumu Village along the south coast of Rarotonga.
Stay at Moana Sands Hotel
Atiu Cave Tour
The unusual caves of Atiu are one of the main reasons for visiting this eco destination and also the chance to spot the elusive topeka bird on the 1-hr hike from the road to the cave entrance.
Stay at Atiu Villas
Captain Tama's Lagoon Cruise, Rarotonga
Snorkelling cruise along the south coast of Rarotonga with splendid views of the island and the chance to see giant clams.
Stay at Muri Beachcomber
Land & Water Activities
Despite having one of the more modern lifestyles of the South Pacific islands, the Cook Islands offers some unique cultural tours and insights. Perhaps the best known attraction in the Cook Islands is to experience a traditional dance performance.
Sightseeing tours of Rarotonga include several tour companies exploring the lush interior on quad bikes or 4WD vehicles, walking tours into the forest and to mountain view lookouts, as well as general circle island tours exploring the historical sites along the coastal and inland road.
Find out more about Land Activities in the Cook Islands
Whilst scuba diving in the Cook Islands is not raved about amongst serious divers, it is a great destinations for learning to scuba dive. Snorkelling is reasonable too, notable off the South Coast of Rarotonga and in Aitutaki Lagoon. There isn't a great deal of surfing, but game fishing is good with charters and sailing cruises available from Avarua Harbour on Rarotonga. There's good kayaking in Muri Lagoon on Rarotonga and also around Ootu Point in Aitutaki. For cruises, the best place for this is without doubt Aitutaki where there are five tour companies offering cruises, most doing similar trips with snorkelling, visiting a coral cays and enjoying a picnic lunch on one of the uninhabited Motu.
Find out more about Water Sports in the Cook Islands