American Samoa is off the radar of international tourism - those that do travel to American Samoa are generally American Samoans living in the US and returning to their homeland to visit relatives, often for the first time. International tourists arriving without connections to the island are few and far between with most visiting to explore the three National Parks.
The most visited National Park in American Samoa is located on Tutuila Island but the most stunning are the two National Parks of the Manu'a Group. The inspiring coastal scenery on both Tau and Ofu islands have razor sharp mountains which tumble down to white sandy beaches. Unfortunately this outlying group of islands has only a few small villages and very basic guest-house accommodation with unreliable communication but those that do manage to make it are greeted by exceptional exploring and big hearted hosts.
Other reasons to visit American Samoa are to climb the Rainmaker Mountain above Pago Pago Harbour or to game fish the brilliant deep drop-offs that lie just offshore from Tutuil'as south coast. Archaelogical buffs will also enjoy exploring the ancient star mounds found scattered around the islands.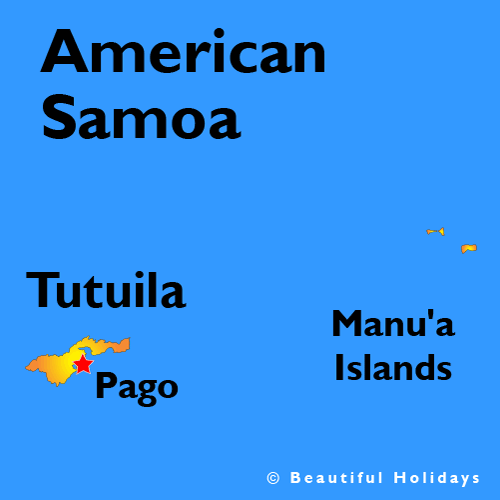 American Samoa Map
Reasons to Visit US Samoa
Pago Pago Harbour
Vatia Bay Marine Park
Leone Coastal Drive
Aunu'u Island
Ofu & Tau National Parks

Top American Samoa Hotels

Deluxe - Sadies by the Sea
Affordable - Tradewinds Hotel
Tutuila Island
Tutuila Island has a very rocky and wild coastline with just a handful of beaches and just a couple of very basic beach resorts. The main attraction of the island is its stunning scenery around Pago Pago harbour hemmed in by the aptly named Rainmaker mountain and the National Park. The National Park encompasses the majority of the wild north coast of Tutuila Island but there's only one access point , a a tar-sealed road leading into the central section from Pago Town. With a guide, you can explore the park here but there are only a few walking trails to explore by yourself. The park is filled with dense rainforests, populated with tall ferns and breadfruit trees, coconut trees and pandanus. More than thirty species of birds have been observed, including parrots, doves, wild duck and the tooth-billed pigeon, which is only found in American Samoa.

Pago Pago Town
Pago Pago is the main centre and capital town for American Samoa set against steep mountains and a deep and extremely attractive harbour. Pago is a rather seedy place dominated by two large tuna canning factories, one which closed down in 2009 leaving almost 2,500 people unemployed. Pollution of the stunning harbour has recently been addressed and a conscious National clear up campaign has helped its image. The town retains its clap-board buildings and red light district so romantically written about by Somerset Maugham in his book Rain.

Pago Pago is backed by the towering Matafao Peak (known affectionately as The Rainmaker), the highest point on American Samoa, standing at 653 metres and has the beautiful Nuuili waterfall at its base.. There are few distinct attractions about Pago except for the fine views offered from its hills.

Sadie's by the Sea
US$ 149 - 169


Ideal location for exploring Tutuila Island and located on a small beach just outside of Pago Town
North Tutuila Island & The National Park

Almost the entire north coast is inaccessible except for three roads that lead over the hills into three separate bays. One of these is Vatia Bay in the heart of the National Park. The access road for Vatia starts at the east side of Pago Pago harbour directly across the bay from Pago Pago Town and leads up through Afono Pass. From the Pass, there are splendid views back to Pago Pago and the harbour as well as looking north into the Park. The highlight of the journey into the Park is the stunning view of Vatia Village with its twin volcanic peaks looming above and the rocky Polar Island. A track leads from the village along Vatia Bay to the tip of Pola Island.
South Tutuila Island & The Airport
The main tourist attraction of Tutuila is its splendid tropical scenery and coastal views. The scenic south coast road extending west from the airport to Cape Taputapu and beyond to Fagamalo Village at the end of the road is particularly beautiful. The historical whaling town of Leone has several ancient archaeological sites including its rock quarries in the hills above town and the grinding holes along the coast where rocks where fashioned into tools. Beyond Leone, the coastal road winds through small fishing villages up and over coastal hills with panoramic views. The road from Pago Pago to Fagamalo Village takes about two hours one way.
Tradewinds Hotel
US$ 150 - 240


Close to the airport this is a modern hotel offering organised sightseeing tours.
Another stunning coastal drive heads west from Pago Pago, also along the south coast. Alega Beach has perhaps the most picturesque beach on Tutuila although the surf here can be dangerous for all but the best swimmers. Further along the coast are several other picturesque beaches including Pyramid Rock and the sweeping beach at Tula Village at the very eastern point of the island. The weather station nearby at Cape Matatula has stunning views along the south coast to Aunuu Island and along the remote north coast to Pola Island and the National Park. There is no access road along the north coast with the coastal highway stopping at the village of Onenoa.

Be sure to visit Aunu'u Island, where there are the incredible red quick sands at Pala Lake, and the waves crash into huge volcanic rocks at Ma'ama'a Cove. You can also visit some of the Samoan villages; most people live on the narrow coastal plains, and cultivating vegetables in the plains and nearby hills, and looking to the sea for sustenance, as they have for generations.

As on Western Samoa, village life is communal, and aiga, or extended family groups, are the main familial unit. Each aiga is led by a matai. There are short two-day cruises to the outer islands available, where you can not only observe traditional village life, you can stay in the village and be part of that life. That's not to say you must stay in a village with a family – there are plenty of comfortable accommodations to choose from, especial on Pago Pago. The tourist infrastructure is still in its infancy here, but Samoans know how to treat a guest!
Manu'a Group
The Manu'a Islands, 100 km to the east of Tutuila is a stunning collection of three islands with superb scenery and is the traditional birth place of Samoa with lots of interesting archaeological sites. The main island is Ta'u, 15 sq. miles in size half of which is administered by the National Park of Samoa. The Park offers excellent bird life and incredible sea cliffs rising over 3000 feet from sea level. Neighbouring Ofu has a stunning white sandy beach, over 2 miles in length, with excellent snorkelling offshore and a couple of rudimentary guest houses.
Rose Atoll
Rose Atoll is an uninhabited Marine National Monument. These stunning volcanoes have been inactive since 1911, so there is no need to worry about an eruption. Past activity sculpted the land and left an intriguing landscape of lava tubes to explore.

American Samoa Tourist Information
There are four airports, the main one – Pago Pago International Airport on Tutuila, services flights from both Samoa and Honolulu, Hawai'i and if arriving here there are taxis readily available as well as banks and ATM machines. There are also small airstrips on Ofu, Olosega, and Ta'u. Hawaiian Airlines operate a twice weekly flight to American Samoa from Honolulu. Otherwise, the only way to reach American Samoa is via its western neighbour, Samoa: Polynesian Airlines fly daily between Apia and Pago Pago or there's a weekly ferry from Apia Harbour which takes around six hours.

You can hire a car on Tutuila, which will grant you the freedom to explore at your leisure, but do take the time to ride on a public bus at least once while in American Samoa – it's an experience that should not be missed.